Margo 30 lb Large Caribbean Beach Pebbles, 3" to 5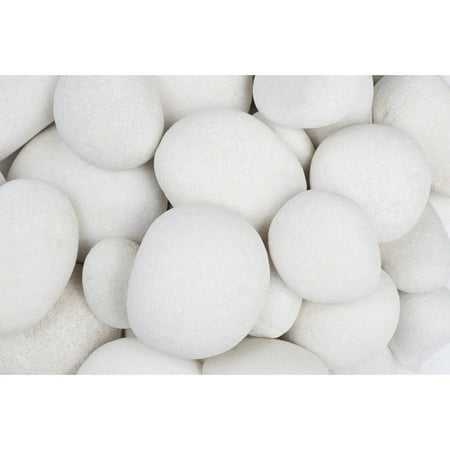 MSRP :

$19.4





Sale :

$19.4

Sold & shipped by Walmart
Product Description

Additional Information

Reviews
Product Description
Margo Garden Products Beach Pebble collection offers hand-picked stones from the most beautiful beaches in the world. All stones are naturally created and tumbled in its natural habitat to produce the most smooth and rounded rock for outdoor gardens and interior design and landscaping. This 30-pound bag is easy to tote and store for adding a beautiful and long lasting accent to your landscape and design. Use Beach Pebbles as a substitute to mulch along walkways and outdoor gardens, in fountains, in interior and exterior planters and in creative interior and exterior design.
Additional Information
Margo 30 lb Caribbean Beach Pebbles, 3" to 5":
Easy to accent
All natural color
Helps soil retain moisture
Prevents erosion
0.4 cu. ft. landscaping rocks
Coverage area of 1.33 sq. ft.
Large hand picked pebbles range in size on the width side: 1" to 3" and the length side: 4" to 6"
30 lb bag
Reviews
BrendaJ
Nothing like the picture
I was very disappointed in the rocks I bought. I bought them online and they were delivered to our neighborhood store. The rocks are not like the rocks in the picture! I bought the rocks to paint for our local 'kindness rocks' group. The picture shows smooth, white, egg shaped rocks. What I got was misshaped, bumpy, rough, and discolored rocks. In our area it is almost impossible to find good rocks for painting so I was excited to order these, only to be disappointed. However, I am still using them as I have nothing else. They were delivered promptly, service was exceptional, and the rocks are large, hence the 2 stars. I will probably order a bag of the 1"-3" because I need the rocks, but I will not be expecting them to be like the picture, and you shouldn't either.
JoyC916
If You Want DETAILS...
INTRO. I purchased two of this 30-lb bag of 3"-5" size stones. I was looking for larger white stones, anywhere from 3"x3" to 5"x5", and at a reasonable price for a landscaping project at my home. But I did not understand what 3"-5" meant exactly: Were there mostly larger stones? What was the ration of smaller to larger stones? Would 3"x3" be the smallest size? I had no idea. The previous reviewer mentioned that there were mostly larger stones, and the price was right for me to at least try it out. This is why I went ahead and bought two 30-lb bags. DETAILS. Here's what I learned by buying two bags: (1) The 3"-5" means that at least ONE SIDE will be somewhere from 3" to 5". (2) There is NO UNIFORMITY to what you will get in a bag. (3) Each bag will arrive in a separate shipping box for easier lifting. When I opened the first box, I saw (through the transparent plastic back of the bag) that the stones were a lot smaller than I had hoped. --- Bag 1: 3"x3" about 4 stones; 2"x3" about 10-13 stones; and I estimate about 25-35 stones (maybe more because I did not count all of those) measuring LESS THAN 3" on any side. So, that was disappointing to me. But then I opened the next box... --- Bag 2: Had only 3 stones smaller than 3" on any side. 21 stones were 2"x3"; 10 stones were 3"x3"; 4 stones were 3"x4"; 1 stone was 3"x5"; 1 stone was 4"x4"; and 1 stone was 4"x5". CONCLUSION: So, for what I was looking for, 17 stones (from bag 2) will be useful to me and the remaining 24 stones will be too small for my needs. I will be returning bag 1. I was hoping for at least 20 to 25 stones that met my criteria. But these white stones are pretty and decorative in a group, and large white stones are hard to find in my area, so I'm willing to keep a bag if it has at least 15 stones that meet my size requirements and will try figure out a creative way of using the small stones. However, for someone else doing a different project, it may not matter what size the stones are. They do have a white dust on them, which is normal since the stones are new from a quary or aggreagate company.
SunriseVilla
Makes a great border
These are beautiful large, smooth white rocks. After planting new bushes, we bedded them with eucalyptus mulch, then created a wide border with these egg-shaped rocks. The rocks look great and are very different from what large do-it-yourself stores carry. Walmart's price was also by far the cheapest we could find online.
Kjordis
Perfect rock for creating rock art...
These rocks work very well if you are into drawing on rocks. Nice and white and very smooth...
fairreviewer
good product
although there are some small sized rocks mixed within, good sized rocks still makes my landscape look nice.