Fruit of the Loom Men's Soft Touch Waffle Robe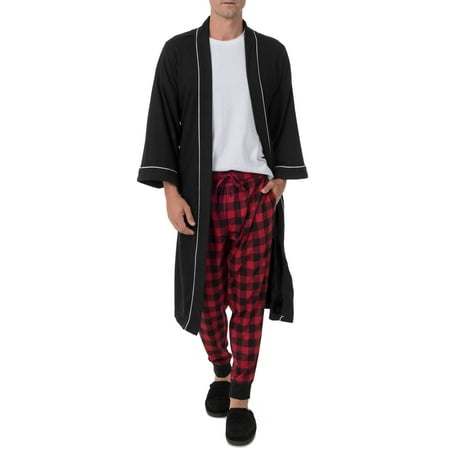 MSRP :

$19.94





Sale :

$16.99

Sold & shipped by Walmart
Product Description

Additional Information

Reviews
Product Description
For a year-round men's kimono-style waffle robe that will never go out-of-style, particularly important for in-home fashion, Fruit of the Loom Men's Soft Touch Waffle Robe is everything you want, need and more. The ever-so-soft robe drapes silkily around your fingers, the soft waffle texture indicating maximized airflow and freshness for all-day comfort. The generous, one-size-for-most fit of this robe will allow you to wear your joggers or sweatpants and t-shirt underneath or, you can go for full breathability and wear alone. With adjustable belt loops, you can choose a higher or lower placement of the belt sash, which is stitched down on the back so that you never have to wonder where your belt sash mysteriously disappeared. Two front patch pockets give you plenty of space to carry the essentials and a locker loop gives you easy access for hang drying. From the warm weather of Palm Beach to the cooler climates of upstate New York, the versatility of this men's robe gives you just enough warmth and airy protection to adjust to your climate. Wrap yourself in luxury post shower and walk like the king of your domain with Fruit of the Loom Men's Soft Touch Waffle Robe. Also available in Big Size.
Additional Information
Fruit of the Loom Men's Soft Touch Waffle Robe:60% Cotton / 40% PolyesterKimono-style waffle robeLightweight, Soft-Hand FeelMid-calf lengthStitched down, adjustable belt loopsTwo front patch pocketsLocker loop for hang dryingOne Size Fits Most Available in an assortment of colorsTag-less label for comfortMachine Washable
Reviews
Conduit
Lightweight
I like the robe, it's lightweight, quite comfortable and I like the color. I'm six foot and 200 pounds and the robe fits me well. The color is darker in person than in my pictures. The pockets are deep enough for my hands. The robe comes down to just above my knees and about four inches past my elbows. The only dislike that I have is where the belt is sewn at on the back of the robe. For me it is placed way too high. It sits up about 6 inches above my waist and feels a little awkward. I don't know if this was a mistake or that the robes are all sewn this way. But, it is one size that fits all. So maybe that sewn area is the standard location. It's not bad, it just took me a little time to get used to it. Overall, I like it to wear it during the warmer months, when something lighter is needed. I have washed this robe several times and the color has remained constant and I have not detected and frayed edges. I did receive this product under the Spark Reviewer program.
Raezer
A Great Summer Kimono Style Robe
This Fruit of The Loom Soft Touch BeyondSoft Waffle Robe feels good on the skin with the soft 100% Polyester waffle shaped material. This robe is a Kimono style fit at the top fitting my broad shoulds perfect. My robe is a Dark Blue with a white striped accent. It has adjustable belt loops, 2 on each side and is sewn in on the back which is a great feature. It has 2 pockets, one on each side measuring 6" wide X 7" deep. It comes in one size fits all, I am 5' 7" tall and the bottom of robe is 6" below my knees. My pictures do not do this robe justice. This robe is a great summer robe while it is a little on the thin side but comfortable. The sleeves measures 31" would be a bit short on a 6ft tall person, but fit me perfect. The directions state, machine wash with like colors, Tumble dry on low and remove immediately. I give this robe 2 thumbs up! Great job Fruit Of The Loom!
CardinalBB
Robe
I couldn't tell from the online photo that this robe is lightweight, great for just getting out of the shower or to wear on warm evenings. It's lightweight and comfy. The weave is nice and the color I received was a navy blue with white piping I understand it is available in other colors, A very attractive look. The stitching is very good and it's easily washable and tumble dry. The fibers are expertly woven and it doesn't need ironing plus it's absorbent. This robe has two convenient pockets and the belt is permanently attached in the back. No chance of losing the belt. I am six foot tall and the robe comes to the middle of my leg calves. It's easily folded to be placed in your luggage when traveling. When you're wearing it I think you will like the way the fabric feels against your skin.
AdrianPB
Nice fit and easy to clean!
The robe is a rich navy blue and fit well off the shelf. It's a bit thin for winter but is awesome for cool mornings in summer. I am 6' 190 lbs and it is still roomy and hangs just above the knee. The polyester material is plenty soft and has a good bit of stretch to it. I am a messy guy and immediately dripped egg yolk in my lap. I laundered the robe in warm as indicated and dried on low wish no shrinking or fading. The two front pockets are about 5 x 7 and at a good height to shove your hands into without crinking your elbows. A good quality robe that should last awhile.
mike97401
Fruit Of The Loom Robe
First: was not aware Fruit Of The Loom made robes. Now I do. Knew of the quality they excelled in and was always pleased. But now with the style they present; amazing. This robe is not cumbersome as past robes where the belt ties to high/low. Arms are not constricted either. Unusual, and great, that it fits so well. Lounging around,the level of comfort is great. No sensation of 'binding' experienced. Nice to step out of the shower and throw this on. Dries out quick. Easy to upkeep. Second: don't forget what a great product they put out, and still do.