BebeSounds Angelcare Movement Sensor & Sound Monitor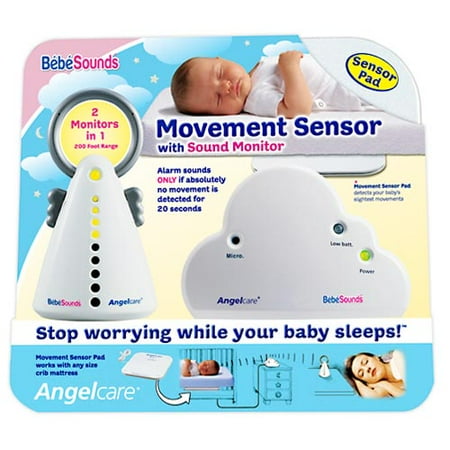 Sale :

$89.95

Sold & shipped by HealthCheck Systems, Inc
Product Description

Additional Information

Reviews
Product Description
Stop worrying while your baby sleeps. BebeSounds Angelcare Movement Sensor with Sound Monitor brings peace of mind for concerned parents. Alarm goes off if absolutely no movement is detected for 20 seconds, while the sound monitor lets you hear the slightest sound.
Additional Information
2 Monitors in 1...movement and sound monitorGives you peace of mind you need to get the rest you needMovement sensor will detect your baby's slightest movement If absolutely no movement is detected for 20 seconds an alarm will sound to notify you Movement sensor works with any size crib mattressA top-quality sound monitor is included Listen to your baby sleep peacefully
Reviews
Ashley14
LIFESAVER...LITERALLY!
I had my first child in June. Before becoming a new mom I went above and beyond doing my research on EVERYTHING! I started out looking for a nice monitor and when I stumbled upon the Angelcare Movement Sensor w/ Sound Monitor I was very intrigued. I was and still am scared to death of SIDS so finding something that could help reduce my worry seemed too good to be true. We've used this product since day one and I could not live without it. It is by far the best piece of baby equipment I own. I don't know how people sleep at night without one of these!! We have had a few false alarms but only when my little squirmer scoots down to the far end of her crib. It only reassures me that it works! I even take it with me when I travel. I learned that when using it with a pack n' play you have to put something hard under it in order for it to work properly. I would recommend this product to everyone! I will, without a doubt, be using this for all my children. SIDS can happen to any child, no matter how healthy, so it's definitely better to be safe than sorry.
Leandah22
first choice
This is the 2nd angelcare monitor we have bought. The first one was for our son, who was born a premie and had difficulty breathing. Since premies run a higher risk of SIDS, we wanted to be as careful as possible. Our son's alarm went off twice and I believe the sound of the alarm alone was enough to rouse him. If we hadn't had the alarm in place, we wouldn't have known his breathing had gotten too shallow, or possibly had stopped altogether. This is the one product I would not do without when having another baby. Since we had given away our last one, this is the first thing we bought for the new baby. Make sure you adjust the setting correctly, so it isn't going off all the time. If you just gently tap the mattress (i mean very gently) it should keep the alarm from going off. We also used a piece of particle board to stabalize the sensor under the crib mattress. It was cheap and effective. I recommend buying this product if you are anxious at all about leaving your baby in the crib. The peace of mind we had after testing it, was totally worth the price.
mominokc
Can't imagine having a baby without it
If you have ever lost hours of sleep worried about SIDS please take a look at this product. I can't imagine having a baby without having this monitor. My newborn was a heavy sleeper and at times she almost seemed to not breath or would breath so shallow you could hardly tell if she was breathing at all. Four times the alarm went off when she was a newborn and I am positive she had either quit breathing or was breathing so shallow the monitor could not detect her. It has gone off a few times since she is six months old because she has rolled into the corner, but I am thankful it did so I can move her. I had the monitor set the standard level and it has worked great. I have slept so much better having this monitor. It really does work. I bought one for my house and one for us to use when we are visiting relatives. I promise you will rest better having this system. I only wished they had had this when my first child was born. I know there is no way to truely stop SIDS, but I am convinced this monitor is as close as it can come.
LittleZsMom
Wonderful Purchase
First off let me say to everyone that is reading this- BUY THIS PRODUCT. It is absolutely amazing. Once my son started rolling over I would go check on him COUNTLESS times during his naps and during the night. Ever since I bought this monitor system, I have gotten so much more sleep. My mind is at ease and I have time to accomplish housework while he sleeps without having to go check on him every 5 min. I was very skeptical about it giving me false alarms if he moved off the sensor pad. (he travels ALL OVER that crib) But I tested it and no matter where I put him, it picks up his breathing. The only negative thing about this is the little bit of static that the parent unit has. But its nothing I cant handle. I love this product and think that every new parent should have one! It will put your mind at ease knowing that an alarm will sound if your baby doesn't move for 20 seconds.
BraydensMommy2006
Great for first time moms!
My father bought this for me when I was pregnant with my first baby. His ex wives son lost his baby to SIDS and he made sure my sister also got one with her second child. You can choose to use sensor and sound or just sound for when they are older. If your crib has metal bars under the mattress, find a box and flatten it out to put it on the bars. That way it will stay in place. My son is 2 years old and the parent part of the monitor has been dropped and played with many times and it is still working. I had it set to the highest level of sensitivity and it never sent me a false alarm. Once your child is old enough to roll around in the crib, that's when you should take it out. My son was 6 months and rolled to the very end of one side of his crib and he was so far from the sensor pad that it went off. This gives you a piece of mind when your baby starts sleeping in its own room so you can get your well deserved sleep!