24 Pack Acoustic Panels Studio Soundproofing Foam Wedges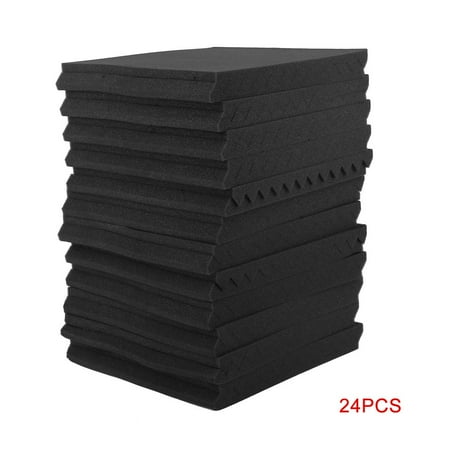 Sale :

$35.99

Sold & shipped by Mybecca
Product Description

Additional Information

Reviews
Product Description
Covers an area of 24 square feet, each Panel is 1 square foot by 1 inch thick
Additional Information
24 Pack Acoustic Panels Studio Soundproofing Foam Wedges
Reviews
trangler
Soundproofing? Not.
Thin foam like this does nothing to soundproof any space. If you want real sound proofing (or music/narration studio sound dampening) you need rock wool. HD will order it for you (Roxul Safe n Sound) and you just have to hammer together some 1x4 frames for it, cover it with cheap fabric, and hang it on the wall. Foam, unless it's like 12 inches thick, does nothing for sound dampening other than look somewhat nice as a pattern.
generic
junk
calling these "acoustic panels" is a joke, but not a funny one. so thin you can see light through it. a couple of bucks worth of cheap foam cut to mimic the appearance of actual acoustic panels.
Teacher
deadening/proofing not interchangeable terms
I purchased these to reduce noise and improve acoustics in my classroom which has a concrete floor and all hard surfaces after my ceiling panels were inexplicably switched from aucoustic tile to flat, thus turning a pleasant classroom into one where you can't hear clearly so everybody talks louder and louder. Exhausting. For a kid with hearing impairment at all, it is impossible to function. Sound proofing means sound is prevented from passing through a surface or material. These panels are not intended for that purpose. Four stars because I can see no reason for them to be so expensive.
Mike
Exactly what I was looking for.
The pictures and descriptions were exactly what I received.
Mike
They look good
10/10 IGN