Genuine Dickies Men's Dri-Tech Comfort Crew Work Socks, 5-Pack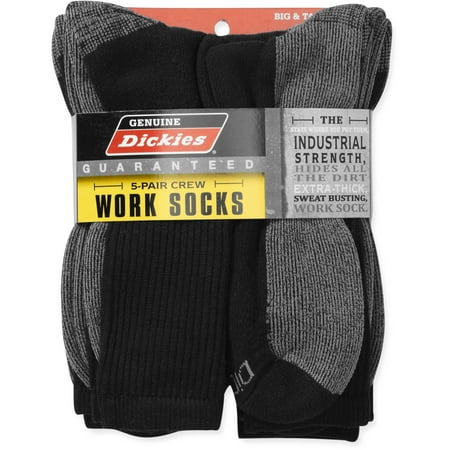 Sale :

$9.77

Sold & shipped by Walmart
Product Description

Additional Information

Reviews
Product Description
The Dickies Men's Dri-tech Comfort Crew Work Socks are an industrial-strength garment. They are extra thick and hide dirt for long-lasting durability. The 100-percent cotton fabric features moisture-control fibers which keep wetness away while you work. The men's work socks come in a five-pack, so you will have a pair ready when you need one. It features a reinforced toe and heel, arch support and a ventilated breathing channel. The Dickies work socks will help keep your feet cool and clean while providing support and comfort. Enjoy the wide comfort band and full-cushion sole all day long. Wear them while working, exercising, running errands or lounging around the house. They will fit into your active lifestyle. They fit men's shoe sizes 6 through 12 and are offered in a variety of color choices to match your wardrobe. The Dickies Men's Dri-tech Comfort Crew Work Socks will make a good addition to your work wardrobe.
Additional Information
Dickies Men's Dri-Tech Comfort Crew Work Socks, 5-Pack:
5 pairs
Dickies socks in crew style
Wide comfort band
Reinforced heel and toe
Arch support
Men's work socks, 5-pack, feature moisture-control fibers
Ventilated breathing channel
Full-cushion sole
Fits sizes 6-12
Colors available: white, black or white and grey combination
100% cotton
Industrial strength
Dirt hiding
Extra thick
Keeps feet cool and dry
See all underwear on Walmart.com.
Reviews
MandM
Good mid-range boot sock
If you're looking for a very comfortable boot sock with plenty of nice "squish," this is the best for the value that my husband and I have found to date--and we've tried a lot of brands. Don't get me wrong--there are other brands out there that have more "squishon" to them. But sometimes they're so squishy, they're too big to fit into your boots. These are the perfect balance between having enough cushiony buffer between your feet and insoles yet still being able to wear boots without having to buy a size up in order to accommodate your socks. And the price is very good as well. A very comfortable sock in other respects as well, we appreciate that it has good elastic grip without feeling as if it's cutting off your circulation. The inside part is comfortable too, as some socks, to me at least, feel too "loopy," that is, you feel all the little nubby textures inside from how the fibers are woven; usually I can't wear "sensible" socks for that reason, but not so these. I steal them from my husband every day now and wear them on our daily walks. :)
GooplusplusCom
Best choice but snug fit for 9 1/2 D customer
I lead a desert hiking group and also play tennis a few days each week. So, my socks get a good workout too. For hiking and tennis I usually put on two pairs of socks. The inner one is for longer wear. The outer pair is low cut and more cushioned. I had been using both Hanes and Starter (Walmart's brand). Hanes looked the best but were less comfortable. Starter faded much quicker and got holes a bit quicker. Hanes also got holes, smaller than Starter, but still sooner than expected. My impression is the these Dickies socks will probably wear longer than either Hanes or Starter. WARNING ABOUT SIZE: most men's socks seems to say size 6-12. For Hanes and Starter, that is probably accurate although they must be kind of loose for smaller size feet. That is not really accurate for these Dickies. I wear a 9 1/2 D shoe and, for playing tennis, a size 10 1/2 (foot slide cushion). The Dickies socks were very snug on my feet which is okay. However, anyone with larger feet would probably find them to be too tight and uncomfortable.
ShabbosGoy
Holiest socks I have had
I really do like these socks, and have bought 3 or 4 packs in the last several months. I like the fact that the bottom part seems to be well-reinforced. I also like that the pattern is distinctive, which makes the job of separating and pairing them up for the sock drawer easier. BUT... I have never seen socks that are so prone to holes as these! In the top part, especially from the ankle on up, there is apparently something about the weave of the fabric that lends itself to making holes. My other socks do not do this. When other socks have holes, it is usually because of wearing and thinning of fabric. I would have expected more from Dickies.
LeslieR
The only socks my husband will wear
My husband absolutely loves these socks. They are the only brand he'll wear. He works at a paper mill, so he's in steel toe boots ALL the time. He works a lot of hours so he has tried many different brands prior to these in the hopes of finding ones that can handle the wear
johnrj65
Nice socks...be aware of the sizing
I wear size 11 shoe and though size 6-12 would be suited to fit...I should have bought 9-13 for a better fit. These are good quality socks and fit ok but I wish I would have bought the larger size. it is the socks that can cause foot problems and not necessarily the shoes. If I pull the toes out slightly to loosen them so they are not binding, they are ok. If you have larger feet, remember that the comfort of this size is geared more toward the smaller size than the larger where they have to stretch too much to fit.