Refurbished TCL 32" Class HD (720P) Roku Smart LED TV (32S3750)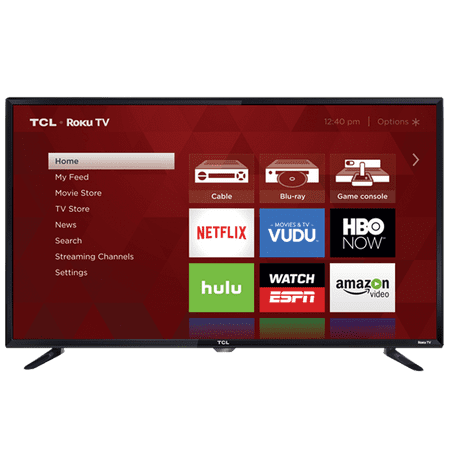 MSRP :

$169





Sale :

$132.99

Sold & shipped by Walmart
Product Description

Additional Information

Reviews
Product Description
"Enjoy your favorite television shows, movies and video games with the 720p clarity of this TCL HDTV.Note: You must have a source of HD programming in order to take full advantage of the Refurbished TCL 32S3750 32"" 720p 60Hz Roku Smart LED HDTV. Contact your local cable or satellite TV provider for details on how to upgrade."
Additional Information
"This is a refurbished product. It has been tested and inspected by the manufacturer or third-party refurbish supplier to function like new, with limited to no signs of wear. All refurbished TVs come with a minimum 90-day limited warranty provided by the manufacturer or supplier. The product may arrive in a generic box that may show some prior wear.Refurbished TCL 32"" Class HD (720P) Roku Smart LED TV (32S3750):Key Features:32"" LED panelWith a 1366 x 768 HD resolution16:9 aspect ratioBuilt-in RokuGet video content from the Internet31.5"" screen measured diagonally from corner to cornerView your movies as the director intendedBuilt-in tunerWatch broadcasts, including HDTV programs where availableHDMI Inputs: 3Enjoy a superior HD experience with HDMI, the one cable audio/video solutionWall-mountable:VESA standard 200mm x 150mmSupport and Warranty:90-day limited warrantyTV stand sold separately. See all TV stands.TV mount sold separately. See all TV mounts."
Reviews
SueDayPolston
32" TCL Smart tv with Roku
So far so good. As this being our 1st smart tv and our 1st experience with Roku we are really liking it! Set up was easy. Also have app on my smartphone and can control from it. This also came with a trial for Sling which is great too!! Still so much to explore. As soon as the TV arrived I called our cable company to disconnect our cable and the saleswoman tried to tell me I was mistaken there was no way I had a TV with Roku installed in it and I would have to pay additional for this. Haha she fought really hard for me to keep that cable. We will be buying additional tv sets for the other rooms. My brother-in-law also has this set but in a 52" and they are equally pleased with there's
McMaster
32" Roku TV initial review
Found the remote a bit different. I hooked to a roof antenna as I have 50 plus off air channels. The Vol / mute is on the side which is a puzzle until you find it.. There are no numbered buttons but a Home menu allows scrolling down thru a channel list It needs a Favorites button as many of my off-air stations are not something I'd watch due to languages and inconsistent station signal strength . Operation: takes 4 seconds to start when you first turn it on PICTURE: is quite accurate being a 720hz TV, Colors are vibrant. The Roku TV remote is like the other Roku remotes, midsize, working off a 4 point and Select middle button. Note: the TV weighs slightly more than the box. 7-8 lbs ? amazing it's so light for it's size. ( without the stand ) I hung it on the wall. Paid $109. if it lasts a few years, probably a good office/bedroom choice.
joeyson
Awesome for the money, extremely happy
I bought this tv for a small man cave I made in our spare room(office). The tv was in perfect condition and looked brand new. I have a roku box already so I was familiar with the platform and in my opinion its the best smart tv platform because it isnt reliant on the manufacturer of the tv for software updates , in other words roku seems to stay on top of updates and making sure the platform operates flawlessly. Anyhow, tv works great, I like the simple roku remote as well. Picture is really good once you play with the settings to get it how you like . I did buy the two year warranty because honestly I liked the tv so well I would be crushed if it died right after 90 day warranty expired. Highly recommended and when I replace my living room tv, I will most likely buy a TCL and Im a samsung guy.
JoshB
Roku adds so much value to this TV.
I can't really speak to the longevity of the TV as I've had them for less than 30 days. This TV seems to fit my bedroom needs just fine. This was a refurbished TV so it is not in it's original packaging, but it shows no wear. I ultimately went through 3 TV's to get 2 in working shape, this was only a minor inconvenience since my local Walmart was happy to refund the faulty TV which had a bent screen. The 2 winning TV's I received work great and look great. No batteries are included with the remote (AAA) which would normally come with a new TV. I mounted one to a wall(wall mount purchased separately) and one on a TV stand. Either way works great. The TV's do make a clunk sound if you move them around in your grasp, I've also read this on other reviews for this TCL Roku Tv's. I wouldn't buy this TV if you plan on moving it around a lot in your home or have an RV as the construction is questionable at best. However this a cheap TV and that is why I bought it, my TV's will not be moved around. The picture and sound quality are better than expected. For this size TV 32" I think it would be hard to distinguish between 720 and 1080 as far as spec goes. I wish vizio and other big TV manufacturers would partner with roku because this software just blows other TV's "smart" software out of the water. The biggest value is having the built in Roku and the simplest remote I've seen on a TV. The software allows you to alternate between apps quickly and efficiently. Reception from WIFI is good as even in my home the signal has to travel through several walls and still isn't an issue. The built in Roku also frees up your hdmi port and AC plug outlet. I use this TV to access subscription apps SlingTV and Netflix. The free apps are limited in content I've found but still fun to check out. Youtube and Pandora do have a lot of content and are free but you will have ads. Hope this helps.
begees
great tv
I ordered this tcl roku tv not thinking that it was going to be a good product. Turned out it came in great condition and the sound and picture are fantastic. For refurbished it is showing to be a great tv for the price and i have already recommened it to some of my family.