As Seen on TV Handy Space Heater, 350 watts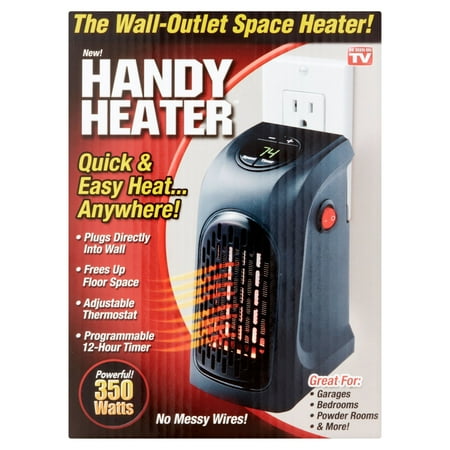 MSRP :

$29.88





Sale :

$22

Sold & shipped by Walmart
Product Description

Additional Information

Reviews
Product Description
Heat up your home and save money on your heating bill with the 350 Watts Personal Heater Handy Space Heater, Portable Wall Plug In Heater. This portable personal heater is powerful and small, making it the perfect heater for taking with you wherever you go. Using dual heater and fan technology, the 350 Watts Personal Heater Handy Space Heater, Portable Wall Plug In Heater heats up fast and the heat resistant housing stays cool to the touch. With high power 350 Watts, the personal heater can heat up to 250 square feet, making it the perfect plug in heater for travel, offices, dorms, and rooms! The 350 Watts Personal Heater Handy Space Heater, Portable Wall Plug In Heater has a digital temperature display that allows you to easily set the temperature of the heater to get your room to the ideal temperature. The portable space heater is easy to use and fits in any electric socket.
Additional Information
Reviews
w3cpo
WORKS GREAT FOR ME
I have a moderate-size bathroom (about 7' x 8') and this little heater works great in there. The thermostat also works well. It's plugged into a wall outlet that is fed by a Ground-Fault Current Interrupter (GFCI). The neat thing about this little heater is that it can work with vertical or horizontal outlets. I haven't tested the timer yet. As a Professional Engineer, I'm angry that I didn't invent this heater first. I've been talking about something similar for years. To quote the Romans, "Facta, non verba" (Actions, not words). If I could change anything it would be the yellow light at the bottom of the ceramic element. Some might think the element is burning, but the light remains on even when the thermostat is off. Also, this is slightly larger than photos suggest.
drONmars
Recommended... works superb...
Good small, personal space heater. Heats up the room and does the job very well. It is safe to use in every perspective and is very handy. Has got timer of upto 12 hr function, a thermostat with max of 90 degrees F function. To me it is one of the best ones in its class. Takes only 350 watts. Unsure of BTU class it fits in but why u need it, is fulfilled pretty well by this heater. Consider it if u really cut short on electricity bills..
Dixieland
Worst purchase ever
Item does not state it will not work in GFCI electrical outlets until you open the box and read it on the user manual. Then you have to contact deceptive seller and what you have to go thru to return it is unbelievable. Lots of rules to return an item that you cannot use. Then you have to pay to return the item and contact them to see if return was accepted. Better have a tracking record of return, you will be asked for tracking number before they tell you if you have a refund. Reason for return was not as i stated at beginning of review, it was that I changed my mind, "a lie". Walmart needs to partner with businesses that have some ethical business practices. I feel completely taken advantage of by this purchase. Word of advice, please check return policies and proceed with caution.
Bluest
No power cords to trip over!
I've owned this product for several months now and I love it! I love it so much, I purchased another one to save for later, should this one ever give out. I used it in a 10x10 room and it worked great! I also used it in my small livingroom and it gave off enough heat to stay cozy. The timer worked perfectly, shutting off after the selected time frame preference. Oh, and there are no cords to trip over! I am totally thrilled with this product!
Delta
No power cords to trip over!
Perfect for small room