As Seen on TV Handy Heater the Plug-In Personal Heater, 350 watts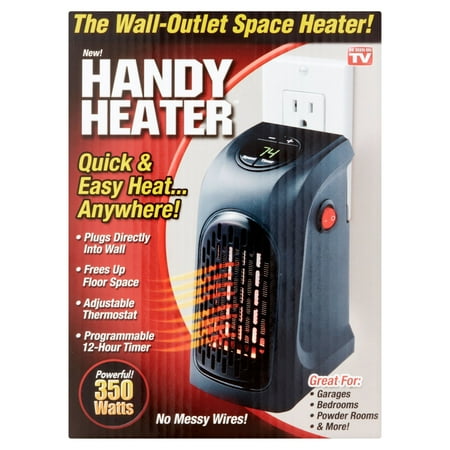 MSRP :

$29.88





Sale :

$29.88

Sold & shipped by Walmart
Product Description

Additional Information

Reviews
Product Description
Heat up your home and save money on your heating bill with the 350 Watts Personal Heater Handy Space Heater, Portable Wall Plug In Heater. This portable personal heater is powerful and small, making it the perfect heater for taking with you wherever you go. Using dual heater and fan technology, the 350 Watts Personal Heater Handy Space Heater, Portable Wall Plug In Heater heats up fast and the heat resistant housing stays cool to the touch. With high power 350 Watts, the personal heater can heat up to 250 square feet, making it the perfect plug in heater for travel, offices, dorms, and rooms! The 350 Watts Personal Heater Handy Space Heater, Portable Wall Plug In Heater has a digital temperature display that allows you to easily set the temperature of the heater to get your room to the ideal temperature. The portable space heater is easy to use and fits in any electric socket.
Additional Information
Reviews
w3cpo
WORKS GREAT FOR ME
I have a moderate-size bathroom (about 7' x 8') and this little heater works great in there. The thermostat also works well. It's plugged into a wall outlet that is fed by a Ground-Fault Current Interrupter (GFCI). The neat thing about this little heater is that it can work with vertical or horizontal outlets. I haven't tested the timer yet. As a Professional Engineer, I'm angry that I didn't invent this heater first. I've been talking about something similar for years. To quote the Romans, "Facta, non verba" (Actions, not words). If I could change anything it would be the yellow light at the bottom of the ceramic element. Some might think the element is burning, but the light remains on even when the thermostat is off. Also, this is slightly larger than photos suggest.
drONmars
Recommended... works superb...
Good small, personal space heater. Heats up the room and does the job very well. It is safe to use in every perspective and is very handy. Has got timer of upto 12 hr function, a thermostat with max of 90 degrees F function. To me it is one of the best ones in its class. Takes only 350 watts. Unsure of BTU class it fits in but why u need it, is fulfilled pretty well by this heater. Consider it if u really cut short on electricity bills..
Ellewyn
Nice little heater!
The Handy Heater is just that...very handy. But, if you're expecting to heat a large area and get a lot of heat, you will be disappointed. I am only heating an 8 x 12 area, and it does a great job. The first time I plugged it in, it took a few minutes to "burn in" or something. At first I didn't think it was going to work, but then it kicked in and now the area is toasty. I would recommend it for someone who isn't expecting a major heating devise, its just a little guy :)
Tennessee
Perfect
Bought this for my husband who is staying in our travel trailer. Can move it anywhere there is a plug in, puts out an amazing amount of heat and is thermostatically controlled. Love it. Will probably get more!! They are great because they are out of the way, small and no cords!!
WarmBob
Perfect for a Cold Office
I work in an office building where they keep the temperatures very cold. Even to the point of being uncomfortable! Saw this little heater advertised on TV and felt, if it worked the way they said it would, it would be perfect for taking care of my problem. It worked amazingly. You can set it to the temp you want ... and it cycles on and off to maintain that temp. Wonderful ... and fit my needs exactly!