As Seen on TV Speed Out, Remove Screws Without Drilling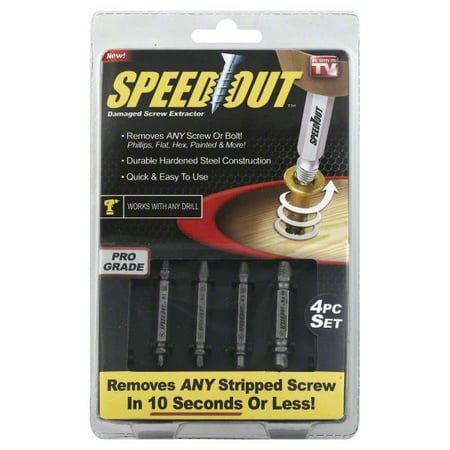 MSRP :

$19.88





Sale :

$10.74

Sold & shipped by Walmart
Product Description

Additional Information

Reviews
Product Description
SpeedOut removes stripped or damaged screws quickly and easily. SpeedOut (as seen on TV) is a drill and extractor in one tool. If you can use a drill, you can use the SpeedOut.
Additional Information
Speed Out:
Removes any stripped screw in 10 seconds or fewer
As Seen on TV screw extractor can remove 4" long deck screws out of redwood even if you break the head of the screw or bolt
Whether a Philips head, flat head, hex head or even painted-over screws, Speed Out gets them all out
Made of durable hardened steel
Speed out screw extractor is a must-have for any tool box
No more hassles
No more frustrations
No more wasted time
Reviews
mouse
junk
The tip broke off the first time I used this item. Thus was a waste of money
cookieman2234
BROKE ON FIRST USE NOT GOOD
FOLLOWED DIRECTIONS ANS BROKE IT FIRST TIME USE THEN i couldn't get the broken bit out of remainde of screw . i am going for refund it doesn't work!!!
Dougmoose
Worthless
That was the biggest waist of money I every spent the drill part wouldn't begin to make a hole and the extracter part well LOL save your money
Stever
Waste of time and money
Drill part of bit is too soft, gets full immediately and won't create a recess for the spinal part to grip...you will waste your time and effort...I used a drill and an ez-out
Stever
IT ACTULLY WORKED!
I was SERIOUSLY doubting this thing's ability to remove a screw that I had broken off INSIDE the crankcase of my dirt bike. I, like a complete moron, used an impact to tighten some screws on it and had gotten a little overzealous with it. So I went to Walmart, and despite reading the poor reviews of this item thought hey it couldn't get any worse... and though I know I'm probably wrong about that, this little thing did the job. I didn't even need to flip it after drilling out the bolt, it just caught and I was ale to back out the bolt!. couple of warnings I would mention: 1.I did have to put a lot of pressure on the bolt to get it to drill through (which was expected.) 2. the bolt I used this on was rather large so I wouldn't imagine this item would work on small screws and bolts. 3. I had snapped a large part of the bolt off, so I had to be careful to keep the drilling end centered so that it would catch properly. 4. this is a metal bolt on metal crankcase, so I cant speak to its ability to work on stripped metal screws in wood. 5. there are LOTS of little metal shavings that result from this so be VERY CAREFUL if youre working around something that isn't tolerant to being filled with this kind of debris. 6. DONT USE AN IMPACT UNLESS YOURE SURE YOU SHOULD BE USING ONE ON THAT APPLICATION, ALWAYS CHECK FOR PROPER TORQUE SPECS! Lastly, I would provide picture proof of my use, but sadly wal mart doesn't have that option, as well as I am not able to post any personal contact information. so be smart and always keep your expectations low and you wont be disappointed with this product!