Munchkin Sprout Drying Rack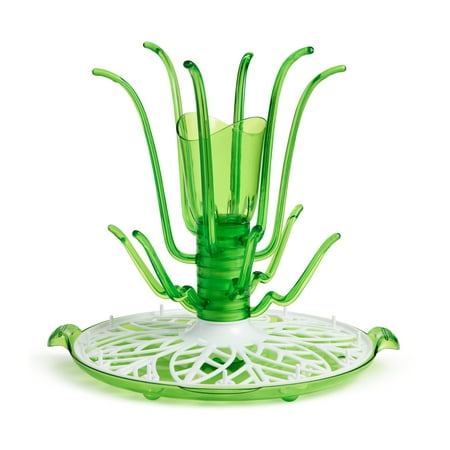 MSRP :

$16.9





Sale :

$12.79

Sold & shipped by Walmart
Product Description

Additional Information

Reviews
Product Description
Looking for a fresh take on air drying all those baby bottles? The award-winning Sprout® Drying Rack by Munchkin offers discerning moms a stylish and functional way to dry bottle parts and accessories while keeping countertops clean and clutter-free. The Sprout Drying Rack has a large capacity, allowing you to load up to 12 baby bottles of all sizes onto its sturdy peg branches. A handy, slotted drip tray holds accessories in place for thorough drying of even the smallest pieces. There's a built-in reservoir for capturing any drips plus a spinning base for easy access.
Additional Information
Stylish rack for drying bottles, cups, and breast pump accessories
Easily holds up to 12 bottles of all sizes
Includes built-in reservoir and spins for easy access Holds sealing discs and straws upright for complete drying Beautiful, nature-inspired design
Reviews
VeronicaRC
UPC : 735282112850 - Munchkin Sprout Drying Rack - PickPanda.com
Mslavell
green unique bottle drying rack
i only bought this because i been threw so many different kinds of racks and i hated them because they all creat bacteria and mold were the water is suppost to drain but the fact is they were all squarish models but this but this one is circle and has hole and actually drys and drains then the other leading brands workd alot better no mold or bacteria on the drain area meaning healty clean bottles and Works great. The only bottle rack that actually does what it suppost , i recommend u clean it with lysol deluited with wated so mold and bacteria never creep up on the bottem but mine hasnt but it always good to keep caution Great product recommend to Anyone!
Mommy2Haylo
Handy, Functional, and Fun
Doesn't take up much space. Holds lots of bottles, bottle parts, and other feeding accessories, while keeping them organized. Also not an eye-sore in the kitchen, b/c frankly its kinda fun! MIL already commented on how cool it is! Durable for price you pay in comparison to others in its price range. Very easy to assemble.
iddles333
Don't buy just because it looks cute.
I think that this bottle rack is very cute. But don't let that deceive you. That is the biggest reason why I bought it. It does fit several bottles and I do like the middle holder to put spoons in, etc. But, the bottom of it doesn't hold all your stuff very well. If you use all the bottle holders, you can't fit all your bottle accessories on it and once you have all your stuff on it, it doesn't spin very well without knocking your stuff off. It especially doesn't work well with Dr. Brown's bottles. The valve in the Dr. Brown's bottles don't stay standing on the bottom and you can't wedge them in either and they fall off as soon as you move it. I wouldn't buy this product again.
30babymama
Great product!
I have only been using this for a week, but I love it! Our baby is formula fed only, so we have a lot of bottles, but this drying rack has been great so far. It is a modern style and color, which I also like. It's not a complete eye sore like so many other baby products. I am very glad that I purchased this product and am very satisfied!