Munchkin Warm Glow Wipe Warmer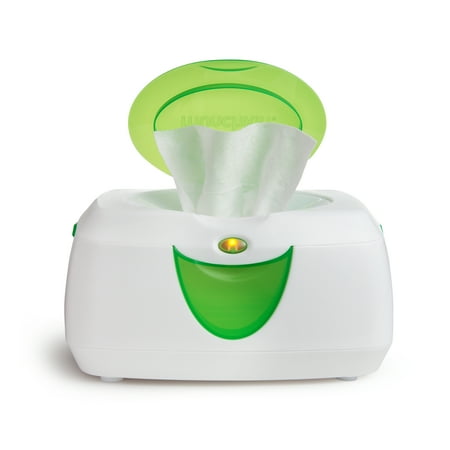 Sale :

$27.51

Sold & shipped by Babyhaven
Product Description

Additional Information

Reviews
Product Description
Do ice-cold wipes trigger unhappy cries during diaper changes? The Warm Glow Wipe Warmer by Munchkin will soothe baby's bottom and warm mom's heart. Help make diaper changing more enjoyable for your little one with the comfort of a warm wipe. This convenient wipe warming system stores up to 100 standard baby wipes and dispenses them conveniently from a flip-top lid. Its low-voltage, top-down warming system ensures a warm wipe every time without the risk of browning, drying, or discoloration. It also features a soft glow night light that helps with nighttime changes and automatically shuts off after 10 minutes of use. A built-in window allows you to keep tabs on your wipes supply without opening the unit, while the tightly sealing system keeps wipes moist over time. Weighing only about 2.4 pounds, you can take this compact wipe warmer along with you on your journeys.
Additional Information
Low-voltage, energy-efficient wipe warmer with soft night light
Flip top lid allows easy access to wipes
Night light features 10-minute auto shut-off
Top down warming system prevents wipes from browning
Holds up to 100 standard sized baby wipes
Dimensions: 7.25" x 5" x 10"
Reviews
chellars14
LOVE it! Here are some tips:
I love this warmer and would highly reccomend it! I have a baby boy and several people told me a warmer was not necessary and would not be used. THEY WERE WRONG!!! This makes diapers changes so much better as he likes the warmth and it also helps to prevent getting sprayed with urine!! Some people say they don't like this one due to browning of the wipes and drying out. To solve this, purchase the Prince Lionheart Everfresh Pillow replacements. Its a little sponge that you wet and place at the bottom of the warmer. This definitely helps to prevent browning and drying out! Just re-wet it each time you refill the warmer and replace it when it doesn't hold as much water anymore (3-4 mo. for me!) Some people also say they cannot find wipes that work... I use Huggies Natural Care (the bags of 600+) and do not have any issues. A helpful hint is to not fill it as full, as if it is filled to the top the wipes cannot pull out as easily and you will constantly have to open it up and pull one through... Just leave at least a 1/2 inch at the top! Also, the light isn't a nightlight for the whole room... it does it's job by lighting up the area around the warmer so you can see to get your diapers! Also, it's nice to be able to look through the plastic and see if the wipes are getting low.
BaileysGirl09
Great Quality and Good Price! (Video Review)
We've been using this wipe warmer for 20 months now and it hasn't given us a seconds problem. It keeps the wipes warm and moist. Definitely a good buy :)
LittleMan
Nice and warm
My 2 month old grandson loves his wipes when they are nice and warm on his butt. He hates when we have to use cold one when he is not at home.
Linet
I love this Warmer
I was told that a wipe warmer is a waste of money, but I got one anyway, I've had it for about a year now, I love it, I only use it during the cold winter months, it helps for those late night changes, a cold wipe will wake a baby up in no time, I can change my boy without waking him up with a cold wipe. The wipes can turn brown but that is after a long time of no use, so I haven't had a problem with wipes turning brown. The only problem I did have is with wipes drying out. I bought cheap wipes out of desperation one day (Parents Choice), and they dried out the next day when I put them in the warmer. I would recommend using huggies or pampers wipes, those hold moisture better, or even the $1 store wipes they did well in the warmer as well. Even if the warmer is unplugged you can still use it to store wipes, they should not dry out so long as the lid is closed in between uses. Oh yes, and the light is not that bright but I'm sure that's on purpose so that it doesn't wake baby up at night.
MyKidzMyLife
A Great Wipes Warmer
I really like this wipes warmer! I like that it warms from the top and not the bottom, keeping the wipes on the bottom of the stack from browning. Just adding a little bit of water helps keep every wipe in the stack moist. Most of all the baby likes having warm wipes for her diaper changes! While the night light isn't exactly a bright light, it is useful for those middle of the night changes. Also there is no additional expense of replacing "pillows" like the Lionheart warmer, which I used for my first two children. The pillows always dried out and browned causing the wipes to dry out and brown. After using the Munchkin Warm Glow Wipes Warmer, I will not use anything else!