VTech DM111, Digital Audio Baby Monitor, DECT 6.0, Belt Clip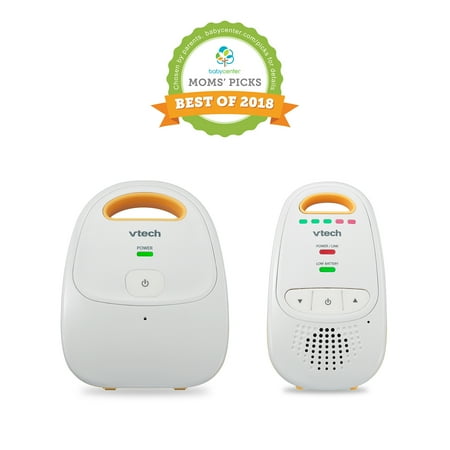 MSRP :

$19.01





Sale :

$18.99

Sold & shipped by Walmart
Product Description

Additional Information

Reviews
Product Description
The VTech Safe&Sound DM111 Digital Audio Baby Monitor features DECT 6.0 digital technology, which provides clear transmission and eliminates background noise. With its interference-free communication, you can rest assured you are the only one who can hear and talk to your baby. Also included with the VTech Safe&Sound DM111 DECT 6.0 Digital Audio Baby Monitor is a five-level sound indicator. LED lights on the parent unit indicate the level of sound in your baby's room so you can visually monitor the noise level with the unit muted. You can also clip the parent unit to your belt and take advantage of the extended range and battery-powered operation.
Additional Information
VTech DM111 DECT 6.0 Digital Audio Baby Monitor with Belt Clip, 1 Parent Unit, White:
DECT 6.0 digital technology
Data encryption for security
Volume control
Out of range indicator
High sensitivity microphone
On/off indicator
AC adapters included for the baby and parent unit
Battery compartment in parent unit for increased mobility
Requires 2 AAA batteries (not included)
Questions about product recalls?
Items that are a part of a recall are removed from the Walmart.com site, and are no longer available for purchase. These items include Walmart.com items only, not those of Marketplace sellers. Customers who have purchased a recalled item will be notified by email or by letter sent to the address given at the time of purchase. For complete recall information, go to
Walmart Recalls
.
Reviews
GhostWriterSociety
VTech DM111 S & S DECT 6.0
We purchased the VTech DM111 Safe & Sound DECT 6.0 (etc.,) for use as a monitor to place in my mother's bedroom, after she has suffered a heart attack, and three weeks later, fell and broke her hip. I specifically searched for a unit that was 'TWO-WAY' communication, so that if she called out from the other room, she would be assured that she was heard. The product description specifically says, you can hear and talk to your baby, and scrolling down the page, TWO WAY, SECURE COMMUNICATION is a specifically listed product feature, of the "VTech DM111 Safe & Sound DECT 6.0 Digital Audio Baby Monitor with Belt Clip". I have captures of the screen and product description, and it is very clearly listed as a feature. So I ordered on, on-line and the product arrived today,.. NO TWO-WAY COMMUNICATION,.. Now,.. the product itself is not a bad unit, for the price. The signal is strong, fairly clear, even from across the house. We tested the unit with someone speaking with the bathroom, with the door closed, and the unit across the room, and were still able to hear what was being said. I am pleased with the functions I have, but am disappointed that I did not receive a unit/ product, with two way communication capabilities. Mom and Dad are okay with this, but this is not listed properly, mislabeled, and misleading. "I" would send it back, but hey, that's the way of things these days, and it is a sad state of affairs. If YOU are looking for a good, strong baby monitor, I would recommend this as a LISTENING MONITOR.
Jo
Back Missing for batteries.
The monitor itself works just fine, but my portable parent unit is missing the cover to the battery part. So I'll either have to keep it plugged in or tape the batteries in. I'm very disappointed.
Krystal
Pleasantly surprised!
Unit works great and you can not beat the price! Pros: Range: I live on three stories in a townhouse, and have the child's unit on the top floor, with the parental unit on the bottom floor. No problems! Sensitive microphone. I can hear the (very quiet) baby swing rocking, and every little baby grunt and peep. The child's unit on the third floor will also pick up the babies cry when he is on the second floor! Visually detect noise level: the unit lights up green when it starts detecting baby noises, and red when baby is crying. Nice if you are listening to music or have the vacuum running. Durable: My husband dropped it right out of the package on kitchen tile and my toddler threw it on hard wood. It still works perfectly fine! Cons: Sound quality: There is some static, but we have quite a bit of wi-fi running through our house. It does not effect the usability of the product, but some may find it annoying. This is the only thing holding it back from 5 stars.
Angela3456
worked like a charm!
I bought this lil baby monitor NOT for a baby but for my elderly father... he claims that even with the home theater system they have, he still cannot hear the t.v. at his chair the the sound is always coming At him not around him., mind you he is hard of hearing and we do have a bose stereo system connected to the t.v. so the sound rocks the house, nevertheless.... after countless wireless speakers he claimed did not do the job, I finally bought this little v-tech baby monitor put the transmitter next to a bose speaker put the receiver right behind the head of his chair. FANTASTIC!!!! we hit the jackpot. people even when your Dad is 83 it pays to make him happy! This is a great product it does live up to the labeling. I will recommend this to product anyone needing to "move the sound around" or making sure you can hear you loved ones from the other room.
DoctorsCPA
Best Baby Intercom Ever
Best Intercom Ever. VTech has finally got it together. I have two of these and they do not interfere with one another and they work perfectly and are crystal clear. Amazing 2016 technology. I have 5 kids - two sets of twins. I have had every kind of intercom imaginable - Audio, Video, Portable. The biggest issue was range and interference with other wireless items like phones but most of all with other intercoms. The others had A/B switches to help with this problem but I had to buy different brands to keep the interference to a minimum. Before I bough these I called VTech to see if two would work independent of each other as they do not have A/B switches. They told me that they calibrate them to only work with one another at the factory so that in essence you could have ten in the same home. True. I assume that their whole line have similar technology so go for VTech. Also, Walmart has the best price.