VTech CD1113 Black Trimstyle Phone with Caller ID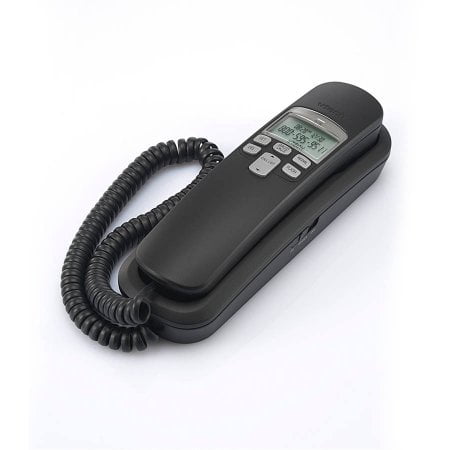 MSRP :

$57.78





Sale :

$16.28

Sold & shipped by Always In Touch
Product Description

Additional Information

Reviews
Product Description
The VTech CD1113 Black Trimstyle Phone with Caller ID operates off of telephone line power, which means it will work in the event of a power outage. It comes with useful features such as last number redial, 80-number memory and an adjustable ringer volume that you can set from low to high or turn off completely. This black phone with caller ID also has tri-lingual menu prompts.
Additional Information
VTech CD1113 Black Trimstyle Phone with Caller ID:
Last number redial
Adjustable ringer volume from low to high or off
Caller ID with 80-number memory
Tri-lingual menu prompts
Operates off of telephone line power
VTech phone with caller ID will work during a power outage
Reviews
EmmaWalmart
Not up to par with other vtech; useless
I purchased the vtech CD1113 phone at my local Walmart. It was not my first choice from t he online selections but the only item available locally. I've owned other vtech devices, and while they are not top of the line, they always worked well. I purchased the CD1113 to use with BasicTalk since sometimes cordless phones, or phones requiring electricity, can cause problems on VOIP. This phone does not provided the features others have mentioned, and does have an extremely short cord. Since it is hardwired, substitution of a longer cord is not an option. However, the reason for the one star rating is that this phone did not work properly. Voices were tinny and faded in and out. (I tested the Basictalk connection with other phones to rule out it being a Basictalk quality issue). It is not dependable and certainly would not be a phone to use as a backup during electrical outages -
Gerald23
Pretty much junk
I got this phone to put out in the garage. Did not want an expensive phone that was going to get all messed up. I'm sure glad it was cheap, but I guess you cannot expect much for $10. This phone has the following problems that were an issue for me. 1. Cord is hard wired. I had to go back and get a coupler to connect it to my phone line. Did not wan't to spend the money to install a phone jack. This was supposed to be cheap and easy. 2. Buttons do not light up, and there is no tone, so it is hard to tell if you completely pushed the button or not. 3. Caller ID screen does not light up, and is hard to read in bright daylight, which seems to wash out the LCD display. I have not even tried to use any of the functions under the display. 4. While this is not a good phone to MAKE calls with, with the exception of a little static, it works fine for ANSWERING calls. It has a loud ringer, and the voice is pretty good. And it does have a redial button. Once I learn to program in a few numbers, that will make it unnecessary to dial, which is almost impossible.
DiscipleJohn
Vtech Phone
1) Can't replace the cord to add a longer one, or to replace when it gets damaged- as they always seem to do. 2) The display does not light up and, though the box doesn't say it does, the picture on the box gives the impression that it does. When you compare the picture on the box to what the display actually looks like you can see there's a HUGE difference. 3) The ringer only has TWO settings- on and off. There is NO "Adjustable ringer volume from low to high or off". 4) The phone will work in the event of a power outage ONLY if connected to an actual landline carrier (like AT&T). It will not work if you use BasicTalk or Vonage or any VoIP or cable company. Positives: looks good, sound was fine
Karen
Vtech Phone
Keyboard is small and caller ID is smaller that it appears in the photo. That being said, quality of phone is good for the price
Shadow0928
Not worth the money
Keyboard does not light up and the screen is very hard to see.