Step2 Busy Ball Water Table with a Scoop and Ten Balls Included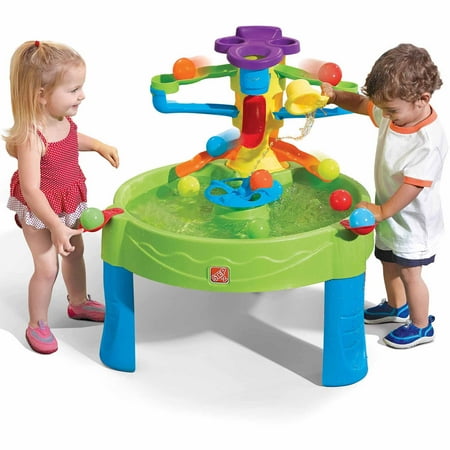 MSRP :

$44.99





Sale :

$39.99

Sold & shipped by Walmart
Product Description

Additional Information

Reviews
Product Description
The Step2 Busy Ball Play Table provides a fun and engaging source of activity for little ones. Suitable for indoor or outdoor use, it includes 10 in various colors that kids can send from the top to the bottom of the table using one of three different paths. They float once they fall into the water and can also be placed in the central spinner to send them moving in a circle. Children can also use the flippers on the side to launch balls into the basin of this water play table. A scoop is included so kids can easily retrieve them for another trip down to the water or when playtime is over. This Step 2 play table can be used with or without water, and a drain plug allows for quick and convenient emptying.
Additional Information
Busy Ball Play Table:
Perfect for indoor or outdoor fun
3 different paths for the ball to roll down
Center spinner works as a carousel for the play balls
10 balls and scoop included
Balls can be used with or without water
Drain plug included for quick clean up of Step 2 play table
Reviews
Bugbugsmom
Love this table
I did a lot of research to find a water table for my daughter. I am so happy that this is the one that I got! It is great! It is very cute and fun to play with. It is sometimes difficult to find things for my autistic daughter to stay interested in. I really wanted her to play with this because she has sensory issues and loves the water. This is perfect! I'm not sure if it is recommended, but she got in it too. She weighs about 35 lbs and it was just fine with her in it. This is actually enjoyable for me to play with too :)
Sammiemay
Made in the USA
I bought this for my son's 3rd birthday. On the outside of the box it says made in US with love. However the black and white instructions were written in Chinese. I managed to get the table together using the box it took me a bit but I got it done. It didn't come with the screws it needed either. My kids seem to like it, so we will be keeping it. Also the yellow tower with all the slides doesn't connect with the table So it falls if the table is bumped.
AllieH
DO NOT BUY!
The yellow part of the table that has all the different colored paths for balls on it is NOT ATTACHED! It doesn't snap in what-so-ever! I bought this for my little boy and every time he goes to put a ball in the holes it tips over! There are 3 small tabs on the bottom to "keep it in place" but breathing near it could knock it over, let alone trying to play with it! AND ON TOP OF THAT THE BALLS WONT EVEN GO DOWN THE SLIDES WHEN THEY ARE WET! IS THAT NOT THE WHOLE POINT OF A "WATER TABLE"?!
donnad
Poor quality tower. Plug leaks.
So I got this for my 19 month old since she loves to splash around but this play table was poorly made. The tower doesn't stay together after trying to screw in with screws. Then the tower slides don't fit well and ball doesnt want to go thru properly. And to top it off, the tower doesn't stay in when placed in the designated area. The tower toppled over and hit my daughter, luckily its lightweight but not safe for constant play. And the plug had a steady leak. I had to place bucket underneath to catch all the water. Maybe I got a bad one, but i don't recommend it. I'm on the search for a new water table!
Marya/MaMa
Step2 Busy Ball Play Table
I am partnering with Step2 in exchange for my honest review and opinion.I was very excited to get a first hand opportunity to review this table for Spring! My daughter has a love for balls and water, so this was perfect for her.When the package arrived, it was in a smaller box than I had imagined, all I had to do was snap a few pieces together and screw the tower to make one piece. It was not overwhelming, I was able to put it together before hubby came home. Only difficult part was getting the screws in tight enough to actually hold the tower together. Indoors, my daughter plays with it without water and has a blast!Outdoors, its fun with water but we have noticed that the balls have a hard time rolling in the tower when wet and flinging from the flinger.I love that it is easy to fill and drain. I think it would even be fun to take the tower off and use it as a sand table! While we think this product needs alot more work in durability, my daughter still enjoys it. Thanks Step2 for allowing us to test this product!!