Step2 Lift and Hide Bookcase Storage Chest Blue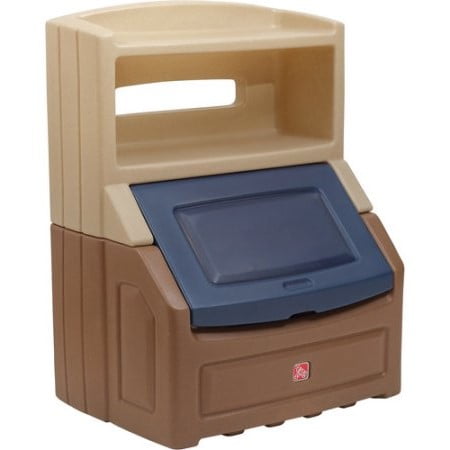 MSRP :

$79.97





Sale :

$68

Sold & shipped by Walmart
Product Description

Additional Information

Reviews
Product Description
The Step2 Lift and Hide Bookcase Storage Chest, Choose Your Color gives you a way to eliminate the appearance of clutter from a child's bedroom or play area. It offers an abundance of space, not limited to toys, but also useful for books, games, puzzles and decorative items. It has two open shelves and a large box on the bottom with an attached lid. The top part of this kid's storage chest includes a rack ideal for arranging accessories. Below that is a shelf where books up to 10" in height fit vertically. The final section, a large toy chest, offers plenty of room for keeping their favorite things in one central location, closed off from view. It is made of sturdy materials in a kid-friendly design with no sharp edges or heavy lids to open and close. With this attractive Step2 Lift and Hide Bookcase Storage Chest, Choose Your Color unit you create a housed containment center that a child is sure to enjoy.
Additional Information

Step2 Lift and Hide Storage Chest:
Holds books up to 10" high
Includes a large display shelf for toys
Permanently attached lid slides up and stays out of the way during use
Over 5-1/2 cubic feet of storage
Includes 3 areas of storage space
Top part includes a rack for displaying toys and collectibles
Designed with a back panel to prevent items from falling behind the bookcase
Eliminates the appearance of clutter
Ideal for a child's bedroom or play area
Made of sturdy materials
Has no sharp edges or heavy lids to open and close
Easy to clean and durable
Minimal adult assembly required
Reviews
Unknown Customer
My son loves this toy storage!!
My son loves it!! He can put a lot of his toys inside, not all of it since he have a lot more but i plan to buy a basket with lid for his legos only cause his obsessed with those right now. Very sturdy storage, i really like the book shelf display eventhough i put his toys there for now. And it came in with no damage, very fast shipping and super easy to assemble. I have a better pic with my son lifting the door but for some reason the walmart website wouldn't take it i guess because the pic size is too big for what they want. Overall, i think this is a good quality toy storage+bookshelf for a toddler to go in his own bedroom.
Glued2TheSky
toy box plus a shelf = win win!!
I waited along time for this to come back in stock in this color..my son has the step2 bed that matches and it was worth the wait. Its super easy to put together just two minutes and just two screws. I did have to use a hammer to get the screw started. There's plenty of room for toys big and small. It didn't take long for my just turned 3 son to learn how to work the lid. The bottom shelf is great for books and it has a back so the books etc can't fall behind it. Top shelf is great for a little lamp etc. I was expecting it to be a little taller but its a good height because your little one can reach both shelves. No safety hazards for little ones..no sharp corners to worry about, no splintering because its plastic and easy to clean. Great quality. Definitely happy with this one...it will last a long time and its something they wont "outgrow" for a long while. And super cute :-)
Kat1234567890
great toy box
I had this shipped to my home because it was free shipping! If you are picking this up in the store be sure to have a truck because the box is very large. The toy box comes in three pieces the bottom toy box part, the top shelf part, and the lid to the toy box. It is very easy to put together and requires two screws and that's it. Yes the screws are shipped with the toolbox. It took me a total of two minutes to put together. l bought this for my 18 month old son who has a lot of toys. It does have a lot of space like the picture shows for toys and the book shelf on top is very convenient. There were a few small scratches on the plastic from where it was in the box and probably tossed around during shipping. You cannot tell unless you're really looking close at the toy box though. It is very sturdy and holds way more than I thought. Because my son is still young he cannot figure out how to open and close the lid yet because it slides up and stays up so it does not smash his fingers and I love that because once I put toys up he cannot pull them out. I would recommend this to anybody who has lots of toys and rough rumbling children.
ANNorman99
A+
Purchased it for my son for his 1st Birthday and I love it. All plastic, so need to worry with sharp edges as he's learning to walk. Very sturdy. Plus, I caught it on sale for $74.
sparksgirl
Toy Storage the Right Way
The bookcase arrived in a huge box on our front doorstep. I'm glad I didn't have it shipped to the store as the box wouldn't have fit in the car. Assembly was simple. All you need is a screwdriver. It was literally, lay the lid on the chest, slide the bookcase back and screw in two screws. DONE!!! Now for the practicality part....the storage chest holds more toys than I thought and I love the fact I can just toss them in and close the lid. Our baby is almost 2 years old and she can open and close the lid easily. The lid is light and stays open or closed. There are no worries about bonking the baby in her head. Nothing fragile can go on the bookcase, as she can reach it by standing on the edge of the storage chest. Appearance wise, this is super clean looking and looks great in the playroom. I'm so glad I opted for this design instead of bins or just a storage chest.