Seventh Generation Free & Clear Fragrance Free Dish Liquid Soap, 25 oz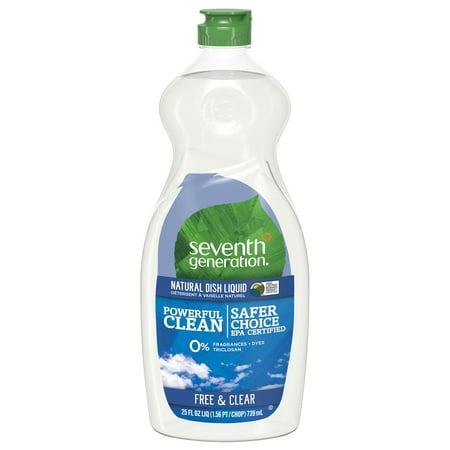 MSRP :

$3.82





Sale :

$2.97

Sold & shipped by Walmart
Product Description

Additional Information

Reviews
Product Description
Tough on dirty dishes, not the hands that wash them. Free & Clear Seventh Generation Dish Soap cuts through grease and powers away tough residue without the use of fragrances, dyes, phosphates, or triclosan. This hypoallergenic fragrance-free liquid dish soap Seventh Generation formula is dermatologist tested and made for sensitive skin. Itâs gluten free, too. Our safe and effective formula is made with plant-based ingredients and is designed with safety in mind â EPA Safer Choice Certified Product and USDA Certified Biobased Product 95%. For more than 25 years, Seventh Generation has been thoughtfully formulating safe and effective plant-based products that work. Really well. Our unscented dish soap uses powerful plant-based ingredients to break down tough residue and lift away food leaving your dishes sparkling clean. Yes, even those fussy egg stains. Based in Vermont, Seventh Generation is proud to be a Certified B Corporation. B Corps are certified to be better for workers, better for communities, and better for the environment. You may also notice a cute Leaping Bunny seal on our products. That means we never test our products on animals and our products do not contain animal-based ingredients. We design our products to be safe for people, their homes, and the environment. By choosing Seventh Generation products, youâre joining us in nurturing the health of the next seven generations. *safe when used as directed
Additional Information
Seventh Generation Free & Clear Fragrance Free Dish Liquid Soap, 25 ozPowers through grease and tough residue to leave dishes sparkling cleanDermatologist tested, hypoallergenic formula made for sensitive skin0% fragrances, dyes, phosphates, or triclosanSafe* and effective dishwashing liquid made with plant-based ingredientsEPA Safer Choice Certified Product, USDA Certified Biobased Product 95%Caring today for the next seven generations
Reviews
WtBuffalo
Seventh Generation
Eco-friendly Free & Clear Dish Liquid. Cuts Grease & works very well. I also like the Laundry and Dish Washer Soap. Seventh Generation products all work truly well. Seventh Generation products are Environmentally Friendly. Every Walmart should carry the complete line of Seventh Generation Eco-Friendly products.
Kari
The only dish soap that doesn't irritate my hands!
If you have dry skin and eczema, many dish soaps will irritate your hands due to the chemicals. The chemicals would cause my skin to be dry, itchy and I would bleed. Seventh Generation is the only dish soap that has not irritated my skin. Since switching to this brand I have not had any flare ups. No dyes, phosphates, fragrance, glute or other harsh chemicals. This soap is also hypoallergenic and dermatologically tested. This is the only soap I use from now on. I highly recommend it if you have eczema. I can finally wash dishes without flare ups!
Vaststars
Better then Dawn
The first time I got this, I expected it to not work very well, but wanted something better for the environment, so I bought it reluctantly. I was *shocked* it actually worked BETTER then any other product I've used! I had a bottle of back-up dishing washing liquid, in case this one didn't cut it, but I returned the other product and only the 7th generation free & clear now. BONUS: Walmart sells it cheaper then anyone else even with a $1 off coupon!!
Brandy
Love this product!!!
I used for my baby's bottles and breast pump accessories. Works better than other liquids. I also use as a bubble bath for my toddler and it does not irritate her very sensitive skin at all.
Sobella
Only dish detergent I'll buy!
Have you ever noticed that some dish detergents say that they are non-toxic? I did, and started to wonder why some didn't say that they are non-toxic since we are washing dishes/utensils/glasses with it. I began purchasing this detergent, which is very reasonably priced, and will never go back to any other detergent. I am one of those that hand washes all of our plastics and will not put them in the dishwasher. But if I use any other detergents I've realized that you can still taste and smell the detergent even after rinsing well. Seventh Generation doesn't do that and it cleans well!