Seventh Generation Free & Clear Dish Liquid Soap Fragrance Free 25 oz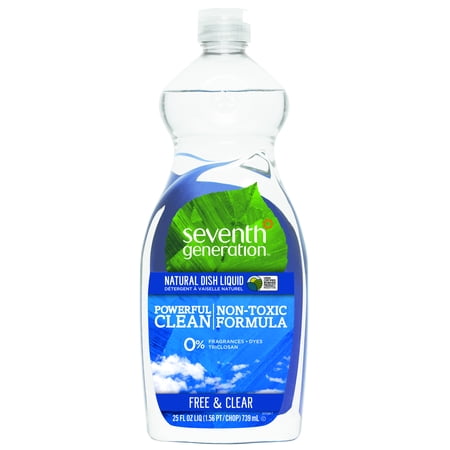 MSRP :

$3.82





Sale :

$2.97

Sold & shipped by Walmart
Product Description

Additional Information

Reviews
Product Description
Seventh Generation free and clear dish liquid is made of powerful plant-based ingredients that clean the dirtiest dishes while being gentle on skin. Clinically proven to be hypoallergenic, our dish liquid is free from fragrances, dyes and triclosan. Our products are never tested on animals and our dish liquid is biodegradable. Tough on grease, gentle on hands, safe for septic and greywater systems. Dried-on food and grease don't stand a chance against the plant-based power of our dishwashing liquid. Our contoured bottle shape is easy to hold and made from 100% recycled plastic. Our formulas, made with plant-based ingredients, can appear cloudy in colder temperatures. This is normal and does not impact how well the product works!
Additional Information
Seventh Generation Free & Clear Dish Liquid Soap Fragrance Free 25 oz
Powers through grease and tough residue to leave dishes sparkling clean
Dermatologist tested, hypoallergenic formula made for sensitive skin
0% fragrances, dyes, phosphates, or triclosan
Safe* and effective dishwashing liquid made with plant-based ingredients
EPA Safer Choice Certified Product, USDA Certified Biobased Product 95%
Caring today for the next seven generations
Reviews
BMill
Greasy Residue
I'm also finding a greasy residue on items washed with this soap, despite copious rinsing with water. It happens most noticeably with metal-ware. After boiling tea in a stainless steel pot washed with this soap and rinsed repeatedly there was an oily rainbow-colored sheen and greasy build-up around the edge (see attached photos). Also after washing and rinsing steel knives, they appear clean and then suds will appear minutes later. Friends have reported similar findings with this product. I've been using and trusting Seventh Generation products for years and am very disappointed, as well as worried about health effects.
Ross
Use With Caution - Allergens!!
My wife and I have been using this product for 3 weeks to clean baby bottles and nursing supplies. I have had a very dramatic sensitivity to fragrances as propylene glycol in the past, so this seemed like a good product to try. However, after using this product for 3 weeks, my hands began to erupt with blisters and this can only be attributed to this product, as no other products in our home have changed. We use non fragrance laundry detergent, non fragrance soap and shampoo, and I use no other cleaning products without glove on my hands. The synthetic preservatives are most likely to blame, but I am performing a path test to determine this for sure. I assume that this product would be fine for most people out there - but if you have a high sensitivity to propylene glycol, I'd would stay far away from this product. Very disappointing. We will stay on the lookout for something that is truly allergy-free. In the meantime, I have to now manage this breakout to keep it in check - which could take weeks or months.
WtBuffalo
Seventh Generation
Eco-friendly Free & Clear Dish Liquid. Cuts Grease & works very well. I also like the Laundry and Dish Washer Soap. Seventh Generation products all work truly well. Seventh Generation products are Environmentally Friendly. Every Walmart should carry the complete line of Seventh Generation Eco-Friendly products.
Monin
Bested dish liquid.
I received this free sample of Seventh generation dish washing liquid. And I used it and I really liked it. It does clean my dishes very good.
magicalcynic
Worst. Bottle. Ever.
The thickness or viscosity of this soap means that the upside-down squeeze bottle requires near superhuman strength to use. I only possess normal human strength, so every time I wanted dish soap, I was forced to free up both hands to squeeze the bottle. And when it did finally issue forth from the nozzle, it squirted out with such force that I inevitably ended up with about 10x more than needed. For an eco-brand this is pretty much a key failure. Anyway, all things considered it took a surprisingly long time to empty the bottle. The soap is decent but even if the packaging is changed I'm so irritated that I will only buy it if my regular brand is out of stock. And there is no other option.