Seventh Generation Free & Clear Dish Liquid Soap Fragrance Free 50 oz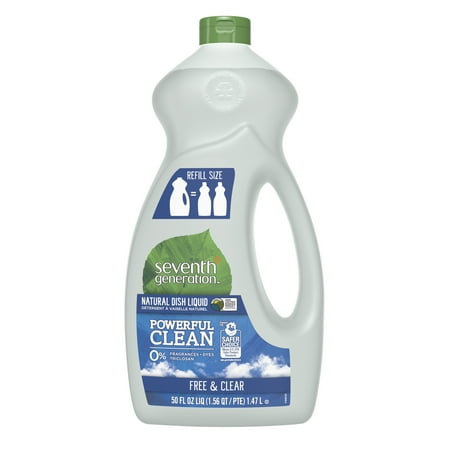 MSRP :

$10.62





Sale :

$6.88

Sold & shipped by Walmart
Product Description

Additional Information

Reviews
Product Description
Additional Information
Seventh Generation Free & Clear Dish Liquid Soap Fragrance Free 50 oz
Powers through grease and tough residue to leave dishes sparkling clean
Dermatologist tested, hypoallergenic formula made for sensitive skin
0% fragrances, dyes, phosphates, or triclosan
Safe* and effective dishwashing liquid soap made with plant-based ingredients
EPA Safer Choice Certified Product, USDA Certified Biobased Product 95%
Caring today for the next seven generations
Reviews
Ross
Use With Caution - Allergens!!
My wife and I have been using this product for 3 weeks to clean baby bottles and nursing supplies. I have had a very dramatic sensitivity to fragrances as propylene glycol in the past, so this seemed like a good product to try. However, after using this product for 3 weeks, my hands began to erupt with blisters and this can only be attributed to this product, as no other products in our home have changed. We use non fragrance laundry detergent, non fragrance soap and shampoo, and I use no other cleaning products without glove on my hands. The synthetic preservatives are most likely to blame, but I am performing a path test to determine this for sure. I assume that this product would be fine for most people out there - but if you have a high sensitivity to propylene glycol, I'd would stay far away from this product. Very disappointing. We will stay on the lookout for something that is truly allergy-free. In the meantime, I have to now manage this breakout to keep it in check - which could take weeks or months.
Pam2014
Great cleaner! Cuts grease, leaves your hands soft
This dish detergent is great and I don't feel bad using it. I do wish they would make trial size bottles and sell them at the Dollar Tree though. It's hard to find other than at Publix which over charges for everything.
Mini
Bottle Design Gets Worse with Each Generation
The original hourglass shape bottle was great. Who asked you to fix what wasn't broken? The shape was changed to look more beautiful but it made the bottle very difficult to hold with a wet soapy hand. Now the bottle has been re-beautified yet again (inverted design), still impossible to hold with a wet hand, can't control amount of soap coming out of the bottle, and virtually impossible to stand upright because of the small base and top heavy design. On the store shelf all the bottles tipped over like dominoes. I should have known better. I am now pouring the liquid contents into an old empty bottle rescued from the recycling bin. It is very obvious that the person designing bottles for Seventh Generation uses paper plates at home and has never ever actually washed a dish by hand - certainly not using this bottle design. You have a great product but please give us a useable bottle. Function over form, not form over function. I will not purchase this product again until the bottle becomes useable once more. Please go back to the original.
ecoconsumer on a budget
Lots of problems with this product
I use many Seventh Generation laundry products and am satisfied with them. I always get free and clear products. But...this dish soap has a strong chemical smell when I use it and it remains on glassware too and affects water flavor. Also, it is very messy to use. The liquid runs down the outside of the bottle making it slippery and cakes on the top. It is a mess - and I'm not even going to finish using the bottle I have. I used to buy Ecover dish soap and was happy with it but it is more expensive - nonetheless, I am switching back. Did you reformulate recently? I didn't use to notice the bad odor, nor have so much trouble with the soap getting all over the outside of the bottle. This product is not up to your usual standards.
Newbie47
Good
My mom brought me this. It worked good but for my greaser jobs I still need to use another product. I do like using this for everyday dishes. Would buy again but still need to buy something for those greasier jobs.