Red by Kiss Salon 1875 Watt Ceramic Tourmaline Hood Hair Dryer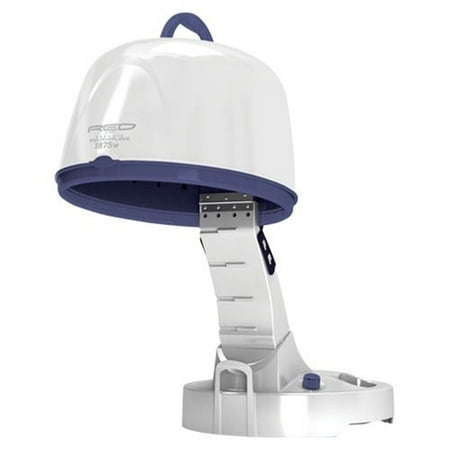 MSRP :

$68.99





Sale :

$39.94

Sold & shipped by Walmart
Product Description

Additional Information

Reviews
Product Description
Additional Information
Red by Kiss Salon 1,875-watt Hood Hair Dryer:
Can be used to dry hair; works with hair rollers, colored hair and much more
Powered by professional-quality dual motors with 1,875W of power
Hood of Red by Kiss hooded hair dryer offers plenty of space to accommodate large hair rollers
Gets rid of frizz and enhances hair's natural shine
4 heat settings
Height of hood can be adjusted
Easy to carry and transport
Reviews
MsMoe83
Decent, but Buyer Beware!
The model shown in the image (purple trim) is NOT the model that is shipping. Picutred is a model that has a double-walled hood with air flow holes throughout the entire hooded cap. The newer model that ships via Walmart.com is a single layer plastic hood model only has airflow at the back & top of the hood. The 6-8 inches between the top & bottom of the hood is just a trim of plastic with no airflow at all. As such, it does not dry the hair evenly. I have to sit for 15-20 minutes on my right & left & another 15-20 facing forward to get my entire head dry. Otherwise, the back & top of my head will be fully dry - overly dry actually - & the sides will be soaking wet as the air never makes it down far enough. Outside of that issue, the model works well as a portable model. I use it on the "low" setting and it is plenty for my 3B-4A hair. The medium & high sesttings are extremely hot & with the uneven airflow leaves the hair suspectible to damage. While many complain of noise, I did not experience.
Buttahpecan
Great choice!
So far I have used this product 3 times. I have between 3c and 4a texture hair. I have done roller sets and it takes about an hour and a half to fully dry my hair (on the medium heat setting) which is normal for wet roller sets on natural African American hair (un-permed). It probably takes half the time on Caucasian or permed hair because it's thinner. imo. This dryer bonnet is big enough to fit 2 inch rollers and have room left over. The air flow on this is probably better than the professional hair dryers at the salon. It does take longer for the bottom of the hair in the back to dry but that is normal even for salon hair dryers. I simply adjust my head until I feel air flow directly on the bottom of my head. This is easy because there is so much room under the bonnet to adjust your head comfortably. The only drawback is that I wish this was a rollabout dryer so that it would be easier to make it adjust to wherever and however you want to sit. That is my only complaint.
LogicalIndividual
Defective Product!
I bought this hair dryer July 31st, 2016. Today is January 23, 2017, and the dryer is malfunctioning. On about New Years Eve, (Dec. 31st, 2016), the dryer started making a winding noise, smoking, and there was a burning smell coming out of it! Obviously it has an electrical defect. This dryer has a two year manufacturers warranty. Plus I bought, (for $3.00), two more years of extended coverage. Which is good, because the dryer only lasted for about 4 months, (and you can't return it to Walmart after 3 months)! I emailed a complaint to Red by Kiss, to try and find out how to get my dryer fixed, (because it's still under 2 year manf. warranty), and I got no response back. So I'm going to call Red by Kiss. Someone ought to be able to resolve this defective issue, since this dryer will be under warranty for so much longer! But, it didn't last long! Even with the warranties, I suggest buying something else!
gwenphilly
Just what the natural girl needed!
I have long, thick hair that needs extra tlc. I've vowed to take care of my natural hair at home rather than at the salon and needed a dryer for deep conditioning, flexi rod sets, twist outs etc. This dryer comes ready to use! All you need to do is open and turn it on. The height is adjustable, although i have not adjusted it because it was the perfect height. The heat settings are great -- good variety for whatever you need to do. It was a little tight sitting under the dryer with about 30 flexi rods in my hair, but I fit and it dried them evenly in just 45 minutes! I was afraid because I saw ppl complaining that this dryer was extra loud. It's no louder than any other appliance. I used it downstairs while my little brother and nephew slept soundly. It's loud -sure- but doesn't hurt your ears and doesn't wake anyone up.
LisaMG
Adjustable height solved!
I got this dryer today and immediately tried to figure out how to adjust the height. I know a lot of people were trying to do so, so I thought I'd share how. To raise the height, you hold the very bottom of the long column that holds up the hood, and pull it upward away from the circular base. It can then be lowered by pushing it back down into the circular base. As for the quality... I'm quite impressed so far! I love how deep and big the hood is. For people like me with long, thick curls, it's very roomy and the heat is distributed very well. I don't find it any more noisy than a regular hair dryer to be honest, so that's not an issue for me. Not sure why people expect it to be quiet. it is blowing 1875W of air on your head after all. I can't judge its longevity quite yet, but I sure hope it lasts! It will save me a lot of time in the cold winter months!