Red by Kiss Salon 1875 Watt Ceramic Tourmaline Hood Hair Dryer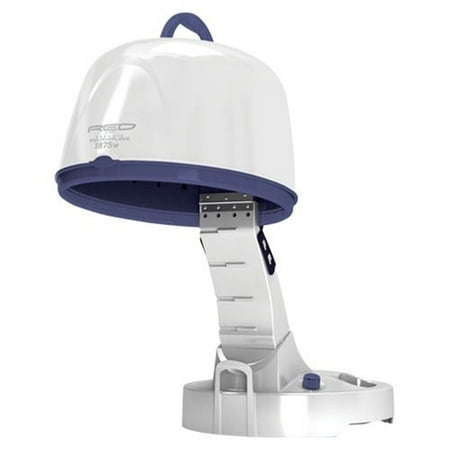 MSRP :

$68.99





Sale :

$39.94

Sold & shipped by Walmart
Product Description

Additional Information

Reviews
Product Description
Additional Information
Red by Kiss Salon 1,875-watt Hood Hair Dryer:
Can be used to dry hair; works with hair rollers, colored hair and much more
Powered by professional-quality dual motors with 1,875W of power
Hood of Red by Kiss hooded hair dryer offers plenty of space to accommodate large hair rollers
Gets rid of frizz and enhances hair's natural shine
4 heat settings
Height of hood can be adjusted
Easy to carry and transport
Reviews
Buttahpecan
Great choice!
So far I have used this product 3 times. I have between 3c and 4a texture hair. I have done roller sets and it takes about an hour and a half to fully dry my hair (on the medium heat setting) which is normal for wet roller sets on natural African American hair (un-permed). It probably takes half the time on Caucasian or permed hair because it's thinner. imo. This dryer bonnet is big enough to fit 2 inch rollers and have room left over. The air flow on this is probably better than the professional hair dryers at the salon. It does take longer for the bottom of the hair in the back to dry but that is normal even for salon hair dryers. I simply adjust my head until I feel air flow directly on the bottom of my head. This is easy because there is so much room under the bonnet to adjust your head comfortably. The only drawback is that I wish this was a rollabout dryer so that it would be easier to make it adjust to wherever and however you want to sit. That is my only complaint.
mylane1
Great for the Money
I recently broke my Gold N' Hot hood dryer that I had for over 7 yrs. So on a quest to find another table top dryer bc of the size of my apartment, I need something that fits up on a shelf for easy storage. This dryer is a tad bit bulkier than my previous dryer but it still works. This one definelty has more power than what I'm use to and seems to be made of good quality. I have a short cut #african american type hair# I use this dryer for my mold and sets. It gets pretty dang on hot, and im in love with that feature, my hair was dry in about 30 minutes which is much faster than before. My only complaint is this dryer is pretty loud, Im assuming its bc of the two motors. But I can deal with it.
marty415
Great price and product.
I'm really pleased with this product. It has 4 heat levels and a really deep bonnet so that even the hair right above the back of your neck gets dry. The hot is quite hot so I find one step down to be the most comfortable. Even though my hair is fairly thick I'm all dry within 10-12 min. which is great on those days when I'm running late. It's a bit louder than my old one but not loud enough to drive you crazy.
gwenphilly
Just what the natural girl needed!
I have long, thick hair that needs extra tlc. I've vowed to take care of my natural hair at home rather than at the salon and needed a dryer for deep conditioning, flexi rod sets, twist outs etc. This dryer comes ready to use! All you need to do is open and turn it on. The height is adjustable, although i have not adjusted it because it was the perfect height. The heat settings are great -- good variety for whatever you need to do. It was a little tight sitting under the dryer with about 30 flexi rods in my hair, but I fit and it dried them evenly in just 45 minutes! I was afraid because I saw ppl complaining that this dryer was extra loud. It's no louder than any other appliance. I used it downstairs while my little brother and nephew slept soundly. It's loud -sure- but doesn't hurt your ears and doesn't wake anyone up.
AlexandraTheGreat
Ear protection required
Needing a new hair dryer I found this Red by Kiss Professional Salon 1875 Watt Bonnet/Hood Hair Dryer. It had all the features I was looking for, plus. The bonnet is coated with ceramic, very deep and completely covered with air vents to dry the entire head; it has four settings (cool, low, med and hot - and hot is HOT). The height is adjustable, the entire machine is very well made and the price for the quality is amazing. However, the dryer is extremely loud (possibly due to having two motors) with varying noises noted throughout operation. Five minutes under this dryer was a traumatic challenge and for this reason it was returned. In it's place I purchased the Laila Ali Salon Ionic Hair Dryer and overall I am pretty happy that purchase. Hope this helps!