Boardwalk 365M General-purpose Vinyl Gloves, Latex-free, 4 Mils, Medium, Clear, 100/box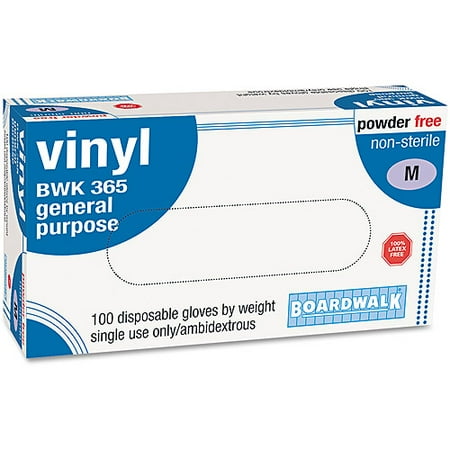 MSRP :

$5.93





Sale :

$5.89

Sold & shipped by 45N12E, LLC
Product Description

Additional Information

Reviews
Product Description
Boardwalk Powder-Free Non-Sterile Gloves keep your hands clean, safe and dry. They are disposable and can be used for many different projects. These vinyl general-purpose gloves come in medium.
Additional Information
Powder-free. Ideal for food preparation general light duty cleaning painting precision parts handling and manufacturing and parts assembly. 100% latex-free. Ambidextrous. Nonsterile. Style: Disposable; Material(s): Vinyl; Color(s): Clear; Length: 13.
Powder-free.
100% latex-free.
For food preparation, painting, light-duty cleaning, precision parts handling, manufacturing and assembly.
Nonsterile.
Reviews
RUHeavenbound
Good quality and good price
My parents have round the clock care to stay in their own home...so we use a lot of gloves. The lower price was important and I was pleased to see they were of good quality, too.
faithfulkat
good gloves
i have eczema on my hands and i have a 6 week old daughter and 7 yr old son. i have to use the gloves to change the diaper/pull up with both of them so my cuts on my fingers don't get bacteria or germs in them. these are good gloves, but it does have some weird smell to them. probably just what they are made of i guess.
phendrix
Good quality at a great price.
I use disposable gloves when I work in the garden. When I am done I just peel them off and still have clean hands. These cost much less than what is available at my local stores and fit well. Will order them from Walmart from now on.
daughterisaprincess
The best Gloves: Powder free: great price: LOVE !
I USE these gloves for everything!! Cleaning, disinfecting, painting, crafts, dirty clothes, dusting (i'm allergic to dust) you name it, I use them for it. I love that they are powder free. Vinyl. I'm allergic to latex so they are just plain perfect. Walmart delivers to my home with in 2 days. They are always fast. I have got all my deliveries with in 3 days. Items up 20 qty. I love shopping with Walmart because the delivery is fast and ordering is easy. Thanks Walmart for the "My lists". That really helps to go there and just order my items I order on a regular basis.
DISAPPOINTMENTAGAIN
QUALITY FOR A GOOD PRICE
GREAT QUALITY FOR A GOOD PRICE. SURPRISED WITH THE FIT. DEFINITELY WORTH THE PRICE.