AM/FM-RDS PORTABLE RECEIVER W/USB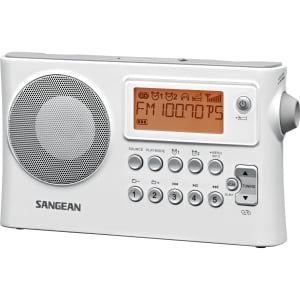 MSRP :

$61.98





Sale :

$59.9

Sold & shipped by Walmart
Product Description

Additional Information

Reviews
Product Description
The Sangean AM/FM Portable Radio (PR-D14) is a true ultra-compact portable AM/FM-RBDS (Radio Data System) Digital Radio with USB port for playing MP3/WMA files from a USB drive. All controls are conveniently located and you can see the frequency and the clock on the display. It also features a tone control (talk and music) for more powerful overall sound. This Sangean Receiver with USB has excellent sensitivity and selectivity and will surprise you at its ability to pull in those distant stations. Five presets are available on each band and the auto seek will automatically seek the active stations across the entire band rather than to the next frequency. The Sangean Portable Digital Radio can be set to automatically turn off after 120, 90, 60, 45, 30 or 15 minutes, so you can fall asleep to the sound of music, talk or news. Sleep alarm allows you to wake up to music, buzzer with humane wake-up system or media by (USB).
Additional Information
AM/FM-RDS PORTABLE RECEIVER W/USB
Reviews
Jim1
Great! I wish it had come three years earlier!
Excellent because it makes USB playing available without an mp3 player. I bought it to listen to recordings I once made on cassettes, then listened on my clock radio in the sleep mode so they would stop a set time after starting, then could pick up at that same point. This could be repeated as many times as desired. Cassette clock radios are no longer commonly available so this is a welcome convenience. I hope the prduct becomes popular and produced widely to introduce optional features, tone adjustments, etc.
Knuten
Excellent quality & performance
I've found that Sangean always makes quality products and this radio is no exception. I'm very happy with it. The sound quality is quite satisfactory for mono from the one speaker, but you get stereo when you plug headphones or stereo speakers into its jack. And the USB is a nice feature: I put some MP3s onto my keydrive and then plugged it into the top of the radio and then it played my music and audiobooks. I don't know how long the batteries last because my batteries in it are still strong... but then I don't use them much; I mainly use AC power. (It takes 4 "D" batteries... expensive. So if I were to use the batteries a lot I would invest in rechargeable batteries.)
mtngirl
Good sound for the size of the radio.
This radio picks up stations that I couldn't get on any stereo system which I really appreciate since I live out in the middle of no where. I like to fall asleep with the radio on and it has a timer which will turn off the unit while I'm asleep. The sound is very good and the price was right. I do agree with another buyer that said it is a little difficult to operate. I have to keep referring to the manual to see what I'm doing wrong. I think with time, I'll get the hang of it. Overall, I'm glad I purchased it.
Theenormityofitall
Good little radio....
I bought this radio mainly for the USB outlet but the radio itself is nice also. This radio only seems to work with Sansdisk flash drives, so I would recommend you purchase those for use with the player. The speaker seems a little more bass heavy than other Sangeans I have but this is a good thing. I'm also glad it uses 4 D batteries since they last a long time. All things considered, I'd recommend this player....
bonniejean1
good
Bought this because of reviews on Amazon. Excellent ability to bring a station in, which I was having trouble with. Can't figure out how to keep clock light without having radio on. I found it difficult to set up date, clock and program stations. But I bought it for reception.