Endless Summer UniFlame LP Gas Slate Outdoor Firebowl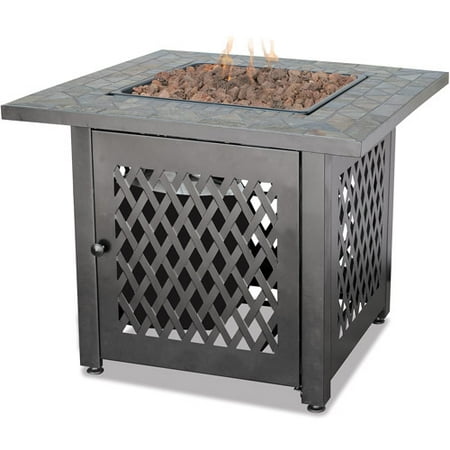 MSRP :

$249.99





Sale :

$166.6

Sold & shipped by Walmart
Product Description

Additional Information

Reviews
Product Description
Bring style and functionality to your patio with the Endless Summer UniFlame LP Gas Slate Outdoor Firebowl. With its slate tile and steel mantel, this handcrafted piece by Blue Rhino, features the classic elements of high-end furniture, with the strength of weather-resistant steel. Its decorative base cleverly conceals a propane tank (not included) and control panel, making it an attractive centerpiece for your outdoor living space. The push button ignition allows for a quick, one-hand operation. Complete with a 30,000 BTU stainless-steel burner, you can enjoy all the ambiance of a classic fire, without the mess of tending to ashes. Adding to the elegance, this black outdoor firebowl comes with lava rock, which beautifully accents its flames. The unit is easy to assemble, with no tools needed. When not in use, simply place the protective cover on top of the Endless Summer UniFlame LP Gas Slate Outdoor Firebowl, keeping children, animals and weather from getting inside.
Additional Information
Endless Summer UniFlame LP Gas Slate Outdoor Firebowl:
UniFlame firebowl give you the warmth and ambiance of a classic fire, without the mess of ashes
All-weather steel firebowl
30,000 BTUs
Push button ignition
Handcrafted mantel
Hidden control panel
Sleek decorative side panels conceal liquid propane fuel source
Lava rocks included
Simple assembly no tools needed
LP gas tank not included
1 year limited warranty
Size: 30" x 30" x 2"
By Blue Rhino
Reviews
Brian
UniFlame LP Gas Slate Outdoor Firepit
Well worth the money. I see the price even came down since my purchase. The slate was slightly damaged from shipping, but I'm very happy with the unit itself. The unit is exactly what we wanted for our patio. No more chopping and stacking expensive wood, or smelling like a campfire for days. The propane tank you provide will last at least 12 hours on the highest setting. Considering the propane tank cost about $12 to fill. I am very happy to pay about a dollar an hour to enjoy this firepit. I wish the flame could be a little larger, but it is large enough. Perfect for 4-6 people to enjoy.
home004
Lovely - Propane gas fire pit
Extremely fast delivery. With normal delivery for free from site to home - just 2 days!!! Box arrived in great condition, all parts complete without damage. Moving from front door to back patio is challenging but not impossible for a 50-year old lady. Diagrams for installation - not bad. Took around one hour to complete task. As suggested, do not tighten screws until all parts are put into place. Slate metal top is heavy, so l do need to ask for help for lifting in the beginning and final stage of installation. Lovely color, frame towards black with a bit of dark brown. Top is metal slate. Sturdy, do not need to worry about strong wind lifting the fire pit. Top can be hot if left out in CA's summer sun. Easy ignition, like turning on an indoor home gas stove (without using a lighter). Adjustable heights at leg bottoms - a plus. Comes with lava rocks and a plastic cover to protect fire pit from rain or when it's not in use. Nice looking flames for aesthetic effect. Reasonable output of heat for cool nights but should not be enough for colder weather (as expected). Lovely centerpiece for a small conversation set for 2-4 persons. I use a black garbage bag to cover the mid/bottom propane tank so the tank looks completely concealed. Door easily opened/closed to reach control button. Very happy with purchase. Bought it when it was on sale at $179.99. Got lots of compliments from friends. Thank you UniFlame and Walmart!!!
Sarah
Great with one flaw
Overall we are very pleased with the look and function of this unit and have already enjoyed using it a couple of times. The only disappointment is that the description online listed a push-button ignition function and upon opening and putting together the unit we discovered ours does not have that (ours requires an external lighting source such as a match or lighter). It isn't the end of the world to need to use a lighter to ignite the fire, but it was not what was described or what we had desired. Since we do like the unit so much we are happy to keep it but I might have been less inclined to purchase this one had I known it wouldn't have the push-button lighting capacity it claimed to. Again, the unit itself is wonderful and we are thankful to have it! I would recommend it, but with the caveat people should know it may not have the same lighting function mentioned online.
MotherT
Gas Fire Pit
I just wrote a review, but forgot to say I also opted to buy a black LP tank cover so the white tank wouldn't show through the lattice design.
melissa
WOW this firebowl is Great!!!
It is very easy to put together, once together it is very sturdy and heavy. The output of heat was a lot more than I had expected. I would recommend a cover over the tank so it doesn't stand out so much. I also bought some highly reflective glass and put in place of the lava rock... it is just beautiful. Everyone who see's it wants to know where I bought it from. It does come with a cover and fits well. I have never let it get wet so I don't how it would stand up to the elements, I keep it under a patio with a tall roof... remember the heat could hurt a structure overhead if not tall enough. I would buy again!!!