Stopain Migraine Topical Pain Relieving Gel, 1.62 fl oz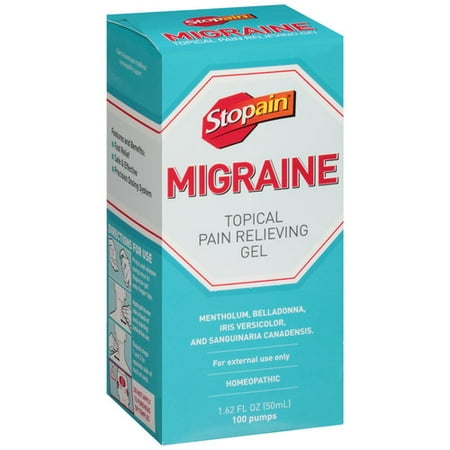 MSRP :

$12.83





Sale :

$11.04

Sold & shipped by Walmart
Product Description

Additional Information

Reviews
Product Description
Stopain Migraine Topical Pain Relieving Gel is the first topical product to effectively relieve migraine pain. Its a safe alternative to other migraine relief products that begins to work as soon as it's applied.
Additional Information
Stopain Migraine Topical Pain Relieving Gel:
Provides fast relief in a safe, effective formula
Homeopathic
Precision dosing system; 100 pumps
Does not contain aspirin, Acetaminophen or caffeine
No known drug interactions
No dyes or preservatives
Reviews
Try4har
Works
I suffer from migraines and am always looking for ways to treat them. Saw a coupon for this stuff and figured why not try it. Its works really well. Have stopped 2 migraines in tracks with this stuff. Not sure how it works if you are in full blown mograine mode but caught at the beginning of one, its very effective. Highly reccomended.
Lizzie
Stopain Migraine
I suffer from chronic migraines so I jumped at the chance to try a product that you don't have to take any pills. I did what the directions said and within minutes my migraine was gone. I was able to go about my day. Usually I take Excredrin Migraine, but that leaves me with a bad stomachache. I would definitely recommend this product to ALL that suffer from migraines.
beachgirl
Stopain
This product works quite well for me if I use it at the early sign of a migraine. I keep it with me at all times.
luvmythree2010
This stuff really works!!!
Two of my children suffer from migraines and this stuff works like a charm!! With in 10 minutes the migraine was gone!
Lozzalo
Works for the average headache.
I have suffered with migraines since elementary school. I'm now in my mid 20's. My migraines are so severe I need to take daily seizure medications four times a day. True migraine sufferers don't get relief from medications such as Excedrin. Those are good for the "normal" headaches. So I didn't give this much hope. I used it when my headache first started. Before it turned into a full blown migraine. It helped some, not much. It was worth a shot. I'll give anything a chance when it comes to trying to get rid of my migraines.. Once it became an actual migraine it was worthless though. If you get the occasional headache this will probably help you. But if you suffer from legit migraines, don't get your hopes up! I was just desperate to try something else along with my prescriptions.