Stopain Migraine Topical Pain Relieving Gel, 1.62 fl oz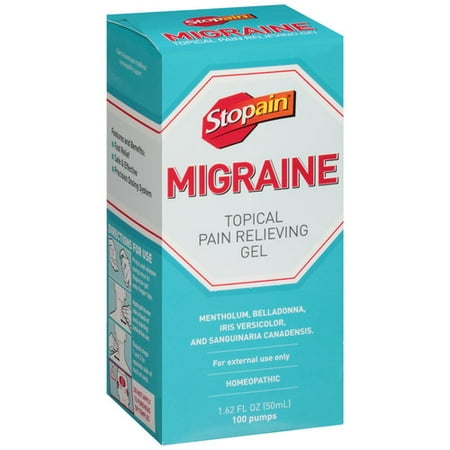 MSRP :

$12.83





Sale :

$8.44

Sold & shipped by Walmart
Product Description

Additional Information

Reviews
Product Description
Stopain Migraine Topical Pain Relieving Gel is the first topical product to effectively relieve migraine pain. Its a safe alternative to other migraine relief products that begins to work as soon as it's applied.
Additional Information

Stopain Migraine Topical Pain Relieving Gel:
Provides fast relief in a safe, effective formula
Homeopathic
Precision dosing system; 100 pumps
Does not contain aspirin, acetaminophen or caffeine
No known drug interactions
No dyes or preservatives
Migraine pain relief is 1.62 fl oz in size
First topical product to effectively relieve migraine pain
Safe alternative to other migraine relief product
Begins to work as soon as it's applied
Reviews
Try4har
Works
I suffer from migraines and am always looking for ways to treat them. Saw a coupon for this stuff and figured why not try it. Its works really well. Have stopped 2 migraines in tracks with this stuff. Not sure how it works if you are in full blown mograine mode but caught at the beginning of one, its very effective. Highly reccomended.
Lizzie
Stopain Migraine
I suffer from chronic migraines so I jumped at the chance to try a product that you don't have to take any pills. I did what the directions said and within minutes my migraine was gone. I was able to go about my day. Usually I take Excredrin Migraine, but that leaves me with a bad stomachache. I would definitely recommend this product to ALL that suffer from migraines.
Amy
Great Relief For A Real Migraine Sufferer
I am a severe migraine sufferer. I am in my forties and have had migraines since I was a child. I currently take a blood pressure med and an antiseuzure med as a preventive and I have abortive medications as well. When I get migraines I have a hard time speaking and I have a hard time gripping things tightly with my right hand. I also have migraine auras (visual)and get nausiated from them. So, I have ACTUAL migraines. That being said, I do not think I could make it without this product. I use it in addition to my other abortive medications and it works wonders. If I do not have my other medications with me or (as a mom with a husband who works a lot) if Im in a situation where I can't take my usual abortive medication and just go lay down in a dark room and go to sleep, I use it to relax my migraine enough to make it through to get me home. I will say though that once you put it on it does help if you can try and relax yourself a little (not necessarily lay down and nap, just try and relax your muscles and breathe deep). I can not express how grateful I am to have found this product. Unfortunately my local Walmart no longer carries it in store nor does the local CVS . That makes it difficult for someone suffering from migraines who needs immediate relief . :( hope you decide to start stocking the store shelves with it again- Until then I guess I will continue to order a few bottles at a time online so as to not run out when needed.
beachgirl
Stopain
This product works quite well for me if I use it at the early sign of a migraine. I keep it with me at all times.
luvmythree2010
This stuff really works!!!
Two of my children suffer from migraines and this stuff works like a charm!! With in 10 minutes the migraine was gone!