Seresto Flea and Tick Prevention Collar for Cats, 8 Month Flea and Tick Prevention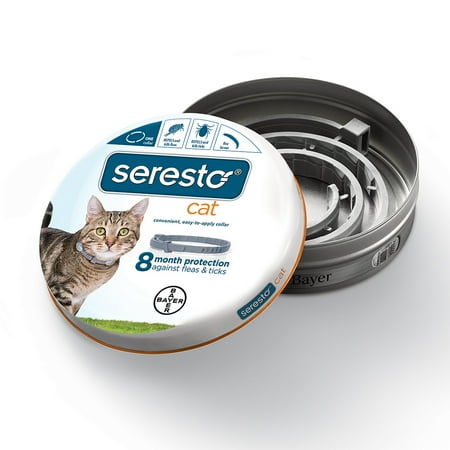 MSRP :

$72.75





Sale :

$54.99

Sold & shipped by Walmart
Product Description

Additional Information

Reviews
Product Description
"This flea and tick prevention collar by Bayer kills and repels fleas and ticks for 8 continuous months in one easy-to-use, non-greasy, odorless collar. Flea collar that quickly kills fleas within 24 hours of initial application. Reinfesting fleas are killed within 2 hours. Prevents tick infestations within 48 hours after application. Kills and repels reinfesting ticks in as quickly as 6 hours. "
Additional Information
Seresto Flea and Tick Collar for Cats, Veterinarian Recommended Flea Collar:
Flea and tick prevention collar that is easy to use, non-greasy, odorless flea & tick protection, in a convenient 8-month collar
Kills and repels fleas and ticks through contact. No biting required

Veterinarian Recommended

Economical: Compare the cost of monthly treatments to Seresto

The Seresto ® cat collar has a two-way release feature that allows your cat to get out of tight spots.

Reviews
Meya
Soooo worth the price!
I bought this collar for my inside cat after trying just about every product available. Not only did it work quickly but unlike other stuff I've tried it kept fleas from coming right back. It hasn't been 8 months yet but I'm confident I'll keep buying this collar.
FurryFamilyDad
Worth Every Cent ! Finally, No Fleas !!
I tried topicals, pills and other cheap collars, little effect. I could still see fleas on my cats. Put Seresto collars on both my cats, within 1 day there were no more signs of fleas . I'm going to get one for my puppy too. Only $7 per pet per month, not $20 !
Butterflycme
Great product kills fleas quick
I have an elderly cat over 12 yrs old that even after a flea bath and other flea collar had hundreds of fleas. I put this new collar on him within 24 hrs fleas we're slow moving and less of them by the next day did not see any on him figured they died or jumped off it now been several days and only found one which I think jumped on him from other cats in the house. It is expensive but it last for 8 months by the time you buy other stuff that don't work you have spent more than this one which averages less than 10.00 a month I will be buying more for my other cats one a month to spread the expense out. His fur and skin look great next one will be my cat who is allergic to the fleas and gets dermatitis really bad. And will treat the house to make sure of no reinfestation. Great product. Just needs to a little cheaper.
ferdad
Finally some relief for the kitties
Our fleas had become resistant to Advantage 2, and even using Capstar tablets didn't seem to bring any relief. I decided to try the Seresto collar, mainly because I figured that, for $50 it had to be good. I started with it on the youngest of my 3 cats. Unfortunately, because the fleas weren't that bad on him I couldn't tell much of a difference. Then I put one on the bigger of my older cats-his fleas were the worst of the bunch-almost immediately I could tell a difference! I waited a month and out the last one on my oldest cat-I was worried because I did read some reviews in which people claimed the collar killed their elderly cat. I watched him closely for days and he seems to have suffered no ill effects. The fleas, on the other hand, are definitely dying off. The cats have been wearing the collars for 4, 3, and 2 months respectively, and the difference is quite noticeable. It seems pricey, but if you only have to replace it every 8 months it's a good deal. I staggered them, too, so the initial outlay wasn't as bad as it could have been.
Ilikecheese
Flea free
Having multiple dogs and cats, affordable pet care is a must. Seresto is the best flea/tick treatment out there. It is expensive, but it works. After price shopping, Walmart had the best price.