PUR Basic Pitcher/Dispenser Water Replacement Filter, CRF950Z, 3 Pack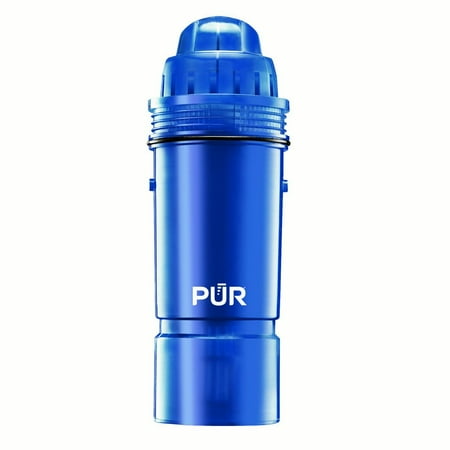 MSRP :

$18.88





Sale :

$15.88

Sold & shipped by Walmart
Product Description

Additional Information

Reviews
Product Description
While your tap water may look clean, it can contain potentially harmful contaminants picked up on its journey through aging pipes. PUR filters with MAXION technology reduce these contaminants. MAXION Filter Technology is our commitment to superior filtration performance and innovation, by using activated carbon and ion exchange to reduce more contaminants than any other brand (Comparison valid for faucet filters based on NSF certifications as of 10/14/16).
Additional Information
Certified to remove 96% Mercury and 92% PesticidesReduces Chlorine (taste and odor) and moreFilters up to 40 gallons/640 8-oz cups per filter, lasts up to 2 monthsAll PUR pitcher filters fit in all PUR pitchers/dispenser3 pack
Reviews
Andrey
UPC : 723987703237 - PUR Basic Pitcher/Dispenser Water Replacement Filter, CRF950Z, 3 Pack - PickPanda.com
They send the goods dirty and crumpled, the packaging is torn !! In transport boxes, the goods are sketched as if it were garbage. A pitying sight !!
Bloka
Effective water filter
This kind of filter came with the PUR pitcher that I bought. The instructions said to change the filter every 2 months. When it was time to change the filter I changed this one out with a cheaper Great Value water filter. The Great Value filter, which seems to be modeled more closely to a Brita filter, allowed the water to filter through much more quickly but with a notably higher amount of chlorine taste passing through. Upon closer inspection of the PUR filter I noticed that there is a spongy cellulose media above and below the charcoal part and I think this makes the big difference. If you want water that is absolutely filtered as much as possible, without having to deal with residual charcoal pieces in the first 2 filtrations then this is ideal. Just do not mistake your filter for a "dud" if it takes a long time for the water to filter through.
DuMa1
Great for everyday use.
I've had my PUR large pitcher for several years and have really liked it. The filters help so you don't have to buy as much bottled water for everyday use (when making coffee, drinking water, tea, mixing into foods...). However, in my last package, I got 2 'dud' filters. The 1st one did not allow the water to drip into the pitcher and no matter how many times I emptied, removed, and reinserted the filter, it did not work. I tossed into the trash (goodbye $$) and opened the 2nd one. That one worked like a charm. Then it came time for the 3rd...lo and behold, it was exactly like the first one (goodbye to more $$)...talk about a rip-off! The filters are not that inexpensive and to have to toss 2 of them really irked me. If this had never happened, I'd be thrilled and the rating would have been different but, 2 duds out of 3 chances? Nope, not a good thing.
Scott
Our filters don't work well
These clog up almost immediately and then don't work even after following directions to remedy slowness
Watermylife
Makes water taste good
I drink tons of water and want it to taste pure and good. This filter is a bit of a pain to prepare - you have to soak it first; however, it's worth the time. The water is filtered and does not have a chemical taste. I highly recommend it. Compare prices because these can range in price.