PUR Advanced Faucet Mount MineralClear Replacement Water Filter, 3 Pack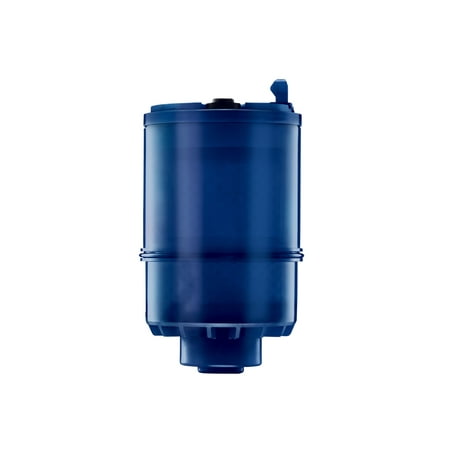 MSRP :

$29.32





Sale :

$24.22

Sold & shipped by Walmart
Product Description

Additional Information

Reviews
Product Description
Experience clean, crisp tasting water with our mineralclear® technology. Our unique mineralclear technology filters water over natural minerals for a crisp, refreshing taste. The premium carbon filter is certified to reduce lead, mercury, chlorine (taste and odor) and many other contaminants. It also removes 99% of trace levels of pharmaceuticals.* Yet it still leaves behind beneficial fluoride. Experience crisp, clean, refreshing water right from your tap.

Additional Information
Reviews
rachiti
Great value for money + peace of mind
I have been using this product for years. Unlike bottled water which varies in tasted depending upon which "minerals and flavor enhancers" they add, I always know how this water will taste. Since most bottled water is just tap water at a premium, this is as good or IMHO better than any bottled water out there. It took some time to find a refillable water bottle that didn't leach plastic taste into the water over the course of the day, but once I found that there's no going back to bottled for me even when I'm away from home. I also use this for washing veggies and any time I'm filling a pot for cooking food such as pasta or beans. It says it takes out lead & I know there is a low level of lead in my tap water so this product allows me to continue to use it without worrying about potential health consequences. It means I go through about a filter a month as I cook from scratch daily - but it's a small price to pay for peace of mind.
FINICKIE
MAKES WATER YUMMY
I get these for my wife because she doesn't like tap water. I like and use tap water! I think all bottled water and filtered water are a waste of money--unless you live in a place where tap or well water is simply like drinking swamp water. A millennia ago I visited my uncle in Sarasota, Florida where he had well water, and it tasted like pure sulfur. You smelled worse coming out of the shower than when you went in. The house smelled like rotten eggs. There, filtered water was a necessity. However, a need has been created and nobody wants to drink tap water anymore! It has to be either filtered or bottled. What an industry!!! So, for that purpose this is a great product. When you buy the appliance itself and attach it to your faucet and treat it tenderly, it should give you years of good use. The filters work fine and give you great tasting water. To me, the price is exorbitant-but so are all the others; but if that's what you want, you can't do better.
girlinthecountry
Helps provide great tasting water!
We have been using the PUR Faucet Mount for about two years and it has proven to be quite economical for us... no more trips to the store for bottled water (yay! no more plastic throwaways!), no more delivery from companies bringing the big 5-gallon containers and then having to place them on the water cooler. We don't even have a place for a water cooler in our current home. We use/drink a lot of water and usually end up replacing the water filter once a month, but it is worth it to us to have great tasting water with no hint of mineral taste and no odor. We use it to make ice cubes, too!
samianne
Good as Bottled - and Cheaper
Afetr buying bottled water for a few months I added up the cost and decided to go back to tap water. YUCK. So I purchased the PUR system and found the filtered tap water to be every bit as good as the bottled and a lot cheaper. Each filter is good for 100 gallons and I only use it for drinking water, coffee or tea water and in food (not for dish washing, etc.). so the price is most reasonable. Definitely recommend this system.
PRinNH
Does what its supposed to do
Have been spoiled my whole life with artesian well water. Moved to the city. You don't really feel compelled to drink or cook with water you can smell.. After spending a small fortune on bottled water, I decided to purchase a PUR water filter system. What the heck right? I LOVE IT. My water doesn't smell or taste like chlorine anymore. Ok, maybe a teeny tiny bit but I can cook with it, make tea or coffee or could even drink plain. I have a water cooler that I still use to drink plain ol' water and use for my pet. The original filter is still going strong after 3 months of single person usage. Indicator is between yellow and green but I make 1 gallon of tea every other day, so its used quite a bit. I would highly recommend. 3 filters for $25 is a great value for having decent water for the next 12+ months.