(400 Count) Splenda No Calorie Sweetener Packets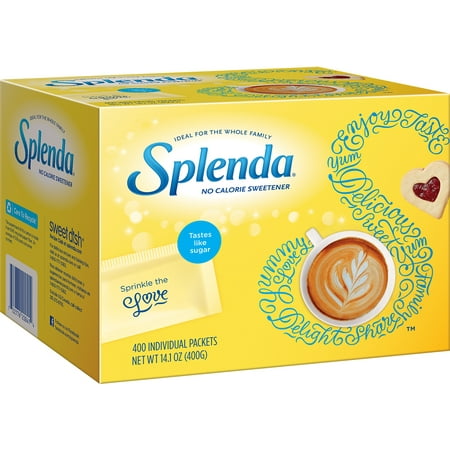 MSRP :

$14.99





Sale :

$12.47

Sold & shipped by Walmart
Product Description

Additional Information

Reviews
Product Description
Bring the convenience of individual Splenda No Calorie Sweetener Packets to your kitchen with this boxed package. This calorie-free sweetener provides an easy option for those who wish to avoid sugar. Splenda sweetener produces similar taste to sugar in many recipes. You can use it in cooking or to sweeten both cold and hot drinks. The Splenda Sweetener, 400 ct package provides you with usable portions of Splenda that are more convenient than a large container. Splenda No Calorie Sweetener is a good supplement to diet programs. With these packets, you can bring Splenda with you in your bag or pocket when you're traveling or on the go.
Additional Information
• Each packet of SPLENDA® No Calorie Sweetener provides the same sweetness as two teaspoons of sugar
• Each packet has less than 1 gram of carbohydrate and less than 5 calories, which meets FDA's standards for no-calorie foods •24 packets of SPLENDA® No Calorie Sweetener provide the same sweetness as one cup of sugar
Reviews
GiGi
Very Good
I have never had any troubles with Splenda . Always fresh and good . Love the tea mix . Thank You
JenniferH
Very Good
I love the little box of Splenda I received for review. The spout on the side made it super easy to use for anything I make. It dissolves instantly. It taste really good. There's no after taste. It taste just like you used sugar. Everything I made so far with it, the taste was just as if I used sugar. It's so easy replacing sugar with this product. If you've never tried Splenda, I highly recommend you getting some. It's really easy using when you bake especially. No one could even tell the difference in taste. They were pretty surprised after they tried everything that I had used Splenda instead of sugar. I'm very pleased with this product and will be purchasing it for future ventures in cooking, beverages and more. Plus, it's a healthier alternative over sugar so it's a win, win in my house now. The biggest plus I like is it's zero calories. It can help you control your health/weight much better. Try it out. I think you'll be pleasantly surprised like I was. [This review was collected as part of a promotion.]
JacquelineB
Very Good
I have always used the pink packet sweetener so getting Splenda was a new experience. I had put the box aside to use when I had time which meant after I finished the Thanksgiving dinner for 15 people in my home. As coffee was finally served on Thanksgiving evening and sweetener- the pink packets was put on the table, one of the guests asked me if I had any Splenda. I was mildly surprised, but willingly opened the box I had been sent. I had already used the pink packet in my first cup of coffee, but decided to try the Splenda in the second. This was a good taste test because the coffee was identical. Much to my surprise the second cup tasted sweeter and had less of an aftertaste. One of the guests, a sugar user, tried the Splenda and even though he imagined it would be artificial and awful he had to admit that the coffee with Splenda was "pretty good" I have not as yet had the opportunity to try Splenda in a recipe, but I do look forward to doing it. [This review was collected as part of a promotion.]
JohnathanR
Very Good
When I first got Splenda I wasn't sure how I'd like it or even if there'd be any difference to sugar, boy was I wrong! Splenda actually tastes better than sugar and the best part about it in my opinion is that there's no calories, I can feel less guilty whenever I use it if I feel like I used a bit too much, can't say the same for other brands of sugar. It honestly exceeded my expectations and made me feel like a little kid that just has to have sugar on everything just for the thrill, I even tried putting some onto foods and drinks that quite frankly don't need any more sweetening than they already have (or don't) and shockingly it gives them their own unique flavor that I could honestly enjoy again if I were crazy enough to do it (I might just be). I am genuinely upset at myself for not trying out Splenda sooner, this may end up replacing any of the other brands of sugar I use, something I would highly recommend trying out. [This review was collected as part of a promotion.]
dukerulzz
Very Good
Happy to have this size at good price. This will last a while, but product is the best.