Hillshire Farm Game Time Summer Sausage Party Kit, 1.18 lb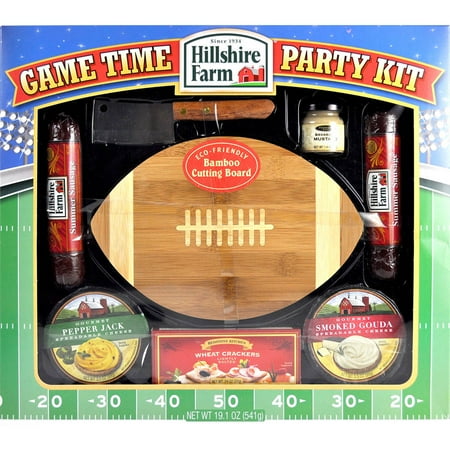 Sale :

$34.2

Sold & shipped by Walmart
Product Description

Additional Information

Reviews
Product Description
Get prepared for the big game with this Hillshire Farm Game Time Summer Sausage Gift Basket. This collection of sausage and spreadable cheeses will complete any snack table during football season. Present this party kit to your favorite hostess or pick one up for your own Super Bowl party. The Hillshire Farm Summer Sausage Party Kit includes a bamboo football-shaped cutting board that is ideal for slicing meat and cheeses. The kit also includes Dickinson's stone ground mustard, a slicing knife and stoned wheat crackers.See all Holiday Gifting on Walmart.com. Save money. Live better.
Additional Information
Hillshire Farm Game Time Summer Sausage Party Kit:
Includes bamboo football shaped cutting board
The 18.9 oz Hillshire Farm sausage kit is all you need for game time snacking
Includes spreadable smoked gouda cheese and pepper jack cheese
Stoned wheat crackers and Dickinson's stone ground mustard also included
Reviews
mitsubi
Are You Ready For Some Football?
We are avid Football lovers. When this arrived it was just in time for one of our favorite teams. I was surprised that the set included a football shaped Bamboo Cutting Board with it's own meat cleaver in order to cut the many slices of the Hillshire Summer Sausage , Which by the way is very tasty. also included was Pepper Jack Cheese. If you like cheese with a Little Kick to it then this cheese is the one for you. Spread this on the stoned wheat crackers and you have a good blend together. The set also has Dickinson's stone ground mustard, this also taste good on top of the Hillshire Summer Sausage. For the last bite of goodness is the Smoked Gouda Spreadable Cheese. The taste is very smooth. So it's off to watch some Football. I would recommend this set to couples who love to snack during the big game,. Have fun watching the game.....
hmshopperfv
Spice up your Party
I liked this party pack. The Hillshire Farm Summer Sausage is Fantastic! The cheese spreads were really good. I'm not a big fan of pepper jack cheese but it was good and not too spicy but I liked the smoked gouda more. The bamboo cutting board is cool, it's nice to bring to the table to slice up the sausage or have on the coffee table where you might not have much room. When I saw the little clever I thought it was so cute but it's also really sharp, it slices through the summer sausage easily, it's sharp enough that you can slice the summer sausage thin if you like and it's not usually that easy to slice summer sausage thinly. I'm not a fan of the crackers but there's only 3 of them so it's not a big deal. The crackers are kind of bland, I would have preferred a small stack of common buttery crackers and that is what I served with this snack. I took this party pack to a friends house to snack on while we watched the game. It was kind of a selfish gift because I knew I'd be enjoying it with everyone else but it was a big hit. Everyone I know likes summer sausage and cheese. There was more than enough for the 4 of us. Now that the weather has turned cold I think I'll get a couple of these to keep in my car so I can take one out and bring it in to an unexpected gathering or have on hand when someone surprises me with an unexpected gift. I think it's a great gift not only to snack on during a football game but board game night with the kids or a card party with friends or relaxing in the living room on movie night. It would also be a great gift to send to faraway friends. I live in Wisconsin and my far away friends love to receive sausage and cheese from Wisconsin. Even if you don't live in Wisconsin you can still share a taste of a great Wisconsin snack. When you don't know what to buy someone, you can't go wrong with food, especially good quality food and after the food is gone they'll still have the bamboo cutting board and slick little clever to remember you by.
loveonahill
Party time
Cannot wait for the holiday season to open up this gift pack. My family has lots of get togethers and this is going to cut my prep time in half. This contains great portions. The only downfall is I will purchase additional crackers to go with this. This could not have became available at a better time.
Southerner2
Very Nice Game Party package
I took this to my son's for the Alabama (Roll Tide) football game on Saturday and his family and I really enjoyed this. The Summer Sausage was very good as was the mustard included. My son especially raved about the mustard and the Summer Sausage. The Pepper Jack cheese was good and not too hot, just enough heat for us. The Smoked Gouda was very mild, if not bland, as you could taste the crackers more than the cheese. But if you have someone in your house whose stomach can't take strong foods, this one would be perfect for them. There were only three(!) wheat crackers included, so luckily I noticed this and packed up more crackers before I left my house for theirs. The little wooden tray and mini-cleaver were really cute and did exactly what they were supposed to. All in all, well worth the money you would spend for this party set. There were four adults/teenagers who ate from this set and it was plenty for all of us, and about half of each cheese and some of the mustard was left over.
Sim07
Great Christmas gift
The Hillshire Farm Game Time Summer Sausage Party Kit is a great gift item for the holidays. This kit includes a delicious link of summer sausage, which was spectacular on the crackers provided and the cheese spread. It is also nice because it comes with a mustard sauce to spread on the little sandwich you can make with the crackers, meat and cheese spread. I really like the added bonus of the football shaped cutting board, because it provides a gift for the receiver to keep and use for future snacks, and would look nice on table while you watch the game and have some snacks. You can also keep the cheese/meat slicer which I found really neat because a lot of these packages aren't all inclusive like this one. Both the cutting board and the cutting knife are both great quality too which I found surprising for just an added on item. This would be a perfect gift for a football fan or even as a stocking stuffer for something a little extra. I would highly recommend this product; the food is always delicious with Hillshire Farm!