S'more Two Mug Set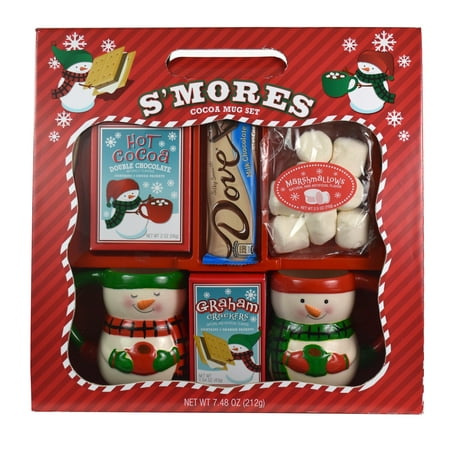 Sale :

$9.98

Sold & shipped by Walmart
Product Description

Additional Information

Reviews
Product Description
Two Adorable hand painted ceramic mugs, Dove Milk Chocolate Bar, Keebler Graham Crackers, Full Sized Marshmallows and Hot Cocoa Mix for Two
Additional Information
Reviews
tigger1219
Great Gift
This kit comes with two adorable snowman mugs, milk chocolate bar, marshmallows, graham crackers, and hot cocoa for two. The freshness and quality of the ingredients are great. The mugs are made and painted really well and are so cute. The kit is made for two, but I used it with one adult and two children and it was perfect. We roasted the marshmallows in the fireplace and placed them on the graham cracker with the chocolate bar "Yummy"! The s'more kit is packaged really nice and great for gifting. This would be a great gift for that person who has everything or grandparents, teachers, pastors, co-workers or neighbors. You might just want to gift it to yourself as a treat. I would defiantly recommend this product as a great gift to show someone that you are thinking about them.
JAD12
Cute and tasty gift set at an outstanding value
The s'mores and cocoa set is a great value and a perfect gift. It includes everything needed for two mugs of hot cocoa and also s'mores for two. It can also be gifted to one or two special people! I plan on giving it to my neighbor's children for Christmas. Now, that's a real 2 for one tasty gift! Of course, it would also be a perfect gift to share with a special someone. In the set is 2 mugs decorated with very cute snowman, wrapped in their winter scarfs and mittens. The mugs are the perfect size for little hands to hold. The box of chocolate fudge flavored hot cocoa mix is included with the directions to just add hot water. The snowman mugs can be used all year round for even more special times with warm memories. Assembling the s'mores can be half the fun for little ones. In the set is a box of Keebler graham crackers, kid size of course, along with a Nestle milk chocolate bar and plenty of plump marshmallows. The perfect s'mores sandwich couldn't be easier to make and enjoy. A snowman is pictured on the graham cracker box and on the hot cocoa box giving it a festive and chilly appeal. That is until the hot chocolate and s'mores warms them up with this Holiday gift set full of chocolaty good treats.
sweetlady63bx
CUTE S'MORES SET : )
I FIND THIS NESTLE S'MORES SET TO BE SO CUTE IT COMES WITH EVERYTHING YOU NEED TO MAKE S'MORES. IN THE PACKAGE IT CONTAINS AS FOLLOWS IT COMES WITH 1 PKG OF MARSHMALLOWS, 2 PKG OF GRAHAM CRACKERS, 1 NESTLE MILK CHOCOLATE BAR, 2 PKG OF HOT COCOA MIX, 2 LIGHT WEIGHT CERAMIC COCOA MUGS. THIS PRODUCT TO ME I FIND IT TO BE FUN TO MAKE S'MORES AND I LOVE IT AND THE COCOA MIX ACTUALLY AS WELL TASTE GOOD TOO. I FIND THIS TO BE A NICE CHRISTMAS GIFT FOR PEOPLE WHO LOVES S'MORES AS WELL AS HOT COCOA TOO. I FIND THIS PRODUCT FOR THE PRICE ITS A GREAT DEAL I DON'T FIND IT EXPENSIVE AT ALL. AND FOR EVERYTHING YOU GET HERE IN THIS S'MORES SET I THOUGHT IT WOULD BE MORE IN PRICE THEN WHAT IT ACTUALLY IS. I DO RECOMMEND THIS PRODUCT AND I SEE ADULTS AS WELL AS KIDS ENJOYING THIS NESTLE S'MORES SET IT'S A CUTE FAMILY BONDING TIME FUN PRODUCT. ONE IMPORTANT INFORMATION YOU NEED TO KNOW WHEN YOU BUY THIS PRODUCT THE MUGS CAN'T BE PUT IN THE MICROWAVE NOR IN THE DISHWASHER NOT SAFE. BECAUSE THE MUGS ARE MADE OF A LIGHT WEIGHT DELICATE CERAMIC SO PLEASE DON'T TRY IT AT ALL BECAUSE IT CAN EASILY BREAK AND CHIP TOO.
GAMMAW63
Hot Cocoa
MY HUSBAND AND GGSON ENJOYED THE HOT COCOA , AND S'MORES. GARY SAID IT WAS LIKE AN OLD CHRISTMAS. SITTING AROUND THE CHRISTMAS TREE AND STAYING WARM, DRINKING HOT CHOCOLATE. THE S'MORES WHERE AND ADDED TREAT. SOMETHING I HAD NOT THOUGHT OF BEFORE. THE CUPS ADD TO THE HOLIDAY SPIRIT. I WISH I HAD MORE AND WILL GO BEFORE CHRISTMAS. HAPPY HOLIDAYS EVERYONE. P.S. IT TASTE GREAT AND IS EASY
yahoo8728
smore
Everything you need in one box