Drew Polystyrene Foam Archery Target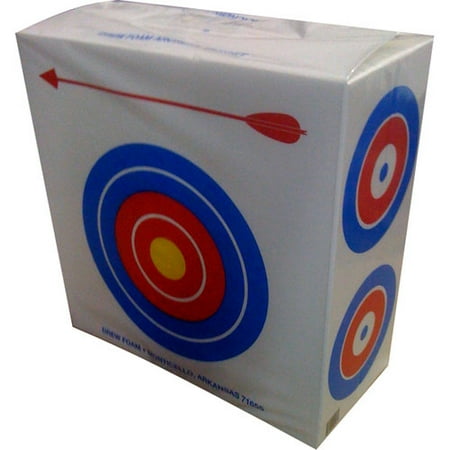 MSRP :

$15





Sale :

$14.82

Sold & shipped by Walmart
Product Description

Additional Information

Reviews
Product Description
The Drew Foam Archery Target, Polystyrene, is an ideal choice for those using lightweight bows. Archers of all skills levels can use this target for practice. Featuring large bull's eyes on one side for beginners and smaller bull's eyes on the other side for more experienced archers, this bow and arrow target is versatile.
Additional Information

Drew Polystyrene Foam Archery Target:
2' square with a large bull's eye on 1 side for beginners and 4 smaller bull's eyes on the other side for the experienced archer
Small bull's eyes located on the ends
Good with lightweight bows
Outdoor archery target helps archers perfect their aim
Product dimensions: 24.00"L x 11.88"W x 10.62"H
Drew Foam archery target made of foam with a polystyrene cover
Vibrant colors for easy viewing
Suspend it in the air or place it on a stand (sold separately)
Reviews
Unknown Customer
Good Target for beginners
This target works great. I recommend it to all levels of archery. (you may get blow through on high velocity bows) My bow is set for 60/65lbs and I've sunk a few arrows. - Two down falls to this product... 1. It needs something to support/hold it up. (like a bail of hay behind it) 2. It's small enough, that you will also need some sort of larger back stop.
dkruger1
Foam target
Great for the occasional back yard archer but no good for the serious archer. Foam comes apart inside and doesn't stop arrows after several shots in the same area. Not recommended for bows 40lbs and over.
pami
Better than pictured and described.
Better than pictured and described.
TechWrench
OK for a few shots, but wears out quickly.
It's hard to complain about the price, but it didn't hold up as well as I had hoped. After years of not shooting my bow because of neck/shoulder issues, I finally got well enough to try archery again. I bought this target to see if I could still draw and shoot the bow well enough to hunt with. I had to adjust bow way down to be able to draw and hold, about 45#, so I thought this target would work for me. Once I got my sights aligned to the new bow weight, I started to get better groups at beginning range of 15 yds. I quickly found out that a few shots in the same area soon weakened the target material (Styrofoam) enough that I was getting arrows to shoot thru material. I moved out to 30 yds, with same end result. Had to keep rotating target to try new areas. This target would be OK for quick test shots while away from main practice area, but I wouldn't recommend it for daily practice use, especially if you intend to shoot a lot of arrows.
RealtreeApg
Good for temporary use
I don't know what kind of bow the reviewers 3 yr. old shoots, or at what distance, but with my bow set @ 65lb.s from 20yd.s using beeman 400's they don't "pass through".Think of this like a styrofoam cooler,it serves the purpose but,you're not going to use it forever.Great for sighting in while changing and adjusting equipment,some target practice,away on a trip and need a cheap target,camping etc. It does have 6 sides to shoot at,although only 4 have targets,improvise the other 2,add dots to shoot more areas etc. it will get beat up quicker than closed cell foam targets.For the money and considering it's lightweight design it would be great for beginners,some kids!,and anyone needing what is basically a cheap, disposable,limited use target.