LG Blu-ray Player with Streaming Services - BPM25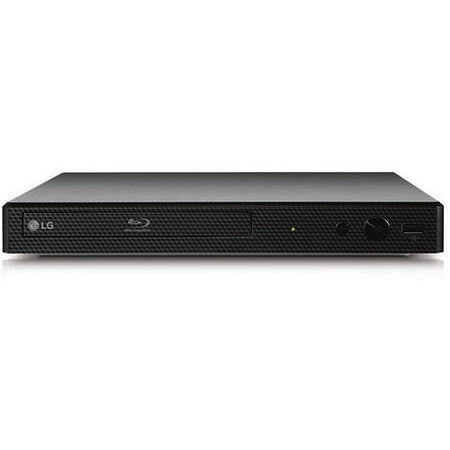 MSRP :

$69.99





Sale :

$58

Sold & shipped by Walmart
Product Description

Additional Information

Reviews
Product Description
The LG BPM25 Blu-ray Player delivers exceptional HD quality, up to Full HD 1080p, to make the most of your HDTV. It's a perfect combination! Blu-ray also offers advanced features not available on DVD. Access premium content from providers like Netflix, Hulu Plus and YouTube to stream your favorite movies and TV shows. LG connects you to the content that you and your family want.
Additional Information
LG Blu-ray Player with Streaming Services - BPM25:

Key Features:

1080p upscaling

Blu-ray and DVD playback
Wired Ethernet connection
USB playback
HDMI port
LG player streams content from multiple providers
LG Remote App
Dolby Digital/Digital Plus/True HD surround sound
Reviews
AdamW
USB port dead after 5 days.
I'm looking at this unit near my tv and wondering why the USB port is dead after 5 days. When the port worked it played all sort of video file types. The blu Ray worked great and the streaming services are fine. I will have to return and hope the next USB port lasts longer. Update: I did exchange this player and the same problem developed. Note: This player's port is a USB 2.0 or lower. The USB port starts to keep ghost folders of contents of former USB drives showing in the SmartShare screen. I can put in a different USB, reformat to NTFS or FAT32, and it doesn't matter. After 1 day with the new exchanged player, it has already gotten to the ghost folders and then will not go away. Going to return this one and search for a new option. My only real requirements are optical out audio and a USB that can play media files. Also, the SmartShare home media server software, which would be a good alternative to USB playback, doesn't work at all. Lowered overall rating from 2 stars to 1
walmartfanman
Disappointing
I purchased it to go with my LG Smart TV. The apps are almost useless. You get 11 apps. Even after updating the player, some of the apps are no longer supported. The apps that do work are not as smooth as the same apps on my television. The SIMPLINK feature is buggy. I disabled it. The player may be defective? I had to unplug the unit from the wall to get it to turn off. It was locked up and would not do anything. I have read other reviews stating the same thing. The remote is very cheaply made. This player only has an HDMI port. It does not have any other optical audio ports as stated on Walmart's website. The DVDs I have played have worked and looked good. The front USB port has worked okay. Some files would not play. I do not have any Bluray disks to try, but I might buy one just to see if it will play them. Overall I am not impressed with this item and am disappointed with LG. I see on LG's website this item is now discontinued. I am thinking about returning it.
Brinkle20
AMAZING MACHINE!!!!
Hi all and thank you for reading my review. This LG DVD/Blue Ray Player is awesome!!! Now I do not know ANY techie terms to speak of what I know is how I use this machine. One of the things I bought it for was watching my Law&Order Dvd's, love that show!, Anyway, I can pause the DVD, walk away to do laundry, make a bed and it will still be paused! Also, if one were to stop the show in the middle to say go to the store, it picks up right where it left off, to the syllable!!! It can recognize other LG products it is connected to with out any programming needed. And the price on Walmart is awesome! Other places like Best Buy etc want $99 or more. I have 2 of these and couldn't be happier. Also, I want to thank Walmart's Product Care people as I purchased a Sanyo player originally, which buzzed very loudly while playing DVD's (annoying!) and sent me the necessary mailing label to ship it back to get a refund! Awesome shoutout to Michael at Assurion!!
Lynda
LG Blu-ray Disc Player Streaming Services (BPM25)
So far the disc player itself is great! I had a lot of trouble getting it to work at first because the HDMI cable I bought at WalMart proved to be faulty. I tried it on two different Vizeo TVs at home. I could feel the vibration of the Blu-ray dvd working, but there was no communication with either tv. I took it back to the store along with the cable & had the guys in the electronics department trouble shoot it for me. Didn't work for them either, but when they changed out the HDMI cable with a spare they had in back, it worked just fine. I returned the faulty cable & bought the WalMart product. Brought it home & watched The Hobbit on it. Worked perfectly without a hitch. I haven't tried any of the other functions, but the dvd player was wonderful. Simple player for a good buy for $56.29. Probably does more, but I just didn't try it. I don't own any Blu-ray movies, so I don't know how that will be. It's supposed to do either. It works for me.
James
Good entry level Blu Ray player
This is my first Blu Ray player and it replaced an older DVD player. The unit only has two buttons - power and eject disc. The remote works with my television without programming (nice!) and it plays all Blu Ray discs I have on hand. Make sure you have an HDMI cable capable of video and audio. The first cable I used didn't allow the player to send information to the TV and I got a blank screen without audio. I replaced the first cable with a better cable and the player works flawlessly with it. The HD images are clear and sharp on my 1080 TV. The player upscales DVD content to HD and the DVD discs I've used look good on my 46 inch display. The network connection requires a physical cable. It is not WiFi capable. There is a USB connection on the front of the device to play video from portable USB drives. After two months of regular use, I've had no problems with the player.