LG DVD Player with USB Direct Recording - DP132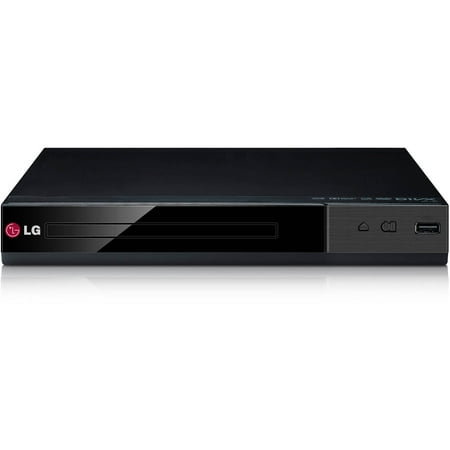 MSRP :

$29.99





Sale :

$26.99

Sold & shipped by Walmart
Product Description

Additional Information

Reviews
Product Description
The LG DP132 DVD Player makes it easy to watch

DVDs

, play

CDs

through your TV and play media from your USB device. It can also record a show and store it directly to a USB drive for when you want to view it later, either through the player or on a different device. This

DivX

DVD player plays back many styles of disc, including DVD-ROM/DVD+/-R/RW and CD-R/RW.
Additional Information


LG DVD Player with USB Direct Recording - DP132Key Features:
Media DVD player
Plays back DVD-ROM/DVD+/-R/RW and CD-R/RW
USB Direct Recording (Audio CD Recording to USB)
LG DVD player DP132 with DivX playback
USB 2.0 port for media playback
Reviews
Frank
Pro's and Con's of the LG DVD player
Pro: Works great for a basic DVD player. Con: Only has the capability to use RCA cable for input to the TV. No USB/HDMI.
HoneyBEEautiful
Big Bang for Your Itty Bitty Buck!
As an avid online shopper, I rely heavily on the reviews of others. So after using this little dynamo for a couple of weeks, I feel the need to sing it's praises. Walmart Shipping Pass got my item to me quickly, as promised, in two days. The unit is smaller than expected but a great space-saver. It's only playing a small DVD... so why do DVD players need to be so large in the first place?! This device is beyond efficient. It began playing one of my older DVDs that I hadn't even touched in over a year, and picked up exactly where I'd stopped watching it! I'm not talking about top of the scene, I mean exact! So it's lightweight, precise, and great quality, at THIS price - it's a no-brainer. I'm going to purchase a second one as backup or for a gift. Also, I sprung for the warranty too. I like that Walmart offers this feature. Now my device is registered online and should something go wrong, I'm covered. For all that you save on the sticker price, go ahead and splurge on the warranty.
MonicaPz
Able To View Library DVDs With No Trouble!
Last Christmas a friend bought me a "no-name" DVD Player that would break down when I attempted to play the DVD and made a lot of mechanical noise. Did not want to offend my friend, so I threw it out and went to Walmart and looked at the DVD Players. Noted all of them that had the features I wanted and checked the consumer reviews on each of them, noticing that the LG had the best consumer reviews by far. Went and bought the LG DVD Player and I absolutely love it. Borrow from the library (forgive me!) dirty, scratched DVDs and NOT ONCE had a problem! This DVD Player is absolutely free of noise and very easy to use. It so intuitive that you need not read the instructions!!
DebiDebi
Watch DVDs easily
Basic..... Small...... Works well.... Setup: Plug in the red/yellow/white cord from tv to dvd player...... Place power cord into wall receptacle, 110, normal USA wall outlet..... Enjoy! Sized small, fits into "keyboard" pull out drawer, as I don't use that 'shelf' on my desk .... Minimal hookups that are hidden (I hate dangling cords!).... Dimensions given on AD Remote comes complete with batteries This is the 2nd unit I have purchased, because I was so pleased with the first one... (Going on 6 months, no issues).... Does NOT play BLUERAY..... Pictures on a disk of your family will run thru too, which is a nice addition at a family reunion, gives the tiny tots something to LOOK at, without the noise for the adults trying to converse.
HalfmoonDarkSoul
Great DVD player
I bought one because I needed a new player - to my surprise it came with a USB port. After carefully reading about how to convert my videos for the port, I was watching my home videos in no time! I liked it so much I went back and bought another for my other tv. Have had them both for over 2 years now and I haven't had a bit of trouble. Highly recommend - great machine at a reasonable price.