Hoof Hands Kick the Habit Nail-Biting Deterrent, 0.5 fl oz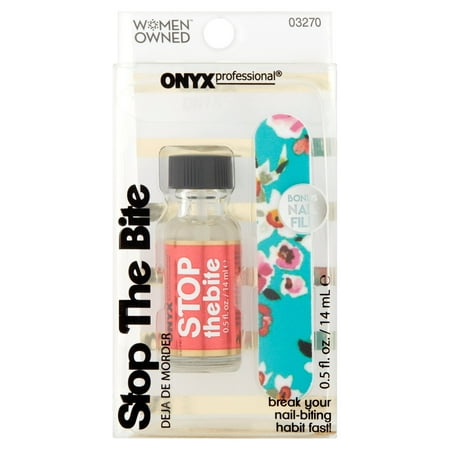 Sale :

$2.97

Sold & shipped by Walmart
Product Description

Additional Information

Reviews
Product Description
Nail biting? Thumb sucking problem? Get quick and easy results with an effective end to your habit. Also stimulates nail growth.
Additional Information
Hoof Hands Kick the Habit Nail-Biting Deterrent, 0.5 fl oz
Reviews
clrgrdfrk
best ever
I have been biting my nails for as long as I can remember. I bought this product on a whim, having tried simlilar products. But this, the taste is awful, which in this case is great, and it lingers. I have benn using this for about 3 weeks now and have not had one set back. I try and put a coat of it on once a day to keep the taste strong.
Extraordinaire
Excellent
This was a perfect solution to my daughter's thumb-sucking habit. While her dentist recommended some crazy oral apparatus that was going to cost nearly $1000, Stop the Bite performed the same function for $5 and much less drama.
CieCie29
Fabulous for long-term nail biters!
I have been biting my nails since I was about 4 years old, and I'm now 16. It has always been a terrible habit of mine, and I cannot stand it for obvious reasons (pain, germs, etc.) I remember that I found this at a CVS when I was about 12 and decided that I'd give it a try. I've never had so much success with a product before! Polishes like these never seem to work for me because I've been biting my nails for so long, but this was fabulous. I tried other brands when I used this one up, but they didn't compare. The taste is very very strong and bitter, and will linger in your mouth for a while. The only issue I would have with it is that if you eat finger foods, be very careful: The taste activates when it comes into contact with your saliva (or any wet surface, I assume). Therefore, if you lick your lips and accidentally touch them with your nails, the taste will get in your mouth. But it does it's job, being helpful with keeping your fingers out of your mouth for any reason (nail biting, thumb sucking, etc.) I highly recommend this for problem nail biting. It helped me, a long time addict, stop. I'm almost positive it will do the same for you!
piper1871
Good But Icky
My Doctor recommended this for a really bad habit of biting the skin around my nails. Because of medical conditions this made me very susceptible to infections so the Doctor wanted me to break the habit. I have only been wearing it for a few hours and I NEVER want to bring my nails near my face again. The taste is repulsive and lingers in the mouth for a long time, even after drinking plenty of water and brushing my teeth. I cannot even feed myself with my hands because if any part of the top half of my finger touches my mouth I taste it. I would HIGHLY recommend this for someone with my problem or nail biting problems. My only complaint is that the taste has not left my mouth for several hours.
Alexa
Excellent product!
I have been using this product on my 7yr old daughter for about a month and I am amazed at the results. Highly recommend this to anyone with a serious nail biting habit. The taste is bitter and disgusting but effective!