Hoof Hands Kick the Habit Nail-Biting Deterrent, 0.5 fl oz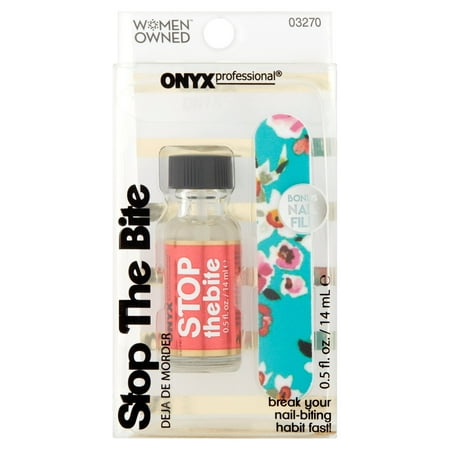 Sale :

$2.97

Sold & shipped by Walmart
Product Description

Additional Information

Reviews
Product Description
Nail biting? Thumb sucking problem? Get quick and easy results with an effective end to your habit. Also stimulates nail growth.
Additional Information
Hoof Hands Kick the Habit Nail-Biting Deterrent, 0.5 fl oz:
Ideal for breaking the habit of biting nails
Also good at stopping thumb sucking
Nail biting solution helps stimulate nail growth
Simple brush-on application
Completely harmless yet effective
Bitter taste deters from putting fingers in mouth
Reviews
Teresa
Excellent Product!!!
Roughly 10 years ago I found this product at Wal-Mart. For a couple of $$ what the heck, anything that will help me stop this nasty habit! Within a few weeks my nails were starting to grow and I found myself actually stopping before I put my fingers in my mouth. On a humorous side, I would laugh and joke about not being able to eat finger foods for a while as the point of the polish was to keep your fingers away from your mouth. (ha-ha) I have had few slips here and there during nervous or upsetting times but if I just reapplied the product it was not hard to get back on track. I anyone thinking or even considering trying out this product... You will not be disappointed. Just as with any bad habit; it takes will power, but this product will most defiantly works. Not a great pic but my nails are very healthy now. I don't keep there extremely long just a decent length.
Alexa
Excellent product!
I have been using this product on my 7yr old daughter for about a month and I am amazed at the results. Highly recommend this to anyone with a serious nail biting habit. The taste is bitter and disgusting but effective!
ActorMike
Excellent way to break the habit!
I'm a lifetime nail biter! I've tried to quit many times without success. This was exactly what I needed. It's also clear and not noticeable. I'll attached a photo from day 1!
opeapod
100% recommend
My 4 year old has been sucking her thumb since she was a few weeks old. We assumed we could break the habit as she got older but it has just gotten worse. We tried a variety of strategies including wearing gloves, verbal praise when she wasn't sucking thumb, a coin reward system, punishment (ie turning off TV/movie if sucking her thumb). I swore I would never use hot sauce or something like this but her teeth are definitely being pushed inward because of it so I was feeling desperate. I researched several products and for the price and results, I 100% recommend this and wish I had tried it sooner. We put it on her Sunday afternoon and she sucked her thumb twice that afternoon but hasn't sucked her thumb in 2 days. I know that doesnt sound like much but she sucks her thumb anytime her hands are idle and we probably ask her at least 50 times a day to take her thumb out. The taste is horrible and lingers but definitely does its job. A great product!!!
Raven
Amazing for finger sucking child!!!
Wow! This stuff works. My three year old daughter has been sucking her index and middle fingers since she was very little. I can see that her front teeth are moving forward and she talks with a lisp. I knew I had to do something because I knew if I didn't kick the habit now she could suck her fingers after her other set of teeth come in, and since I can't take her fingers away I didn't want her to have an overbite. I did a little research and found this product. I decided to give it a try. Let me just say this. This stuff taste horrible and it lingers in the mouth. The first night I put it on my child she immediately was like aaawwwww yuk yuk!! Of course being a first time mom I felt horrible but knew it would be better for her in the long run. So after the second day of using it I watch her and notice she put her fingers in her mouth and immediately took them out with a sour face. Now its been five days and she doesn't even attempt to put her fingers in her mouth because I think she remembers the taste!!! YaaaYYY!!!! I am so thankful for a product like this!!!