ONYX Professional gel & all nail coatings soak off nail polish remover coconut, 16 fl oz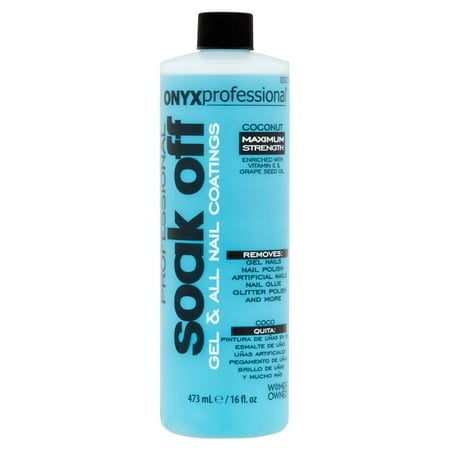 Sale :

$3.47

Sold & shipped by Walmart
Product Description

Additional Information

Reviews
Product Description
Remove gel and shellac easily with Onyx Professional Soak Off Maximum Strength Gel Remover. This maximum strength formula is quick at removing the toughest of nail applications.
Additional Information

ONYX Professional Gel And All Nail Coatings Soak Off Nail Polish Remover Coconut:
Nail polish and remover drying product
Gel nail polish remover will effectively remove gel nails, nail polish, artificial nails, nail glue, glitter polish and more
Maximum-strength formula
Enriched with vitamin E and grape seed oil
Size: 16 fl oz
Reviews
Michelle
I will rebuy this product
It smells fine and does get gel nail polish off when soaking the nail for about 20 minutes. I will rebuy it when my bottle runs out.
Latinpr05
Amazing product
I purchased this recently and have used it several times since. It has a little coconut scent which I love. It doesn't leave my fingers dry and it works amazing. I put a little on a piece of cotton ball place it on my nail and wrap my nail with foil. I leave it for 5 mins or so, when I remove the foil I can see the gel polish lifting off and I use a wooden nail scraper to help it off. I have also used this to remove glitter gel the same way and it works amazing. I would purchase again.
Luvs2ride
Great stuff!
I recently had gel nails put on for my daughter's wedding and was told by other women that have had those before to don't try getting them off yourself. They told me my nails will get wrecked and just go back and pay them to take it off again. I saw this product at Wal-Mart and it said it gets gel nail coating off, so I figured it was worth a shot. You do have to soak your nails for a good 15 minutes and even another 10 or 15. It doesn't take all of it off, but I used a nail file and filed what was left and it all came off and my nails are absolutely fine. I believe the bottle cost less than $5..so more than affordable!
Tanya
Terrific polish remover
This stuff works great! It removes nail strips, glue, and gel polish in a flash, effortlessly.
Erika
Smells great - after it dries :)
At first I couldn't smell the coconut at all and was disappointed. After using it I realized the smell develops after it dries and if it wasn't so drying (it's expected since it's acetone) I wouldn't have washed my hands it smelled that good! And even though it was drying it wasn't as bad as straight up pure acetone. I really like it and will be buying another bottle when this one runs out.