Qedertek laser Christmas laser light Landscape Laser Lights,Red & Green Wireless Control Star Projector,20 Patterns 43ft IP65 Waterproof Landscape Lighting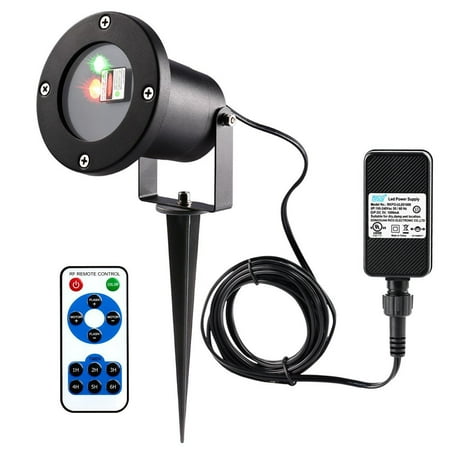 Sale :

$36.99

Sold & shipped by VIP Global Co., Ltd
Product Description

Additional Information

Reviews
Product Description
"1.Practical design - Dustproof and waterproof rating of IP65 can be adapted in any weather, which is the fastest outdoor and indoor decorating light solution. Allen Wrench will help you install the item easily, which is in the package.2.Various patterns - With 20 different patterns, 4 modes, steady on dynamics red & green / steady on dynamics red / steady on dynamics green / steady on dynamics red & green (color button cycling).You can switch all patterns via wireless remote controller with your mood.3.Remote control - Patterns, speed of flash and timer setting can be controlled remotely within 43 feet, which Supports 1h / 2h / 3h / 4h / 5h / 6h timer setting via remote control. It's easily to operate.4.Outdoor/Indoor - It can be easily used indoor or outdoor to decorations.5.Low power consumption - The AC power adapter is 100V-240V/50-60Hz input with UL approved. It is more power-saving and safer than the other lights.Product Description20 patterns Laser Christmas Lights is the best choice for decorating your Christmas party or holiday! Wireless Remote Control: (1) Plug the laser in power and press the ""ON/OFF"" button within 5 seconds to synchronize the remote with the light. (2) Timer Setting: Built-in timer runs for 1,2, 3, 4, 5, or 6 hours and closes after the time you set. (3) Control the laser light within 43 feet. Features 1. Input & Output: AC 100V-240V / 50-60Hz; DC 12V 1000mA; Power output2. 4 Modes (20 dynamic patterns): Steady on dynamics red & green / steady on dynamics red / steady on dynamics green / steady on dynamics red & green (color button cycling) 3. Operating temperature: -26 ? ~ 32 ? (-15 ? ~ 90 ?, low temperature preheating 2-15 minutes) 4. Laser light waterproof rating: IP65 5. Adapter waterproof rating: IP44 Tips: 1. Please remove the Insulating film at the bottom when using the remote 2. Only use supplied power adapter connected to a properly grounded outdoor outlet. Do not use with other dimmers or remote timers. 3. If the green laser lights work intermittently, it will need a 15-20 minutes warm-up. When the temperature is below 14? F, the green laser model will need to be heated for about 15-20 minutes to work normally. Green laser is affected by temperature and humidity. 4. Please avoid direct eye exposure. 5. This product is FDA Certified, FDA Certification serial No.1610654-000 Package Includes 1 x Laser Projector 1 x Power Adapter 1 x Remote Control 1 x Instruction 1 x Ground Stake 1 x Allen Wrench"
Additional Information
Perfect Holiday Decorative Lights
Wireless Control
Built-In Timer
Easy to Operate & Install
IP 65 Waterproof
Reviews
PennyPinchers
Better than the competition!
This Holigoo Laser Christmas light is AMAZING! It's honestly better quality than the as seen on Tv one! My mom has the Star shower and it's plastic and not very heavy duty. This Holigoo is made of quality metal, it's very heavy duty! It comes with a stake for the ground or a floor stand, and also a wall mount. You can use this light for everything.. decorations, parties, bars, weddings, etc! This also has a smart remote that you can be sitting in your living room all warm and cozy while changing the light colors , the speed settings, the flash settings , etc. No need to go out and hit buttons in the snow! You can also set the timer from the remote. There is six settings for the timer. 1, 2, 3, 4, 5 ,6 hour settings! This also beats the competition because it's MADE for extreme cold weather. Other laser lights stop working at -15 degrees.. not the Holigoo , this bad boy will keep right on making your house look stunning WITHOUT all the work lol! This was given to me as a gift, and I absolutely give it 5 + stars! I tested it out as much as I was able too ( we haven't gotten snow yet, but my autistic son absolutely LOVES these lights!) So we have had them on for hours! Thank You for your time and patience while reading my review!
forjo
Finally, no more hanging lights. So pretty
Wow, I am so glad to have this laser light. My pictures do not do It justice. Now I don't need to hang Christmas lights anymore. The lights are so bright and make my house sparkle. It is very nice and visible from the street. I highly recommend this product. This is the best invention for lighting up your house. Comes with a remote so you can change modes from inside the house
oregondude
Ok, but my unit did not have motion
I bought one of these a few weeks ago from this same Walmart vendor. The one I received did not have moving lights. The box it came in said it had motion, but the lights in my unit did not move. Being the tinkerer I am, I took it apart to see if I could fix some minor problem with it. When I got it apart I found no motor or anything that remotely looked like it could have made the lights move. It looks like the box was labeled wrong. Since this unit had no motion, it made the price I paid about the same retail price for a non-motion version of these lights. Since the light comes from a 3rd party source, I can't take it back to local Walmart and I don't feel like fighting the battle to get some sort of return/replacement with the original seller, I will just live with this unit as is.
JCMARKS
Not As Advertised
I have never been more disappointed in a product which should have made the holidays more enjoyable. It was purchased because of high ratings but I am confused as to how this could be the same product. When it first arrived the red and green lights worked together but would not configure into any patterns or movement. Subsequently the colored lights would not work together and still no movements. The remote controls looked like toys. I knew it was being shipped direct from the manufacturer, however, it arrived in an Amazon Prime package! Really? That could not be what Walmart wanted! Now I want to return it and the price has been marked down and I will lose almost $70.00 on the deal. Bah humbug.
Mary
Amazing!!
Just received my Laser Christmas Lights today and gave them a try. They are beautiful and bright and cover my whole side yard which would have taken me hours to decorate with ordinary lights. I'm so impressed that I am going to order another set.