Horizon: Zero Dawn, Sony, PlayStation 4, 711719503484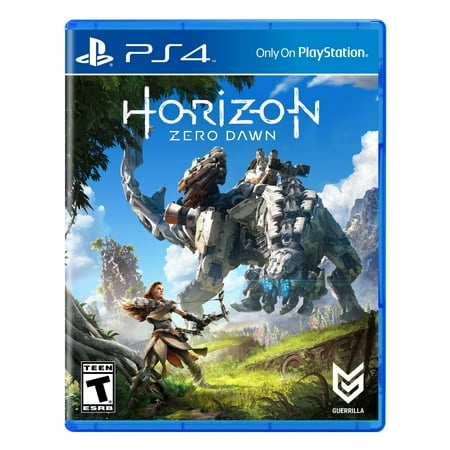 MSRP :

$49.99





Sale :

$19.98

Sold & shipped by VIPOUTLET
Product Description

Additional Information

Reviews
Product Description
Horizon Zero Dawn™ is an exhilarating new action role playing game exclusively for the PlayStation®4 System, developed by the award-winning Guerrilla Games, creators of PlayStation's venerated Killzone franchise.Take on the role of skilled hunter Aloy as you explore a vibrant and lush world inhabited by mysterious mechanized creatures.Embark on a compelling, emotional journey and unravel mysteries of tribal societies, ancient artifacts and advanced technologies that will determine the fate of this planet, and of life itself.
Additional Information
Horizon Zero Dawn for PlayStation 4
Reviews
SamHZD
One of the best PS Exclusives
Storytelling: It's great, probably next to The Last of Us. However, the lip sync is off at times, could be annoying to some people. To me, it's a flaw which can be overlooked given there are so many other things to enjoy in this game. I think dialogues are very well written and voice acting is good as well. Music: Pretty good music throughout the game, love Aloy's theme. Landscape: It's a vast and beautiful open world for you to explore. Save points are throughout the map. Fast travel is easy and accessible. There are different hostile and non-hostile things to kill all over the place. Graphics: The best till date on any console and for any games that I've played thus far or watched youtube videos, be it Rise of the Tomb Raider, Uncharted 4, Elder Scrolls Online, Witcher 3 etc. Machines: There are different kinds of machines which are beautifully designed, with the right strategy you can kill most of them relatively easily, gotta learn how to hunt when you play the game! Weapons: An Interesting selection that goes well with the game theme. Almost each type of weapon has something to offer, it's up to you how to use the selection that's at your disposal. I personally enjoyed most of the weapons. I usually prefer bows over guns and that's another reason for me to absolutely love this game. Armors: Usually I do not like armors offered in most of the games after experiencing the Daedric armor in Skyrim. However, this game offers quite a few armors that are absolutely beautiful. I did enough farming which I enjoyed, unlike Elder Scrolls Online, to buy each and every weapon and armor that was available. Game style: You can run and kill some machines or go for stealth kills using the spear, but for some, you need more finesse which would require traps and ranged attacks. I personally enjoyed different strategies to exploit most weapons. Skills: I think skill tree is a bit brief but well explained and pretty relevant which makes it easy to know where you want to prioritize to use your skill points unlike some games which have too much going on and you have little clue how to get most out of your skill points as some upgrades are little to no use. Crafting: This is very well laid out and you can do it on the go as long as you have enough resources. I always had plenty of resources because I spent quite a bit of time just exploring the beautiful world and farming for the resources. I think I like the fact that I didn't have to gather hundreds of things like some other RPG games. Collectibles: I think people who like to find each and every collectible will enjoy this aspect of the game because there are a lot of collectibles scattered all over the huge open world. Inventory: The interface is beautiful and easy to navigate. However, the modification section is a bit unorganized where uncommon, rare and very rare mods are not sorted appropriately. Quickslots: Appropriate and easily accessible, comes handy in the heat of a fight. Controls: Responsive and easy. Photo Mode: You can use this feature to capture beautiful screenshots throughout the game. I've posted a couple of screenshots here. My current PS4 Theme is custom using one of the many screenshots that I have from the game. Difficulty: I played the game on the normal difficulty which I think was neither too hard nor too easy. I saw a couple of people giving the game bad rating because they did not like the difficulty level (either too difficult or too easy), to me this is in your control and you can choose whatever difficulty you want. If you need some challenge or want to take it easy you can change the difficulty. Issues: I have not experienced any issues while playing the game. I think some people experienced game crashing during the intro video which I think has already been addressed. Overall I think this game is a perfect blend of primal and futuristic world with amazing graphics and story to give you an amazing gaming experience. I think each aspect of the game is beautiful and what makes this game amazing is the fact that each piece goes very well together. There is a lot to do and this game is fun all the way. I did not mind logging in countless hours into this game.
SilentFan85
Game of the Year? Yes. Game of the Decade? Indeed!
This game is the reason to buy a PS4! Not even a PS4 Pro, but just a PS4! While the Pro does provide a "boost" to the atmosphere of the game; the game was designed to utilize the full capability of a standard PS4. And, it looks GORGEOUS! The combat and gameplay, overall, for this game is very reminiscent of Tomb Raider (2013). Which is a welcome thing for me, because I love the Tomb Raider (reboot) series! The creatures in the game are one of a kind, and were handled with care down to every nut and bolt in their body. You can see that love and care in the details of the beasts. Very creative design, as well! This game is easily a keeper, and one for other games to be measured against. I was going to get Zelda: breath of the Wild and a Switch; but I held off after renting this game and becoming addicted. I took the game back to Redbox the next day, and picked it up at the local store here in my hometown. Buy it! Worth it!
bcbane
Great game, great price!
The game is very fun, it's like Fallout, Zelda, Skyrim and a little bit of Borderlands but with Bioware style dialog. It's been a blast to play. The game came in Brand New condition, except no inserts in the game cover (but a lot of companies don't make those anymore so there may never have been any) Highly recommend it!
JWS9518
Fun to play
HZD feels in a lot of ways similar to the Far Cry games with a bit of FC Primal and Witcher mixed in. I am a fan of that series, recently completing Primal. So if you like FC, especially Primal, you will most likely like HZD. The graphics are some of the best I have seen on the PS4, with beautiful scenery, water features that look nearly real, and detailed environments and creatures. The gameplay feels so smooth and easy to use as compared to my recent experience with DA. In a lot of respects, the gameplay style is similar to my experience in the FC series, in terms of how you play the game. The game world is a large open world with a lot of different things to explore and experience. I was not a bit fan of the method of fast travel that the game has as well as the save point locations, but those complaints are really minor. Probably my biggest complaint of the game is that the menus feel a bit cluttered and could have been better organized to make it easier to find the things you are looking to do. The game also doesn't always explain well how to do certain things as well, which was a bit of an annoyance to me at times. The story is a decent one, although could have been executed a bit better. I think the game tends to rely on finding information on audio and documents a bit too much and leaves conversations a bit sparse among some of the characters in the game. As it is with these games, some of the side and collecting quests get old pretty quickly. Even with some of its shortcomings, the pros far outweigh the cons and I am enjoying this game.
ObsidianHood
The...Dawn....of something great!
Ok, first off let's get the basic stuff out of the way. Walmart.com shipping was fast and package came in perfect condition with the preorder bonus. Now on to the game review. Horizon Zero Dawn contains everything I really could have imagined or wanted, and then some! Breathtaking graphics: Check! Fun and addicting gameplay: Check! Massive open world: Double Check!! While I'm probably 10 hours in, I feel like I've just started the story, which is massive in scale. So far the story is amazing as well! No words can describe my shock when I opened up the map for the first time and realized this massive area I was exploring was just a little speck compared to how big the map really was! (Still haven't opened up the whole map yet) Well I could talk about this game all day so I'm gonna wrap this up by saying that if you weren't sure whether or not to get this game, GET IT! You will be glad you did. Pros: -Intriguing Story -Incredible Graphics -Satisfying Gameplay -Huge open world with many many things to find and explore -(bonus pro) The character models are ridiculously well animated! Cons: -Only small con I have is the jumping mechanic can feel a bit stiff and awkward sometimes and sometimes I found scaling things a little awkward and slow but it didn't detract from the overall gameplay. Overall score: -I'd give it a 4.9/5 Arrows! Seriously this game is amazing!!! -ObsidianHood