Applied Nutrition 14 Day Acai Berry Cleanse Tablets, 56 Ct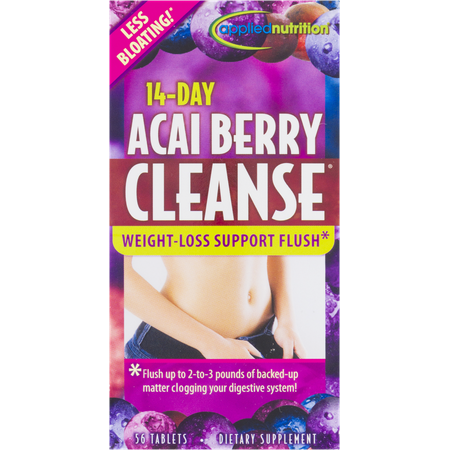 MSRP :

$13.7





Sale :

$9.98

Sold & shipped by Walmart
Product Description

Additional Information

Reviews
Product Description
Additional Information
Reviews
Unknown Customer
Great fir quick weight loss
I've been using this for probably about 4 days. I needed to lose some quick weight to make weight for the military. Problem was, was that I wasn't exactly overweight. I have a very athletic build with not that much fat/excessive weight. I was at 177 lbs at 5'8. I had continually checked my weight every morning and night, but saw no results...BUT, yesterday afternoon, I was going to the bathroom and decided to weigh myself after, just to see. To my amazement I had already lost 4 lbs. That is amazing. I keep up on a regular diet and I exercise nearly every day! It's amazing... Another thing... When I bought this (I bought mine at Kroger...SHHH) I was thinking that it would just make me go to the bathroom like crazy. That's what I thought a colon cleanser was. But no. I didn't have any crazy bowel movements or anything. I would get crampy sometimes and have gas, but it wasn't horrible at all. Maybe it just had a different affect on me.. Anyways. I totally recommend this! It's worked for me so far!
cgriffin
Product works as directed
Acai Berry Cleanse works as directed. The directions state to take two pills in the morning and two at bedtime. That works, if you are trying to lose weight in 14 days. If you choose to take the pills as directed, you would have to stay at home. One of the ingredients in the cleanse is a leaf extract that has laxative effects. The box also states, it is not for long term use and to take a 30 day break from the pills. If you you continue to take the cleanse over a long period of time, the colon may not work as it should on its own. The pills are quite big, so you may need to chew them. Drink at least 8 oz of water, to avoid any cramping. You can take two pills daily and will still have loose stools. It takes a good day for the pills to work as directed and they will continue to work a few days after you have stopped. I advice to take them when you are at home and not have any errand or activities taken place. Test the pills at home. If you work a full time job, just be careful, because they do work.
Sticky2284
Better than expected
I generally read a lot off of customer reviews and purchase products based off good reviews. There are tons of cleanser products out there so even though this had positive reviews I still had some doubts on whether this would work for me. I started this when I had two days off in a row. First day felt good, I'm trying to kick start a diet so I felt a little bloated from all the water. Day two. Still felt a little bloated but overall nothing was happening. Day three I went back to work and oh boy I wish I had one more day off!! I ended up "body cleansing" about 5 times at work and another trip at home. It almost feels like the bubble guts but without the urgent need to go. I am now on day 8 and am feeling great. Christmas dinner came and went and I ate tons. But I'm no longer feeling so bloated I get pains in my stomach. I'm still consistently "body cleansing" time of day varies but I am really happy that I took the risk and jump started my diet!!
Jackie1990
Most effective thing I've tried.
In one week I lost 7.5 pounds using this product. I have never used a cleansing pill before but I would definitely use this product again. They don't taste bad at all, no coating. It almost smells like fresh tea when you open the bottle. On days that I drank the recommended amount of water or more I did not have any stomach cramping, but if I only drank a sip or two to get the pills down there was definitely cramping. It did increase my bowel movements and they were..different lol. But that was only when I ate something really fatty. The bowel movements were not uncontrollable, I had plenty of time to make it to the bathroom. I also used the myfitnesspal app and did a lot of exercise. This was absolutely a great start to my weight loss( I have about 55lbs to reach my first goal). Very happy with this product :)
TSteg
It works!
I purchased this product in August of 2017 at my local WalMart. I would recommend that you drink plenty of water with taking the tablets. I DID NOT experience any cramping I could feel when I needed to go to the bathroom. I would recommend that you eat CLEAN while doing this cleanse. If you continue eating unhealthy, you will poop more and it may turn into diarrhea. If the stools are lose it says to take 3 a day instead of 4. But the cleaner I ate the less I had to poop after getting it through my system and the less urgency. It works quickly. As soon as you eat, within about 15-20 minutes you will pass a stool. So, be ready to go to the restroom. Stay close. After you eat for atlas an hour you will be going to the restroom. But it wasn't bad, it didn't hurt but you will have to go and YOU CAN NOT HOLD IT, you must be close to a restroom. Don't chance getting to far away from a restroom after you have ate a meal. Another thing it curves your appetite. I was barely hungry. So if you take the pills like it says and follow the directions, you should see a difference. I saw a big difference after only a couple of days.