Cozy Coop Chicken Coop Heater, 200-Watt, #1 Best Seller, Safe Radiant Space Heater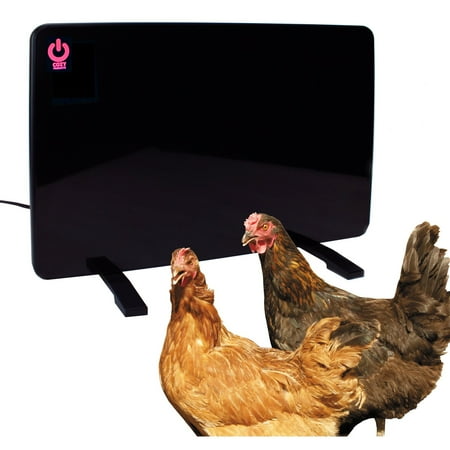 MSRP :

$49.99





Sale :

$38.39

Sold & shipped by Walmart
Product Description

Additional Information

Reviews
Product Description
Keep your chickens safe and warm during the winter months with the Cozy Coop Chicken Coop Heater (200 Watt). It fits easily into the available space, taking up less room than a heat lamp while offering greater efficiency with lower energy use and utility costs. This flat panel coop heater provides effective protection against frostbite that can occur in the combs and feet of birds exposed to cold weather. It's also easy to move thanks to a molded in handle and lightweight design. A safety-rated zero clearance offers peace of mind and virtually no fire hazard. Choose from two heat settings with the in-line switch to meet your needs. The Cozy Coop heater also displays a prominent, highly visible on/off indicator. Cozy Coop Chicken Coop Heater, 200-Watt, #1 Best Seller, Safe Radiant Space Heater:
Additional Information
Keep your birds warm all winter
Safe, effective and efficient alternative to dangerous heat lamps
Reduces risk of frostbite to combs and feet
Versatile and portable
In-mold handle makes moving a breeze
Safety-rated zero clearance
Virtually no fire hazard
Cozy Coop heater only uses about 13% the electricity of a standard 1,500-watt space heater
Large, high-visibility ON/OFF switch
Convenient in-cord switch for fingertip control
Built-in thermostat
Saves money on electric bills
Choose from 2 heat settings
Reviews
Cathee62
Love These Heaters!
I use these heaters in my silkie pens in the winter when temps drop to 10 degrees farenheit and below. They are wonderful and I dont have to worry about a fire because amic heaters. You never want to use bulbs of any type in a chicken coop due to possible fires.
TazP
Cozy Chickens at 25 degrees
Hat's off to Walmart for getting it here on time. Easy to install, and works as advertised. We mounted it to the wall of the coop and have it cut on when the temperature drops below 40 - it's managed to keep the coop at 40 degrees even when the run which is enclosed is at 29 degrees. The heater doesn't make noise so the girls are not bothered by it. We also leave the coop door open so the chickens can come and go as they wish.
abearwhocares
very very low heat source
200watts is the same as 2- 100 watt incandescent light bulbs that cost under $1.00 plus the same electric usage ! a 250 watt heat lamp bulb as used in a brooder is effective in a holder and a soothing reddish light as well. all cost far less than this low heat gimmick item. it feels no warmer than a heating pad.-- think logic.