Florastor® Daily Probiotic Supplement 250mg Capsules 50 ct Box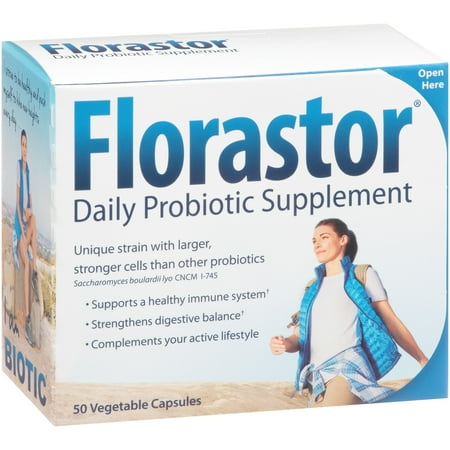 Sale :

$40.64

Sold & shipped by Walmart
Product Description

Additional Information

Reviews
Product Description
These Biocodex Florastor Probiotic Dietary Supplement 50-count Capsules bring you digestive balance. With a simple pill, you can keep your intestines functioning well. The natural dietary supplement has been studied and trusted for over 50 years, ensuring its effectiveness.
Additional Information
Supports a Healthy Immune System†
Strengthen Digestive Balance†
Complements your Active Lifestyle
Unique Strain with Larger, Stronger Cells than Other Probiotics
Appropriate for Lactose Intolerance
For Men and Women
Reviews
ITZCHRISSY
Banish digestive problems.
After months of digestive problems, a friend suggested Florastor. which worked almost immediately to restore normal trouble-free digestion. Had tried various other things, including prescriptions which did not do the job. It is so very nice to get up everyday, feeling well. Florastor banished the icky unpleasant digestive problems very effectively. Have not felt this well for months.
5Pete12
An excellent probiotic albeit a bit expensive.
My wife uses this product for IBS. It helps greatly in suppressing the symptoms of this chronic disease. I would suggest its use by anyone with IBS and it may be useful for others as well.
sday
Restored my digestive health within a week!
I've always had a nervous stomach, but when stopping a medication (non-related) in November 2015, it got even worse, with chronic diarrhea up to 15 times day. I suffered for months hoping it would resolve itself, but finally, in June, when scheduling a routine 5-year colonoscopy, my gastroenterologist gave me some samples of Florastor to try. Within 3 days I noticed a big difference, and by the end of the week my digestive system was completely well. I assumed these samples were prescription meds because I had tried OTC probiotics before without any success at all. I was very surprised that these are OTC as well, and I highly, highly recommend them. I continue to take one capsule daily to maintain my overall health. This product makes a huge difference in my daily life!
rhazie
this product works!
first, get permission from your primary care physician to begin using "probiotics" in your diet; then, use this item (it contains NO SOY, NO OILS, NOR ANY HARMFUL INGREDIENTS)!
FloweroftheSouth
Physician probiotic
Physician recommended Florastar for my spouses digestive problems, he cannot always eat properly and has mobility problems. Has really seemed to help his digestive system. Highly recommend