Lemi Shine Dish Detergent Booster, 24oz, 100% Natural Citric Extracts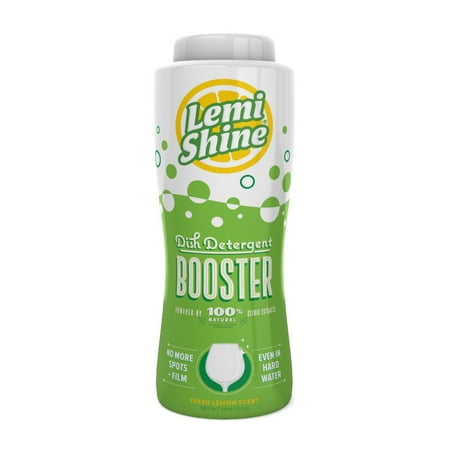 Sale :

$6.97

Sold & shipped by Walmart
Product Description

Additional Information

Reviews
Product Description
Sit back, relax, and let Lemi Shine do the dirty work. Hard water may be the reason your clean dishes have a lackluster appearance. Lemi Shine Booster solves this problem. Combined with auto dish detergent, Lemi Shine Booster removes all unwanted hard water stains and film within the cycle. Powered by 100% natural citric extracts, you don't have to sacrifice safety for cleanliness. For a fresh-smelling clean, use Dish Detergent Booster to scrub away film nastiness and leave your dishes looking spotless. We believe in providing top quality cleaners without all those harsh chemicals. Green is safe - but peace, love, and lavender won't accomplish much in cleaning. Our product will meet your high standards for a clean home - one that keeps you safe from toxins, chemicals and other gross stuff. No dubious ingredients here. We hope you enjoy our Dish Detergent Booster as much as we do!
Additional Information
Reviews
Kperri
Finally clean
Started using Lemi Shine about a month ago and can imagine life without it again. The white film build up was terrible without it.
Yvonne
Big disappointment!
Lemi Shine works well, but it took the finish off a set of glassware I've treasured for years. I never had a problem until I used Lemi Shine. Very disappointed.
Momof2
still having problems
I have been using the product for sometime now & still have a residue on my dishes. I even bought a new dishwasher trying to solve the problem. I am doing everything in accordance with the directions. Please help! Should I add more to each wash?
Madinfluences
Can't live without this!
Our city has super hard water and I love my dishwasher, but sadly before Lemishine it went unused because my dishes came out looking filmy and grimy with just a dishwasher pod. Tried many different brands then came across the Lemishine line and WHAM! My dishes ALL look crystal clean, newer longer and my dishwasher looks fresh and clean every time after too! I highly recommend everyone throw out your old dishwashing products and stock up on all Lemishine products. You will never be disappointed again!
HaleyP
Night and Day Difference
I just want to share. My dishes ALWAYS come out foggy and the plastics come out with white stains when I use the dishwasher. I've switched dishwasher pads and nothing. I can hand wash and it'll be clean, but then if I stick the clean dish into the dishwasher, it comes out foggy or white. I bought this LemiShine and it has made a night and day difference. Glasses were shiny. Plastics didn't have white film. The first spoon was a normal wash without Lemi Shine. The second spoon was with it.