Lemi Shine Dish Detergent Booster, 24oz, 100% Natural Citric Extracts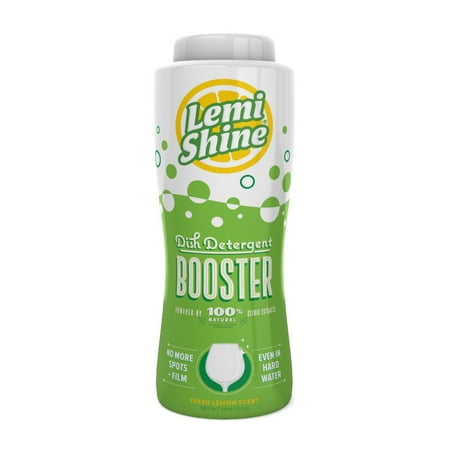 MSRP :

$6.97





Sale :

$6.78

Sold & shipped by Walmart
Product Description

Additional Information

Reviews
Product Description
Sit back, relax, and let Lemi Shine do the dirty work. Hard water may be the reason your clean dishes have a lackluster appearance. Lemi Shine Booster solves this problem. Combined with auto dish detergent, Lemi Shine Booster removes all unwanted hard water stains and film within the cycle. Powered by 100% natural citric extracts, you don't have to sacrifice safety for cleanliness. For a fresh-smelling clean, use Dish Detergent Booster to scrub away film nastiness and leave your dishes looking spotless. We believe in providing top quality cleaners without all those harsh chemicals. Green is safe - but peace, love, and lavender won't accomplish much in cleaning. Our product will meet your high standards for a clean home - one that keeps you safe from toxins, chemicals and other gross stuff. No dubious ingredients here. We hope you enjoy our Dish Detergent Booster as much as we do!
Additional Information
Reviews
Jen Pac
NO MORE HARD WATER BUILD UP ON GLASSES/DISHWASHER
I cannot BELIEVE how amazing this product is. My glasses/dishwasher were coated in the typical white haze from hard water build-up. After just 2 washes, the glasses were sparkling new again! My dishwasher was also becoming more and more clean with each washing. I used the dishwasher cleaner and I'm BEYOND amazed.... my washer is COMPLETELY restored to the way it originally looked! I'm now trying the Laundry Booster and I bought the shower/tile cleaner to use later.
Greenpoint
Lemi Shine for clean dishes.
Lemi Shine is the only way to get my dishes clean since they took the phosphates out of the automatic dish detergents. Can't do without it!
JesusFreak
I don't run my dishwasher without Lemi Shine!
Before I found Lemi Shine, my new dishwasher left food particles in the glasses on the top shelf. Since I discovered Lemi Shine, I don't run my dishwasher without it. I rarely have any food particles left in my glasses and there are NO SPOTS! A wonderful product.
Kathy1972
It's Awesome!!!
I have been buying this Lemi Shine Booster for several years. One day I was visiting my son and his wife and they were embarrassed to use their plates. They had paper plates to eat from instead. I told them about Lemi Shine and how it took off the hard water minerals off my dishes. I was thinking about buying new dishes and was looking in the dishwasher aisle for a product to remove the scale before I purchase new dishes. I came across Lemi Shine and bought the smallest product because I didn't want to spend money on something that may not work. I went home and loaded the dishwasher and placed Lemi Shine in the holders. I checked to see how the load came out and I was astonished to see that the hard water scale was gone!!! My son went out and bought it and they have been using it ever since!! Lemi shine is worth every dime! I recommend to anyone who mentions how shiny my dishes are and if they mention problems with hard water. It is an excellent product!
Kbo329
Best product out there!
Years ago a friend told me about this product. I was having too many spots on my glasses and my dishes. I was ready to buy a new dishwasher. I used this Lemi Shine booster and it worked like magic. I have used it ever cents and I tell everyone about it it's the best thing out there .