Lemi Shine Dish Detergent Booster, 24oz, 100% Natural Citric Extracts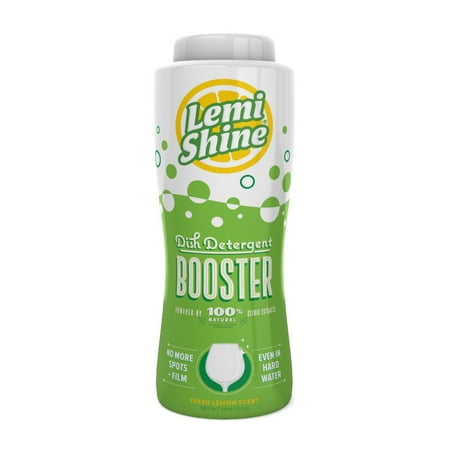 MSRP :

$6.97





Sale :

$6.78

Sold & shipped by Walmart
Product Description

Additional Information

Reviews
Product Description
Sit back, relax, and let Lemi Shine do the dirty work. Hard water may be the reason your clean dishes have a lackluster appearance. Lemi Shine Booster solves this problem. Combined with auto dish detergent, Lemi Shine Booster removes all unwanted hard water stains and film within the cycle. Powered by 100% natural citric extracts, you don't have to sacrifice safety for cleanliness. For a fresh-smelling clean, use Dish Detergent Booster to scrub away film nastiness and leave your dishes looking spotless. We believe in providing top quality cleaners without all those harsh chemicals. Green is safe - but peace, love, and lavender won't accomplish much in cleaning. Our product will meet your high standards for a clean home - one that keeps you safe from toxins, chemicals and other gross stuff. No dubious ingredients here. We hope you enjoy our Dish Detergent Booster as much as we do!
Additional Information
Reviews
Ethical Vegan
Totally Surprised!
Well, well, well... I finally purchased Lemi Shine Booster and have been using it just over a month. Okay, I'm knocked out by it... REALLY! I absolutely, positively, really and truly HAVE noticed a difference -- a REMARKABLE difference, and no exaggeration! I live in the northern part of Los Angeles County, and there's hard water here, so I've always been quite disappointed at the appearance of my dishes whenever I use my dishwasher. But now, all thanks to Lemi Shine Booster, I'm a very happy person when I open my dishwasher and begin taking out my very pretty dishes and glasses and utensils (all of which I love), and everything is slick and shiny. It's nice to invite guests and not have to take a dish towel to everything to rub, rub, rub before setting my table. My Fiesta table always looks immensely sparkly and inviting. I'm so satisfied!
RLA1
Totally Surprised!
I have very hard water and my dishwasher struggles with glassware and plastic. I use 50% Cascade powder and 50% Lemishine to boost performance. It really works as the plastic does not have a dull "coating" and glasses are crystal clear.
kizzie
My prayers have been answered!
I first discovered Lemi Shine a few years ago and I am so glad that I did. I live in a rural area and our water is horrible. All of my dishes, glasses, and even silverware looked awful after going through the dishwasher. I don't want to single out any brand, but I was using a very expensive "top of the line" product, and the results were not good. Once I discovered Lemi Shine, I was hooked. I currently use all of their dishwashing products, but the booster is the main one that I can not live without. My dishes come out spotless and haze-free every single time! If dishwashing ever comes up in a conversation, I mention Lemi Shine. When I am in the dishwashing detergent area at a store, if there is anyone else shopping in that section, I tell them how Amazing Lemi Shine is. I Love it!!!
texaschristina
Fabulous product That REALLY works
I had given up hope for some of my glassware... After moving my elderly mother in a few years ago, we found boxes of glasses and some crystal stemware that had been packed up for nearly a decade . They had a milky, dirty look. Despite hand washing, soaking in vinegar and trying every trick anyone gave me, it seemed hopeless, and all of these vintage glasses that were meaningful to our family seemed '"uncleanable." We have very hard water in South Texas,. I turned to Lemi-shine and ran them all on a delicate cycle using the detergent and the booster. I CAN'T BELIEVE IT! They actually sparkle! Sometimes it's the little things that bring such joy. This was one of those times. I couldn't be happier. Thank you Thank you Thank you!!!
Alba
Best product for glasses !
I bought this product today . It is by far the best product ever; my glasses and glass pitchers came out beautiful . As I have hard water , I use three items 1) dishwashing tablet 2) salt recommended by dishwasher experts for my particular dishwasher 3 ) Lemi shine booster . The lemi shine made the glasses spot free ! Keep up the good work !