Gold's Gym 4-lb. Pair Walking Dumbbells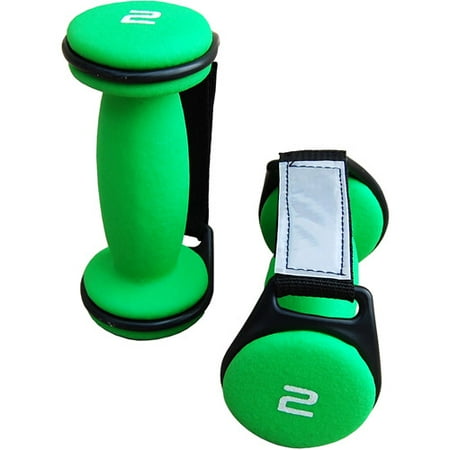 MSRP :

$9.67





Sale :

$7.8

Sold & shipped by Walmart
Product Description

Additional Information

Reviews
Product Description
Add these Gold's Gym 4-lb Dumbbells to almost any workout. Walking with weights not only helps build stamina, but it will also help burn off those pesky extra calories. These aerobic walking dumbbells are made of cast-iron and covered by neoprene, so they are comfortable to hold even with sweaty hands. Their adjustable Velcro straps offer a secure and easy fit regardless of the activity you are performing and its duration. Tighten and tone your upper body and burn off those few extra calories with these walking dumbbells. They include a reflective strip.
Additional Information
Great for personal use or a gift for friend or loved one, add these Gold's Gym 4-lb Dumbbells to any workout routine and work towards the body and health you want and deserve.Gold's Gym 4-lb Pair Walking Dumbbells:Perfect addition to walking or light aerobic workoutsTones and tightens upper bodyCast iron with neoprene covering on Gold's Gym 4-lb DumbbellsComfortable to hold with sweaty handsReflective strip and adjustable Velcro strapsWalking dumbbells weigh 2-lbs. eachThis product contains one or more chemicals known to the State of California to cause cancer, birth defects, or other reproductive harm
Reviews
Shortround83
Should be readily available in stores!
Wonderful, I've been looking for any color other than pink or purple light weights for so long. Not every girl likes pink, you know. So happy I found then in green, my favorite color. Actually, they are for my son who wants to lift weights with Mama and Daddy, but he and I share them. They've been useful for that something extra when I dance and they actually make it easier for me to run up and down our driveway-running track. Didn't understand the strap until they came, but I love it, the weights hold on to me partly, which helps a ton because my health problems give me grip problems (pain and random grip loss) and so this means I can workout more often with more security and a better chance to keep going. Affordable price, too!
Sqeker
Just right
I like the handle, really helps. It comes in a set of 2.
Martie4261
Great Dumbbells Plus
I purchased these to use with my trendmill. These are great and the adjustable Velco strap is what makes these dumbbells great. Feels great on your hands. I use them at home before going out to do yard work, so that I don't wake up sore the next day. I use them while watching tv they are great. I also purchase the 2lb set (pink), I use the 4lb set first and then switch to the 2lb set which allows me to excercise longer. I wish they made 6,8,10 lbs sets, but because of the Velco straps I am able to place 2 in my hands at the same time. For me they are perfect, who knows maybe I will do some walking outside with them :)
Misslillady
Love it...Must have
I am mostly focusing on toning my upper body and losing my little gut. Within a week, I saw actually change. My tummy is going down and I can feel my abdominal muscles being strengthen. I do light exercises with this product and it works fine. Also my arms and become more toned as well. I feel good and happy about the results.
JRgrad2011
2lb dubbell set
these 2 2lb dumbbells are AMAZING!!! they intestify your workout and you can really see a big difference. dont let the size fool you these are intense