Gold's Gym Vinyl Dumbbell Set, 40 lbs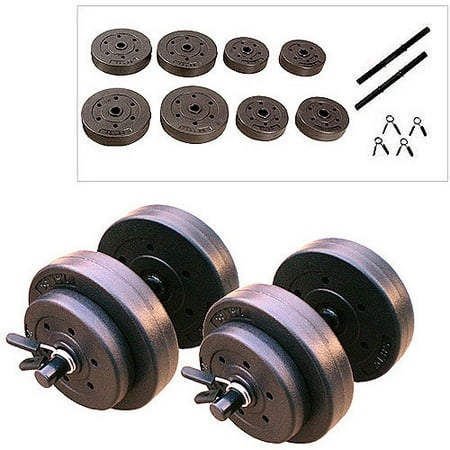 MSRP :

$37.99





Sale :

$18.99

Sold & shipped by Walmart
Product Description

Additional Information

Reviews
Product Description
Those who appreciate weightlifting will enjoy the Gold's Gym Vinyl Dumbbell Set. This pair of hand weights comes with two tubular steel bars, collars for securing movable components and cement-filled plates. Simply slide the resistance onto the ends of the bars that will best challenge your fitness level and goals to help improve your strength, confidence and health. This dumbbell weight set, 40 lbs is designed to develop strength and definition in arms, shoulders and backs. It can also be used as part of a total-body workout. Squat while holding, use for butterfly chest compressions, curling, pressing and more. The Gold's Gym Dumbbell set follows a model: cement-filled plates that have been a standard in the lifting community for years. Beginners and experienced lifters alike will find this Gold's Gym Vinyl Dumbbell Set, good for home use and a solution to workout barriers.
Additional Information
Gold's Gym Vinyl Dumbbell Set, 40 lbs:
An age-old weightlifting tradition
Cement filled weights have been a standard in the lifting community for years
Home dumbbell weight set, 40 lbs is the perfect solution for a beginner or an experienced lifter
This Gold's Gym Weight set comes with 40 lb of weight plates, a tubular steel bar and collars; everything you need right out of the box
This weight set is designed for a full body workout
Perfect for arms, chest, back and legs, this Gold's Gym Weight Set can do it all
This product contains one or more chemicals known to the State of California to cause cancer, birth defects or other reproductive harm
Reviews
Patron022
Best bang for buck!
I bought this set of dumbbells for my p90x workout program. Best bang for buck and recommend to anyone looking forward into starting p90x or free weights!
WDWeightlifter
GREAT BUY!!!!
Comes with everything that you will need for basic dumbbell lifting, (4) 2.5 lbers, (4) 7.5 lbers, two bars, and of course, the (4) spring clips. The pricing is amazing, for 20$ for a set of dumbbells, you cant go anywhere else for this kind of pricing!!!!
Guitarist420e
Great value, poor variety
I knew what I was getting when I bought this, but for those of you who don't know, this set has two dumbbells, four spring clips, four 7.5lbs weights, and four 2.5lbs weights. That means that, if you're using both dumbbells, then you're stuck with either 5lbs, 15lbs, or 20lbs per dumbbell. If this set came with eight 2.5lbs weights, and four 5lbs weights, it would have been perfect. With that combination, you could get 5lbs-20lbs dumbbells in 2.5lbs increments. Like I said, I knew what I was getting and I don't need anything lower than 15lbs, but if you do, then you should consider something else with more variety.
RockChalkKP
Inexpensive Weights. Decent Quality.
A great cheap set. For the price of $20 you cannot complain. The quality is good for the price and in the end it does the exact same thing a $100-200 set would. If you have larger hands you may want to invest in a pair of lifting gloves as the weight are bulky and will tear up the edges of your hands. GREAT VALUE. GOOD PERFORMANCE. GET THEM. **The image shown in the product description is not possible. There are only 4 of each weight (2.5,7.5). For either 2 with 5lbs, 2 with 15 lbs, or 2 with 20lbs.***
utopianIdealist
Good for the price
It has already lasted a month, so it isn't that bad of a product. The weights are plastic, 4 of them come in the set. They are easy to change out, just keep in mind that each barbell has a max of 20 lbs.