Gold's Gym High Impact Flooring Puzzle Mat, 6 Pieces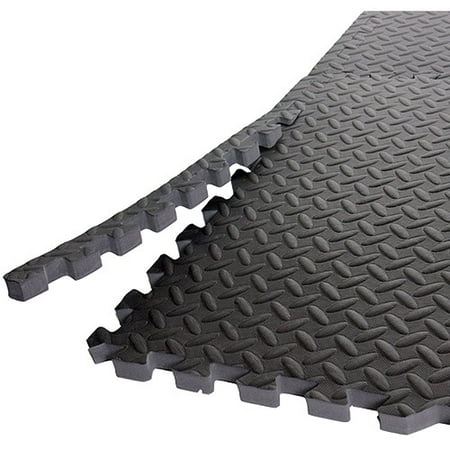 MSRP :

$39.99





Sale :

$24.92

Sold & shipped by Walmart
Product Description

Additional Information

Reviews
Product Description
This Gold's Gym High Impact Flooring, 6 Pieces is an ideal choice for people who want to protect their floors. It can help you prevent scratches and stains to the floor while you work out. This gym mat is meant to withstand high impact exercises. Made from odor-free EVA, it won't irritate your senses. Conveniently, this Gold's gym puzzle mat is durable and easy to clean. It comes with edges to give your flooring a finished look. This item is simple to install. Simply place the pieces together in your workout area. Six pieces are included in this package.
Additional Information
Gold's Gym High Impact Flooring Puzzle Mat, 6 Pieces:
Protects floors while providing a comfortable workout area
Exercise mat is made of odor-free EVA
Easy to clean and durable
Comes with edges to give your puzzle flooring a finished look
This product contains one or more chemicals known to the State of California to cause cancer, birth defects or other reproductive harm
Reviews
carrannmor
Solid mats that absorb plenty of impact
The mats are actually pretty good, with a high-quality foam and a high-density top that keeps liquids out and is skid-free. A few issues: -The mats said they had no chemical smell, which is not true. The smell wears off after a couple days, but before that it is overpowering. -The mats do not match up very well. I ordered a high quantity of them, and laid three floors. One of the floors did not want to go together at all, with some mats being "small" and others being "big." After a week of use, we pulled that same floor up, and putting it back together was a nightmare- none of the pieces wanted to fit together. We did manage to get it to fit after much re-arranging, and have numbered the pieces to prevent this chaos again. This has been our biggest complaint, and is what resulted in the low rating. -The mats do not always want to stay together during certain exercises- the pieces come apart. This happens on a wall-to-wall floor and the non-wall-to-wall floor. -On carpet, the mats will not stay in place at all. -At first, the surface is fairly slippery. This appears to wear away after some use. Otherwise, after a month of use, the mats have been standing up very well. We "aired off" most of the mats in a backyard for 12 hours, which helped reduce the chemical smell, but may have been the biggest reason as to why the mats did not want to fit together- heat and humidity appear to affect them greatly. We love how well they absorb jumping exercises and protect knees. The color differences in the mats provide a bit of fun to the room.
UFHayes
These mats are great!
I have converted my home office into a gym, and these mats are under my weight bench. They have stood up so far. At times the weight that's being asserted is over 500 lbs.
ClubElite
Amazing Product
I got this product for my home gym in my loft to help protect my carpet. I could not ask for a better product for the quality and value.
CarboLoader
Beware of updated mats!
This mat has changed and is no longer anywhere near as good as it used to be. I have been purchasing these mats from my local Walmart for years, and always was very happy with the quality. Recently, the packaging changed to a yellow label from the previous green label, and now the mats are thinner, and do not align. It is very obvious how much thinner they are now, and they leave gaps where connected. I would definitely not recommend these updated mats anymore. See images for comparison. Old mat is on the right, new mat is on the left.
Randy
Cannot go wrong with this. Affordable too!
I took a chance because the price was very affordable and I can get 2 for the price of 1 from another brand. I read the reviews and was hesitant but glad I purchased this product. It does its job. I have a power cage system and 2 benches on this mat. It is perfect. The puzzle connectors match 99%. I have 2 connectors that arent a perfect fit. I can live with that. In fact its the end pieces to make it look nice. Nothing to do with functionality. There was an odor emitting from the mats when I first opened the package but it wasnt strong and it smelled like a boogie board. The odor dissipated quickly and none ever since.