Tone Fitness Abdominal Toning Wheel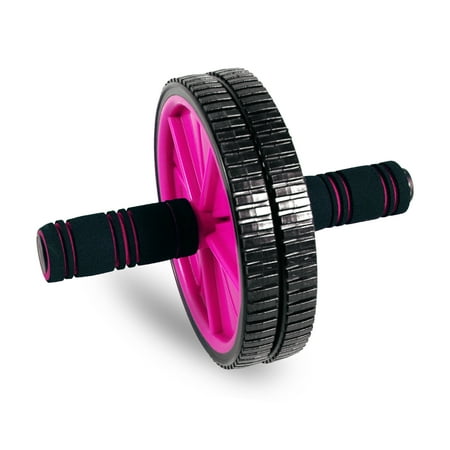 MSRP :

$8.78





Sale :

$7.48

Sold & shipped by Walmart
Product Description

Additional Information

Reviews
Product Description
For a limited time receive a free 30-day trial of Daily Burn streaming workouts with purchase. Up to a $14.99 value. Sign up at www.dailyburn.com/tone.
The Tone Fitness Abdominal Toning Wheel is a fitness tool that can help increase your abdominal strength. Whether you are using this abdominal toning wheel at home or the gym, you can work your lower and upper back, hips, chest, arms, buttocks and legs. The wheel is versatile, allowing you to adapt your workouts to your strength level by simply changing the direction you move in. This abdominal exercise wheel features non-slip wheels to provide you with a smooth and stable workout on almost any surface. Contoured grip handles help ensure a comfortable hold. The Tone Fitness Abdominal Toning Wheel can be an effective workout tool even in small spaces.
Additional Information
:
Tone Fitness Abdominal Toning Wheel:
Strengthens abdominal muscle groups
Focuses on lower and upper back, hips, chest, arms, buttocks and legs
Portable and easy to store
Non-slip wheels
Contoured grip handles
Adaptable to any fitness level
30-day limited manufacturer warranty
Reviews
Staj
Bit Cheaply Made BUT my abs are TARGETED
The handles can slide off semi-easily. Nothing some superglue can't fix; still annoying. Assembly required but BEYOND easy so don't let that stress you. The two little wheels have a bit too much space on the bar to slide closer to one handle or the other which is irritating but it doesn't affect your balance enough to ruin the workout. To really use his is HARD. You can kind of cheat and still engage your abs some but to get your spine to tailbone to the backs of your thighs all straight (like you're in the push of a pelvic thrust) and really pull and push yourself with your abs is HARD. But even if you get into an all-fours position and your thighs are going straight down you'll definitely get your abs worked. What's really nice is the soreness is JUST in my abs. The next day my abs kill me, which is good but what's REALLY great is most ab-tools put strain on other areas (as does the basic crunch) and i find strange places like my shoulders, or back, or thighs also sore when I wasn't targeting them so they were likely more hurt than worked. But this little guy doesn't leave soreness anywhere but my abs. And MAN are they sore! This is 4 days in, twice a day, 50 reps each use. The nice thing about it is the more you use it, the better you get at it. Eventually I'd like to not have to be on my knees at all, but even before then I'm working on planking from top of spine to knees. Point being continuous use doesn't reach a plateau as you continue to evolve your form. I'd recommend, just don't let it be another dust collector.
Snowbunny
very effective exercise tool
love it, and i use it watching shows, very convenient
Jimmyaztec
Great Deal
I've just started using this, but it is every bit as good as the one at my gym - and I can use it whenever I want.
MooseChick
Ineffective and Wobbly
I tried this product and was disappointed that it was a bit difficult to use the wheel (actually 2 wheels) without tipping to one side or another. And I did not feel the effort in my stomach, just my arms, shoulders and lower back. For me, it strained my wrists also.
Georgiapeach14
Painful on my back
Someone warned me that this wheel really can't hurt your back but I tried it anyway. It's not good on your back at all! I'm in so much pain. It looks like such a great idea and very cheap but it's something about the motions you're doing with it that is just not good.