Tone Fitness Stability Ball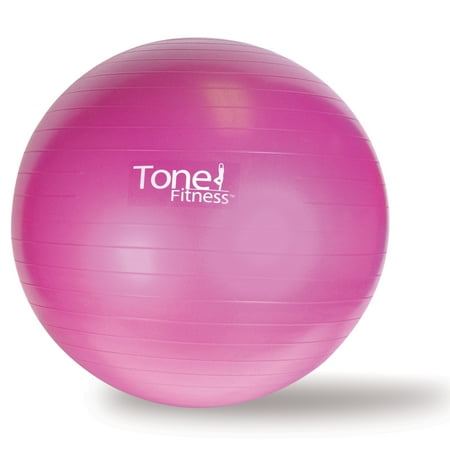 MSRP :

$14.99





Sale :

$14.48

Sold & shipped by Walmart
Product Description

Additional Information

Reviews
Product Description
Make your workouts fun with the Tone Fitness Stability Ball. This easy-to-use workout accessory is ideal for physical therapy and weight training at home. You can also use it for core conditioning, spinal stabilization and balance training. With applications in yoga as well as fusion exercises, this ball suits various workout styles. Moreover, you can use this ball to help strengthen your back, abs and buttocks. The durable shell of this ball doesn& 8217;t burst on the spot but releases air slowly when it gets punctured. About CAP Barbell CAP Barbell is a leading distributor and provider of fitness equipment. Launched in 1982 with a small inventory of free weights and benches, CAP Barbell has grown over the past 20+ years to include more than 600 products in 10 categories. Headquartered in Houston, Texas, CAP Barbell is dedicated to providing quality fitness equipment at competitive prices, by constructively designing, accurately testing, and manufacturing its products to perfection. (CBB104-1)
Additional Information
Tone Fitness Anti-burst Stability Ball:Effective for core conditioning, balance training and spinal stabilizationIncorporates into yoga, pilates and fusion exercise programsDurable, burst-resistant shellDesigned to slowly deflate if puncturedIdeal for home useWARNING: This product contains one or more phthalate chemicals known to the state of California to cause birth defects and other reproductive harmSee all fitness balls on Walmart.com.
Reviews
radioheadfloyd
Great Product - Especially for the Price
Ok - so it hasn't actually passed the 'fitness' test yet as this has basically just been my 7 year old son's favorite chair for the three weeks that it has been inflated so far. He just bounces up and down on it while he plays the Wii. I suppose that in itself is kinda like stability training for him in a way as he's constantly trying to keep himself on the ball as he plays. Anyway - it seems very durable, hasn't lost any air and at ten bucks you can't beat it. The hand pump that comes with it is extremely cheap and it fell apart numerous times as I was inflating it (but with a little patience you can keep putting it back together - as you can see in my pics). The plastic hole plug is pretty hard to remove from the hole once you put it in; but it has to be very snug for obvious reasons (a few times I needed to take it back out when I realized that it wasn't inflated enough and I needed a coin to jimmy up the edge enough so I could grab onto it).
Yichen
Good ball with everything you need
Can't wait to open it after picking up. The ball come with a pump, two sealing nails, and even a tape which can show the maximum inflaction size of the ball, everything you need. That's what I want.
Madison
Yoga Ball
I love the ball... the only thing i would say is that it's not as pink as it appears online. It's more purple. Overall though, it's works great!
liddysmom
It's a ball!
It is a ball, and you can do exercises with it. (simple stuff and hard to mess up) It comes with a dvd with a few extra exercises demonstrated that were not on the glossy paper leaflet that came with it. They were enough to get me started, the best info is on you tube. It also comes with an air pump. Works fine and easy and quick to fill. The ball is very firm, but seems to work fine, I am 5' and 3/4" tall and when the ball is fully inflated, my legs are not at the recommended 90 degrees when sitting, but not far off. I left it that way thinking it might relax or loose air--it did not, but I use it as is still. If you are on the borderline of going to the next size ball for your height, I'd get the bigger ball. I like pink real well, but seriously wish it was white or something. It seems a good value for the price.
NM
Therapy
The perfect thing to help my husband with his therapy after knee surgery