Tone Fitness Anti-burst Stability Ball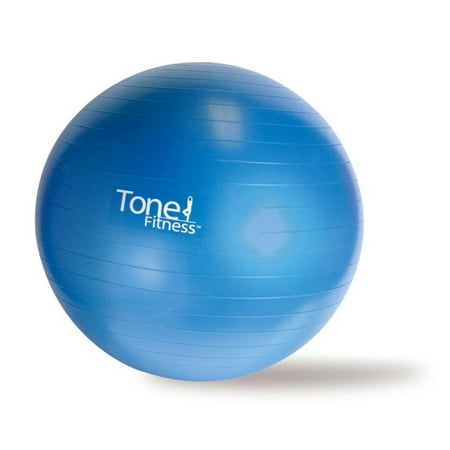 MSRP :

$14.99





Sale :

$13.29

Sold & shipped by Walmart
Product Description

Additional Information

Reviews
Product Description
The Tone Fitness 55cm Anti-burst Stability Ball is an easy-to-use, effective accessory for core conditioning, balance training and spinal stabilization. This ball is also useful in weight training and physical therapy to help with a wide variety of exercises. The Tone Fitness 55cm Anti-burst Stability Ball can be used in yoga, pilates and fusion exercise programs to help strengthen and firm abs, back and buttocks. This pilates ball is helpful during rehabilitation as it allows for a wide variety of motion ranges. It is comfortable, convenient and durable during effective total body workouts. This Anti-Burst Fitness Ball features a durable, burst-resistant shell and deflates slowly if punctured, protecting the user from injury. This pilates ball is well-suited for home use and can also be used in a professional gym setting as a part of aerobics classes with ease.
Additional Information
Tone Fitness Anti-burst Stability Ball:
Effective for core conditioning, balance training and spinal stabilization
Incorporates into yoga, pilates and fusion exercise programs
Durable, burst-resistant shell
Designed to slowly deflate if punctured
Ideal for home use
WARNING: This product contains one or more phthalate chemicals known to the state of California to cause birth defects and other reproductive harm
See all
fitness balls
on Walmart.com.
Reviews
slouchycowman
this fitness ball is strong and inflates easily
This fitness ball is strong and inflated very easily. Studies have shown that doing crunches on a fitness ball is the most effective type of abs exercise. This fitness ball will help you work on a our abs and fit within your fitness regiment. I am glad I have this product and would definitely recommend it to others. Thank you for reading my review and if this review was helpful please indicate it was, it goes a long way.
Ohdanigurl
Awesome for my height
I am five foot two inches and this was perfect for me without making me feel like I was barely touching the ground. I have to use it for my sons physical therapy as well. And it is the perfect size for him as well.
anmlvr
great product for a fantastic price!
i have been using stability balls for years and this one is on par with other balls costing $100+!!!
radioheadfloyd
Great Product - Especially for the Price
Ok - so it hasn't actually passed the 'fitness' test yet as this has basically just been my 7 year old son's favorite chair for the three weeks that it has been inflated so far. He just bounces up and down on it while he plays the Wii. I suppose that in itself is kinda like stability training for him in a way as he's constantly trying to keep himself on the ball as he plays. Anyway - it seems very durable, hasn't lost any air and at ten bucks you can't beat it. The hand pump that comes with it is extremely cheap and it fell apart numerous times as I was inflating it (but with a little patience you can keep putting it back together - as you can see in my pics). The plastic hole plug is pretty hard to remove from the hole once you put it in; but it has to be very snug for obvious reasons (a few times I needed to take it back out when I realized that it wasn't inflated enough and I needed a coin to jimmy up the edge enough so I could grab onto it).
maddog2211
Tone Fitness 55cm
Comes with pump and 2 plugs. Easy to pump up. Works as advertised.