CAP Barbell Doorway Sit Up Bar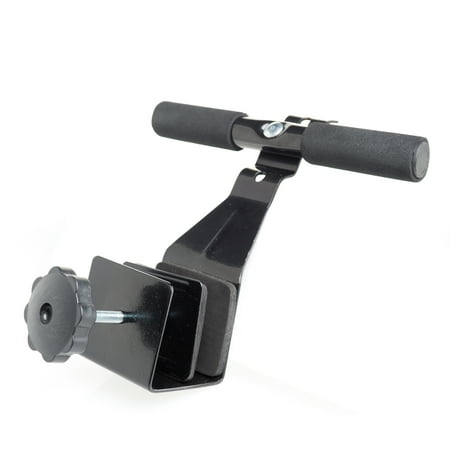 MSRP :

$26.99





Sale :

$13.99

Sold & shipped by Walmart
Product Description

Additional Information

Reviews
Product Description
For a limited time receive a free 30-day trial of Daily Burn streaming workouts with purchase. Up to a $14.99 value. Sign up at www.dailyburn.com/cap.
The CAP Barbell Door Sit Up Bar lets you get an abdominal workout almost any place that has a door, making it easy to keep in shape at home. Constructed of sturdy steel, this sit-up machine is durable. With foam padding providing cushioning comfort for the back of your legs, this doorway bar is both effective and comfortable to use. Adjustable to fit securely, this CAP Barbell Door Sit Up Bar works with almost any door and is designed to work with and fit under closed doors. The convenient size of this sit-up machine allows you to carry it easily, making it easy to exercise at home or on the go. This CAP Barbell Door Sit Up Bar is easy to install.
Additional Information
Super easy to install using a doorway in your home
Perfect for at home workouts and encouraging a more active lifestyle
Bar keeps your feet securely in place so your sit up form stays sharp, maximizing the results of your exercise and effort
Package contains 1 x Doorway Sit Up Bar
Reviews
nowicu812
Needed to improve sit ups for a work situation.
I haven't done sit ups for probably 20 years, hated them. Switched jobs in my mid 40's and had to pass a physical endurance test. 60 seconds bent knee sit ups was part of the test. I could do around 15 using a weighted curl bar in the doorway to hold my feet but it wasn't very comfortable or convenient. I remembered seeing this little bar at wall mart years ago but couldn't find it in the store. I found it online site to store and for cheap. The internet said that 47 sit ups in 60 seconds was "Excellent" for a twenty year old. I practiced at home with this little bar and in a couple of weeks tested at 47 sit ups in 60 seconds. I was almost going to pass on the job because I didn't think I could do well enough on the test. This cheap but effective little bar saved me for under 10 bucks. I'm still using it.
neodoering
A Sturdy Little Sit-Up Bar
This sturdy little sit-up bar attaches to a door and allows you to do sit-ups. It requires a little assembly which anyone with half a brain can do, and then you're off and running. I weigh about 190 pounds, and this bar handled my weight without complaint. I suspect it's good to much heavier weights than mine. Best of all, this sit-up bar is significantly cheaper than its competitors, so it's a good value for its money. I'm doing 20 sit-ups, twenty push-ups and twenty jumping jacks each night, building up eventually to 50 of each, in an attempt to strip off my little pot belly, and this sit-up bar is instrumental to my strategy. Highly recommended!
d2diva
Just what you need!
It's a simple device that does exactly what it's supposed to -- hold your feet while you do crunches. I'm so glad I found this baby, now I don't have to try and cram my feet under the couch or file cabinet to try and do my crunches! :)
grbr
Doorway sit-up bar
Simple to attach to bottom of door...when attached permits open and closure of door...would suggest additional large block protection when applying to door to further protect door..perfect for doing the "dragon" abd workout...nice grip handles
THSSFC
Sit Up Helper
I was tired of putting my feet under a chair or asking my wife to hold my feet. This CAP Barbell Doorway Sit Up Bar is great. It attaches to a door and gives you the freedom to do sit ups whenever you need or want to. The door is still operable with the bar in place. The bar is adjustable to three levels depending on your leg and foot size. For the price, with delivery to your local Walmart, you can't beat it. I would definitely recommend this to anyone that needs one.