Spalding NBA 54" Portable Angled Basketball Hoop with Polycarbonate Backboard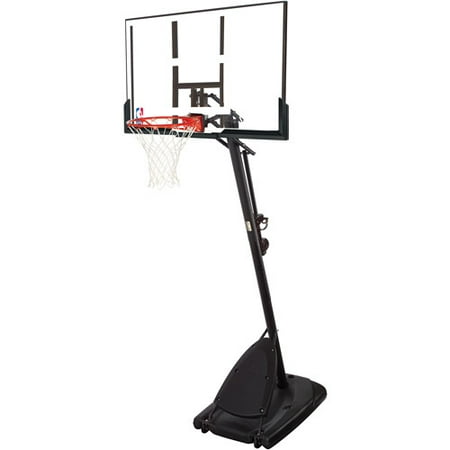 MSRP :

$239.99





Sale :

$208.99

Sold & shipped by Walmart
Product Description

Additional Information

Reviews
Product Description
Work on perfecting your jump shot, challenge your hotshot sister to a friendly game of HORSE, or host a laid-back pickup game between friends and family with the Spalding NBA Angled Pole Basketball System. The 54" backboard is constructed from a sturdy and weather-resistant polycarbonate material, and will hold up beautifully to normal everyday wear and tear. You can adjust the hoop height from 7.5' to 10' so you can get just the right height for you and your family to have a fun time playing ball. The angled pole design allows for more play under the basket, so you can run plays just like the pros. The 34-gallon base and steel pole construction of this basketball system is durable, strong and steady, so the basket will stay firmly in place while you go hard in the paint, even though the court is your driveway. Go hard and then go home with the Spalding NBA 54" Angled Pole Backboard System.
Additional Information
Spalding NBA 54" Polycarbonate Backboard
Constructed of a polycarbonate backboard material
Comes with a one-year warranty
54" portable basketball hoop is adjustable from 7.5-feet to 10-feet
Angled pole design allows for more play under the basket
34-gallon base and steel pole construction are durable, strong and steady
Reviews
Bob321Davis
Fantastic Deal, Sturdy, and Adjustable
I did a lot of research online and in store. I was dead set on an in-ground hoop because I hated the idea of a hoop shaking (thought it would make you miss a bunch of shots). I've played on this for two days now and had no issues with stability. It's VERY sturdy! It adjustsin seconds! 7ft 6in to 10 ft in 6in increments. 7ft 6in actually measured 7ft 7in, and 10ft was DEAD ON (that extra inch gradually diminished as you approach 10ft). Pretty accurate if you ask me. I did site-to-store and there was no damage and no missing parts. There were a lot of screws and nuts and bolts. It looks beautiful and it can take a dunk, no problem (just don't hang on it unless you weigh under 50 lbs like my son. Then you can hang on it all day). In my opinion, you can: A. Spend a hundred bucks and pray it lasts B. Spend a thousand or more and be the envy of the neighborhood C. or Spend $250 on this and endure the difficult assembly to have one just as good looking and functional as the more expensive ones This is the basketball system you're looking for anywhere between $100 and $1000. Unless you want to dunk all day every day. Then I'd get a Goalrilla. You're going to need: 1. a scrap piece of wood (appx 6in X 6in) to bang the 3 long poles into each other on 2. 1/2" , 9/16" , and 3/4" sockets with a 6"-12" extension 3. 1/2" , 9/16" , and 3/4" hand wrenches 4. Phillips and Flat head screw driver 5. Hammer 6. A sawhorse or 4-5ft table to rest the backboard on to lower the pole onto to attach it to the backboard (I used my city garbage can. It worked fine) 7. 6ft Ladder (Duh, but I didn't think of it, lol) TIP#1 I laid out all of my screws, nuts, and bolts on the bottom of the box and numbered them BEFORE I started construction and it helped tremendously. Hold each piece of hardware up to the guide on pages 8-10 to correctly identify. They are not labeled in the packages when you receive them TIP#2 The main "Mast" is composed of three tubes which need to fit EXACTLY 3.5in into each other. It's nearly impossible to separate these once you've begun connecting them, so double check your 3.5in marks and double check to make sure the order of poles is correct (bottom, middle, and top poles) TIP#3 Make sure you attach the pole mount bracket (part# 15)to the top pole, not the middle or bottom like I did the first time TIP#4 Your large carriage bolts may have trouble sliding in and out of the factory pre-drilled holes because of the black coating on the brackets (I only had trouble with 1 hole). Don't worry, just bore the hole out a little with a drill bit or by wallowing the hole out a bit with a smaller bolt Check out my pictures and ask questions if you want.
tj10564
Looks Great - OK for Casual Play
It was time consuming to assemble but not difficult. Instructions were clear and most things lined up properly. Having extra tools, time to spare and a large space will be a benefit. I find most reviewers concentrate on their assembly experience, I'd rather talk about how it plays and functions. Once put together and in place it looks fantastic, like a much more expensive unit than it is. The poles are quite sturdy. Now for the exceptions. The backboard plastic is very thin and as a result noisy. The clear plastic is only about 1/8 in thick so when the ball hits it makes a loud drum like sound. It's so loud I don't want my kids playing at night or early morning fearing it will offend my neighbors. Play is also affected on this thin material, action off the glass may not be what you expect. If you're a serious player I'd suggest researching a unit with thicker polycarbonate. For my kids ages 10 and 13 it's fine. Height adjustment is difficult, my kids can not do it. I am 5' 7" and the handle and pin are so high I can just reach them while standing on the base. I plan to leave it at max height so not a big deal for me, but if you plan to change the height often you may want to consider a better system with a hydraulic adjuster that's easier to reach. The plastic base is made of very thin material. I need to stand on it to reach the height adjustment and it is very "giggly". It makes me worry that it could break or be punctured easily and won't hold up in the future. Even though I have these complaints, considering how cheap this system is I'd say it is acceptable, but not outstanding.
BlueRumble
Looks Great Plays Big
I took my time setting it up. It took 4.5 hours by my self. I built the base and pole in my living room while watching TV. Built the rest on my porch. Not tricky at all. Instructions were very clear. Take the time to read them before you begin. Know the the pieces, and get the right tools. The kids and I played for nearly six hours. I only played for about an 1.5 hours. Its big and solid. This was a replacement for the one I had for ten years. Fantastic upgrade. My neighbor is going to buy one now.
nate
Rated 4 shots of Fireball to Assemble
I am a typical dad. I put together lots of stuff using cryptic directions that probably require advanced degrees in ancient languages to decipher. The assembly instructions for this basketball hoop are an excellent example of all of the absolutely worst practices in the "some assembly required" literature genre. This basketball hoop is the Twilight series of toy instructions. First, the nuts, washers, bolts are all prepackaged in the nice multi-compartment see-through packages that are typical of advanced toy assembly. However, it appears that most of the fasteners were randomly placed in the various packages. So one compartment had 6 nuts (3 of one size, 2 of another size, and 1 lonely nut); 4 washers and 2 bolts. None of the compartments were labeled with what should be in them so I assume this was intentional. Luckily, an experienced dad such as myself was able to catch this fun little tidbit early on so I spent 40 minutes opening all of the packages and organizing all of the parts into their groups to make sure I had everything required to put the thing together. About the time I finished organizing the parts, I stepped away to get a drink (at this point water, I wouldn't hit the hard stuff until later). A few minutes later I heard my 4 year old offering one of the dogs a "pretty silver treat." Luck struck again as apparently, steel is one of only two substances in the known world that the family dog will not eat (the other being any dog food that cost less than $1 per serving). With the parts cataloged and an hour into the assembly, I (again, being the experienced dad that I am) sat down to read through the entire instructions before starting. I started feeling uneasy at the first page when the first instruction was to use a screwdriver to ream out all of the pre-drilled bolt holes. Given the recent advances in technology, and knowing that even the government can put remote control cars on Mars and that private companies can build houses with 3-D printers, I was taken aback that this company was unable to consistently drill holes in metal that were the right diameter for the bolts either before or after the metal was painted. I probably should have stopped there, packed everything back up and driven it down to Walmart. But the box is heavy, the parts had already been unpacked, and I figured I was at about the midpoint of the pain. Better to go forward than back. The next major issue was with the plastic cover that goes over the two support rods that connect the base to the main pole. The bolt holes didn't line up. I took it apart and put it back together 3 times in every imaginable configuration and it wasn't even close. I am going to assume that the plastic cover is cosmetic because right now I plan on using it for a sled next winter. Once you get done with, or give up on the plastic cover, this is an excellent time for the first two shots of Fireball. Things go smoothly for a while until you realize that there are two identical sets of pre-drilled holes in the center section of the pole, both of which fit the height adjustment mechanism. The instructions do not indicate which set of holes to use (or even alert you to the fact that there are two sets of holes) and so Murphy's law states that you will select the wrong set of holes. Thankfully, you had those two shots, so you really don't care that you have to move the height adjustment mechanism once you realize it is in the wrong spot. The backboard connection rods go in fairly easily although you may want to do that thing like with the old 3-d images where you half-cross your eyes and slightly blur your vision in order to make the images in the book reasonably usable. Once you have the backboard connection rods done, this is a good time for the next two shots of Fireball, because getting those rods onto the backboard is going to take significant effort. The metal bracket that attaches the backboard to the connector rods via two 1/2 inch diameter bolts has 7/16th diameter holes drilled in it. No amount of screwdriver reaming is going to fix that problem. A 1/2 inch titanium drill bit does solve that problem. Don't worry, Walmart sells these at a reasonable price if you don't already have one. Once assembled, the hoop is stable, the backboard is large and it plays nice. Assembly took over 4 hours and several extra tools/steps that were not in the directions. Basketball standards are notoriously difficult to put together, but this one goes out of its way to make assembly particularly painful and traumatic.
MominPA1973
A system so nice we bought it TWICE!
We had bought an older version of this same system about 8 years ago. Our over-sized driveway quickly became the neighborhood hangout, and everyone of every age would play. The angled pole avoided countless injuries since layups and dunks can be done without worrying about hitting it. The adjustable height mechanics are as smooth as butter and my son was able to do it himself since he was about 8 years old. With the exception of the NBA sticker fading, the system stayed in great shape until Hurricane Sandy came through Pennsylvania and blew it forward, sending it crashing into the windshield of my truck, breaking the windshield and the acrylic backboard. Obviously this is not the fault of the system. So a year later we finally decided to replace the old one with this one. It's almost identical, and my 13-year-old son is so happy. The only difference is that this time we used a nylon cargo strap to wrap around the pole and tether to our fence post to assure it wouldn't blow over should another Hurricane come through! One more thing: YOU CANNOT BEAT THE PRICE!