Spalding NBA 54" Portable Angled Basketball Hoop with Polycarbonate Backboard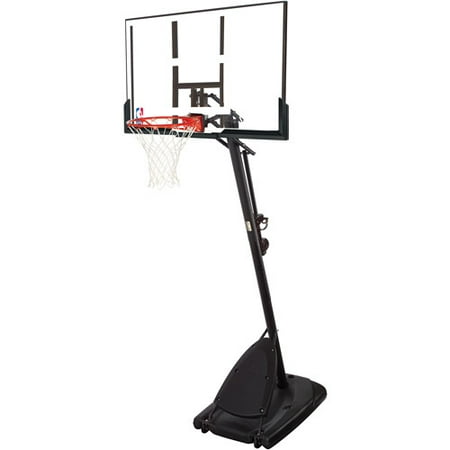 MSRP :

$239.99





Sale :

$187

Sold & shipped by Walmart
Product Description

Additional Information

Reviews
Product Description
Built to withstand endless games of twenty-one in the driveway, push the limits with the Spalding NBA 54" Polycarbonate Exactaheight Portable Hoop System. This hoop system has a durable polycarbonate backboard and comes with arena-style padding and a steel breakaway rim. It can be adjusted from a height of 7.5 feet to the regulation 10 using the Exactaheight lift system built so every age of player can work on their game. This portable system gets its stability from a 34-gallon base equipped with two wheels for taking the game where you go. The Spalding NBA 54" Polycarbonate Exactaheight Portable Hoop System. Reach new heights.
Additional Information
Board size: 54" x 32" Polycarbonate board with arena-style padding Steel board frame Slam Jam breakaway rim 7.5' to 10' height adjustment in 6" increments; Exactaheight lift 3.5" round steel pole with 20 degrees angle Base fills with 34 gallons of water or sand Two wheels Designed for outdoor residential play
Reviews
Bob321Davis
Fantastic Deal, Sturdy, and Adjustable
I did a lot of research online and in store. I was dead set on an in-ground hoop because I hated the idea of a hoop shaking (thought it would make you miss a bunch of shots). I've played on this for two days now and had no issues with stability. It's VERY sturdy! It adjustsin seconds! 7ft 6in to 10 ft in 6in increments. 7ft 6in actually measured 7ft 7in, and 10ft was DEAD ON (that extra inch gradually diminished as you approach 10ft). Pretty accurate if you ask me. I did site-to-store and there was no damage and no missing parts. There were a lot of screws and nuts and bolts. It looks beautiful and it can take a dunk, no problem (just don't hang on it unless you weigh under 50 lbs like my son. Then you can hang on it all day). In my opinion, you can: A. Spend a hundred bucks and pray it lasts B. Spend a thousand or more and be the envy of the neighborhood C. or Spend $250 on this and endure the difficult assembly to have one just as good looking and functional as the more expensive ones This is the basketball system you're looking for anywhere between $100 and $1000. Unless you want to dunk all day every day. Then I'd get a Goalrilla. You're going to need: 1. a scrap piece of wood (appx 6in X 6in) to bang the 3 long poles into each other on 2. 1/2" , 9/16" , and 3/4" sockets with a 6"-12" extension 3. 1/2" , 9/16" , and 3/4" hand wrenches 4. Phillips and Flat head screw driver 5. Hammer 6. A sawhorse or 4-5ft table to rest the backboard on to lower the pole onto to attach it to the backboard (I used my city garbage can. It worked fine) 7. 6ft Ladder (Duh, but I didn't think of it, lol) TIP#1 I laid out all of my screws, nuts, and bolts on the bottom of the box and numbered them BEFORE I started construction and it helped tremendously. Hold each piece of hardware up to the guide on pages 8-10 to correctly identify. They are not labeled in the packages when you receive them TIP#2 The main "Mast" is composed of three tubes which need to fit EXACTLY 3.5in into each other. It's nearly impossible to separate these once you've begun connecting them, so double check your 3.5in marks and double check to make sure the order of poles is correct (bottom, middle, and top poles) TIP#3 Make sure you attach the pole mount bracket (part# 15)to the top pole, not the middle or bottom like I did the first time TIP#4 Your large carriage bolts may have trouble sliding in and out of the factory pre-drilled holes because of the black coating on the brackets (I only had trouble with 1 hole). Don't worry, just bore the hole out a little with a drill bit or by wallowing the hole out a bit with a smaller bolt Check out my pictures and ask questions if you want.
Lurpee
Assembly was a pain...
This goal is great and my kids and I love it. We all pitched in for the assembly and it took us 4-5 hours. The problem mainly was that the parts were not labeled or numbered... at all. The instructions would tell you to put bolt(45) with nut(61) and you would go to the parts and there are no numbers. Other than that, it went together fairly easily and works great.
MominPA1973
A system so nice we bought it TWICE!
We had bought an older version of this same system about 8 years ago. Our over-sized driveway quickly became the neighborhood hangout, and everyone of every age would play. The angled pole avoided countless injuries since layups and dunks can be done without worrying about hitting it. The adjustable height mechanics are as smooth as butter and my son was able to do it himself since he was about 8 years old. With the exception of the NBA sticker fading, the system stayed in great shape until Hurricane Sandy came through Pennsylvania and blew it forward, sending it crashing into the windshield of my truck, breaking the windshield and the acrylic backboard. Obviously this is not the fault of the system. So a year later we finally decided to replace the old one with this one. It's almost identical, and my 13-year-old son is so happy. The only difference is that this time we used a nylon cargo strap to wrap around the pole and tether to our fence post to assure it wouldn't blow over should another Hurricane come through! One more thing: YOU CANNOT BEAT THE PRICE!
KrisDPT
Looks and plays like neighbors $600 hoop
I'm not a very handy so it took a little more than 3 hours, it does require two people (my 9 yr old filled in) working on an off to get it done. Instructions are ok, could be better, I followed them to the dot and got all the equipment like wrenches, mallet and screw drivers as instructed. Hardware was not labeled, so starting out with marking them with a sharpie was very helpful. Section B instructions were a not very clear but went with the picture for reference and the plates go on the inside. If you are going through the assembly, you will know what I meant. I read on some reviews about using red marine antifreeze instead of water for winter so that was the only deviation to the instructions. Unit is nice, easy to adjust for kids to adult height. good materials in general, base could be a little thicker but for the price I can't complain. I hope it lasts as good as it looks. Unlike other reviews, I didn't have to use the drill, everything lined up. Instructions are not great but adequate, a little patience would go a long way. Good luck with your hoop hunting.
Fred
Spend the extra money and you won't be disappointe
Spent more than $200 on two basketball hoops from Amazon and Ebay that didn't last 2 months and only for little kids. Spent the extra money and got this one and it's so much better made and is more like those you find in a basketball court.