Bounce Pro 14-Foot Trampoline, with Enclosure, Midnight Blue (Box 1 of 2)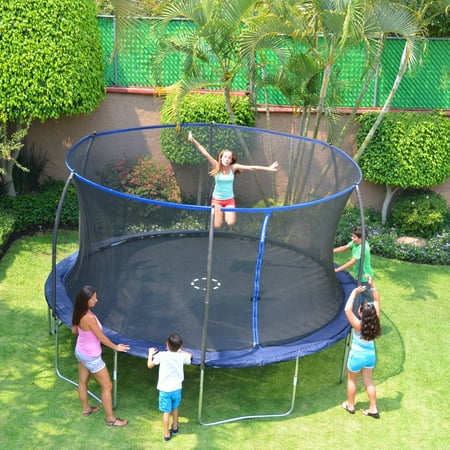 Sale :

$195.99

Sold & shipped by Tyeztoyz
Product Description

Additional Information

Reviews
Product Description
Kids can safely jump and have fun in the comfort of their own backyard with Bounce Pro's 14-foot Trampoline with Steelflex Enclosure! This 14-foot trampoline makes a great addition to any backyard and was created with quality and safety as top priorities. This product features a heavy-duty rust-resistant galvanized steel frame that offers a strong product construction. The frame is supported by U-shaped legs and patented double welded plate leg welds at the joints for added stability and safety. The patented Steelflex enclosure ring strengthens the netting enclosure by preventing net sagging so kids can safely jump in the trampoline. The TenCate Permatron jump mat is treated to be UV resistant to ensure product longevity and is reinforced with premium stitching that provide stronger and longer-lasting attachment to the springs. It's fun to have fun and be safe while jumping on the Bounce Pro 14-foot Trampoline with Steelflex Enclosure! All Bounce Pro products meet or exceed all ASTM safety standards, so parents can be sure their kids are safely having fun.
Additional Information
Features:Heavy-duty rust-resistant galvanized steel frame for extra safety and stabilityUV-resistant netting with zipper enclosure for long-lasting quality and extra safetyPatented Steelflex enclosure ring strengthens netting enclosure and eliminates net saggingUSA engineered TenCate Permatron jump mat tested for over 5000 hours of UV resistance, ensures product longevityPadded spring cover adds additional safety and helps prevent contact with springsPatented double welded plate leg welds provide strength and flexibility to the steel frameMaximum weight capacity: 220 lbs
Reviews
SadDad
Damaged Product and Bad Service
I realized after assembly that the mat has several defects. Had an online chat with a Walmart rep about sending me a replacement mat so I could return the defective one but no, They want me to disassemble and return the entire trampoline. What a waste of my time and their $ shipping a big heavy package back and forth instead of just replacing the mat. I should've bought the one on Amazon instead!
Trampoline
Bounce Pro 14ft trampoline with enclosure
After three days of having the trampoline assembled, my children are super excited to use it. I would like to add, that the trampoline came in two boxes and was well packaged. It took just under three hours to assemble it myself. Overall it's well constructed and easy to assemble just follow the instructions.
GummibearMLT
excellent way to get the family out of the house!!
My husband and I purchased this trampoline for our 11 year old daughter. It fit in our Corolla with the back seats folded down and trunk open. (secured with bungees.) Very clear instructions, but it was a bit time consuming. (About 2 hours) We really enjoyed working together to build it, and it also gave us the opportunity to inspect the design and quality thoroughly. It was even larger after being put together than I had imagined, and is visually appealing. My husband tested it out first (he is 215lbs) and it held his weight fine. My daughter absolutely loves it and jumped until dark. It was such a nice feeling seeing her enjoy exercise and get some fresh air. They both jumped at the same time for part of the evening (total weight 315lbs) and it did not seem to stretch too low or put too much stress on it. I wouldn't push it beyond 350 to be safe. Overall very pleased with price quality and assembly. The only slightly tedious part was threading cord all the way around the base to secure the net to the trampoline, but it was soo worth the effort in the end.
Kaitlyn
excellent way to get the family out of the house!!
Great quality trampoline for this price point. It was at my local walmart for $170 before tax. I did alot of looking around online before deciding to get this one. It's large and very sturdy. I love that the net is on the inside of the springs, that was a must have for me. Assembly really wasn't bad, we just made sure to follow the instructions step by step. You have to lace the net on the first time, but I just took it down for the winter and was able to keep it attached to the mat and just fold it up together. I was able to keep other parts partially assembled also, so assembly next year will be alot quicker and easier. It was a birthday gift for my 3 yo
Superstar
Great buy.
I bought this for my kids about a month ago and they love it. From the time of purchase to delivery was only a few days. It was very easy to get set up. It had only took maybe 2 hours, with 2 people doing the work. So far everything seems to be of good quality. We had a birthday party and had several children on it at once and it did not have any issues.