BouncePro 14' Trampoline with Steelflex Enclosure and Electron Shooter Game, Dark Blue (Box 1 of 2)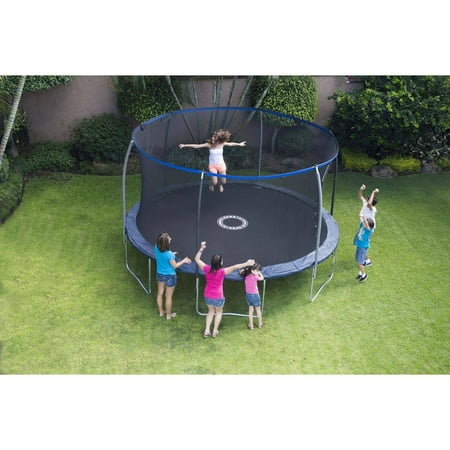 MSRP :

$114.5





Sale :

$110

Sold & shipped by Walmart
Product Description

Additional Information

Reviews
Product Description
This BouncePro 14-foot trampoline with the patented Electron Shooter is the perfect addition to any backyard area. The Bonus Electron Shooter target attaches easily to the enclosure ring, creating extra play value for kids. The galvanized steel frame and UV-resistant jump mat will provide years of safe and fun entertainment. The Steel Flex Safety Enclosure features padded poles for extra protection, UV-resistant PE netting and a steel-cabled ring top to add additional support to the enclosure. The spring-loading tool makes it easier and safer to attach the springs to the mat. BouncePro trampolines come with a 2-year warranty with product registration.
Additional Information
BouncePro 14' Trampoline with Steelflex Enclosure and Electron Shooter Game, Dark Blue, Box 2 of 2:Specifications:14' x 14' trampolineHeavy-duty galvanized steel to resist rustingGalvanized steel springs to provide smooth bounceSteelflex top ring enclosure prevents net from sagging or dropping for added safetyUV-resistant jump matHigh-quality pad protectorReinforced leg connectorMaximum Weight Capacity: 220 lbs2-year warrantyBouncePro Steelflex Enclosure:Padded polesPE nettingSteel-cable ring topProvides a great look and 360 degrees of visibilityAlso creates a safe jumping areaSafety Features:Center circle ring on jumping mat encourages jumper to jump toward centerOnly 1 jumper at a time is recommended to ensure safer jumpingPatented double steel plate reinforcement on critical leg joint partsTested to 1 million bounce cyclesAssembly Information:Electron Shooter targets attach easily on enclosure ringIncludes:UV-resistant jump matSpring-loading toolHigh-quality pad protectorBonus Electron Shooter Game provides extra play value for kidsSite to Store Pickup Note: This item is packaged in multiple large boxes that may not fit in a standard-sized vehicle. Please make sure you have a large car or truck for store pickup.Box 1 dimensions: 47"L x 14"W x 7"H; weight: 46.2 lbsBox 2 dimensions: 48.5"L x 2.5"W x 12"H; weight: 130.9 lbs
Reviews
Carlson
worth the price
Were it not for the missing parts, you get what you pay for. if you've got small kids and time to wait if parts are missing, it's worth the price. If you're in a hurry or want two teens or older on at the same time, spend the money for something nicer. Pros : • I was able to assemble the trampoline part by myself • Perfect size and bounciness for my two kids • Good enough for the money • Reasonable quality parts in general Cons: • Foam tears easily • Missing parts delays the building process • Mat is pretty loose fitting, not great for adults or likely teens... But then it's only rated to 240 which is barely two teens. • Second box came a day late. But that was UPS fault. They shipped out same day. Regarding missing parts, since it appears to be many of the same parts missing, and quite frequent, I'm guessing they're trying to sell out the inventory that was boxed wrong. It wouldn't be worth the cost on these low end trampolines to recall and rework the boxes.
Lweldon
Found quick solution to wrong side drilled holes
When my husband and I couldn't figure out how to attach the top ring of the net we looked at the reviews. Sure enough, the holes in the t bar pieces were drilled on the wrong side. Instead of waiting for customer service and whatnot we went to the hardware store and found a drill bit that drills through metal that was the same size as the previous hole. At the hardware store we also bought longer heavy duty zip ties to secure the t bar to the net. There's a photo attached. It took about an extra 45 mins to go to the store etc, but much better than dealing with customer service in my opinion. We had bought a proflex trampoline 2 yrs prior on black Friday and their net set up was much better and actually had a metal ring up top, so we didn't even think twice about checking reviews for the item this time. So yes it's a bummer that the holes are drilled wrong, but there's a did.
DRP44
Great for the price!
I researched for awhile for a 14+ foot trampoline with enclosure and good/great reviews. Like everyone, I wanted the lowest price and best quality. Reviews were good but what really drew me in was the rod that goes around the top of the enclosure to keep the netting up. In the stock pictures you will notice the net is even at the top all the way around. Too many of my friends had their nets falling down due to poor design at the top. The price at Walmart for this was $267 plus $3.00 shipping to my door. It came in 2 large heavy boxes. Well worth the $3.00. Instructions were good. Follow the pictures and descriptions and you will be fine. It calls for 2-3 people to put this thing together. I did it myself in 3 hours. (This was my first time ever putting one together). Next time I will have it done much quicker. My wife helped at the end when it was time to install the enclosure. I gave it 4 stars for fear of the unknown. My 2 and 4 yr olds have only been jumping on it for a week or so. It's great so far. My wife jumps too. Weight limit is 220 lbs which is about normal for these. I'm 190 lbs but am being cautious and not jumping hard. If you are looking for a good trampoline, try this one. Price is right and design seems to be better than most in this price range. If price doesn't matter to you, check out other sporting good stores or trampoline stores online. Good luck!
ReviewGeex
Fantastic trampoline for family and friends!
Bought this trampoline almost 2 years ago and we love it! It provides plenty of space for our kids and their friends to play. It took an afternoon to set up but wasn't too difficult to put together. I love the piece of mind with the enclosure. Our kids have accidentally bumped into it many times and I'm really glad it's there! The trampoline has stood up to lots of use and harsh weather (wind, rain, sun, and snow) and it's still going strong! The only thing that could be improved is the "Electron Shooter Game". It takes an unusual battery size (not your standard AA or AAA), so we've never used it.
ProtectsConcrete
Many ways it can fall apart!
The trampoline was not too difficult to assemble, once we figured a trick for getting the last 10 springs on. You have to take a long screw driver or similar tool to use as a lever and stretch them when you get down to the last springs--or be stronger than Hercules! The vertical pole has tiny screws that secure it to the top circular interconnecting (that the springs hook to), and without these a strong wind will blow your trampoline away, so don't skip that step. BUT, the vertical supports do not attach to the horizontal supports to feet (that go on the ground), they just slide together and come apart. So a strong wind will likely destroy your trampoline and possibly damage your fence, house, neighbors property...which will happen anyway if you don't take measures to secure the trampoline to the ground with long stakes...I used 3/8" rebar (any thinker and you can't bend into U shape) set in concrete. Be sure to leave a gap so you can remove the ground feet in case you need to move or return it. Right after we did all this, a rain pooled up on the cover (tarp) we bought, and when we tried to lift one side to pour water off, one bar of the top support ring buckled and the trampoline fell apart! Reminder that Wal*Mart sells cheap stuff!