BouncePro 14' Trampoline with Steelflex Enclosure and Electron Shooter Game, Dark Blue (Box 1 of 2)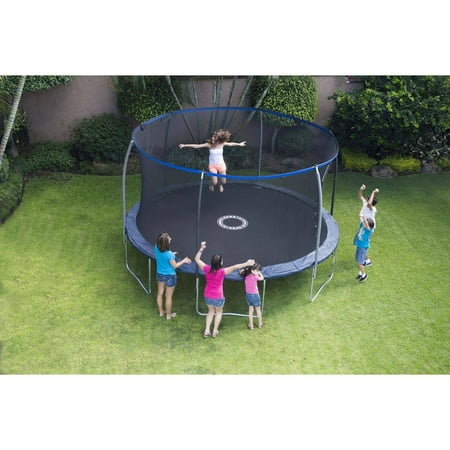 MSRP :

$114.5





Sale :

$110

Sold & shipped by Walmart
Product Description

Additional Information

Reviews
Product Description
This BouncePro 14-foot trampoline with the patented Electron Shooter is the perfect addition to any backyard area. The Bonus Electron Shooter target attaches easily to the enclosure ring, creating extra play value for kids. The galvanized steel frame and UV-resistant jump mat will provide years of safe and fun entertainment. The Steel Flex Safety Enclosure features padded poles for extra protection, UV-resistant PE netting and a steel-cabled ring top to add additional support to the enclosure. The spring-loading tool makes it easier and safer to attach the springs to the mat. BouncePro trampolines come with a 2-year warranty with product registration.
Additional Information
BouncePro 14' Trampoline with Steelflex Enclosure and Electron Shooter Game, Dark Blue, Box 2 of 2:Specifications:14' x 14' trampolineHeavy-duty galvanized steel to resist rustingGalvanized steel springs to provide smooth bounceSteelflex top ring enclosure prevents net from sagging or dropping for added safetyUV-resistant jump matHigh-quality pad protectorReinforced leg connectorMaximum Weight Capacity: 220 lbs2-year warrantyBouncePro Steelflex Enclosure:Padded polesPE nettingSteel-cable ring topProvides a great look and 360 degrees of visibilityAlso creates a safe jumping areaSafety Features:Center circle ring on jumping mat encourages jumper to jump toward centerOnly 1 jumper at a time is recommended to ensure safer jumpingPatented double steel plate reinforcement on critical leg joint partsTested to 1 million bounce cyclesAssembly Information:Electron Shooter targets attach easily on enclosure ringIncludes:UV-resistant jump matSpring-loading toolHigh-quality pad protectorBonus Electron Shooter Game provides extra play value for kidsSite to Store Pickup Note: This item is packaged in multiple large boxes that may not fit in a standard-sized vehicle. Please make sure you have a large car or truck for store pickup.Box 1 dimensions: 47"L x 14"W x 7"H; weight: 46.2 lbsBox 2 dimensions: 48.5"L x 2.5"W x 12"H; weight: 130.9 lbs
Reviews
Judah
Great Purchase
I purchased this trampoline on April 2, 2017. The following month I needed replacement of some faulty parts. I contacted Sports Power Customer Service and received excellent help. Thank you, Artem! We live in a windy area, so securing the trampoline was a necessity. It is anchored safely to the ground. Better safe than sorry. As of today August 9, 2017, the trampoline is still in excellent shape. Satisfied with our purchase and service.
SatisfiedBuyer
Missing parts and poor customer service
Trampoline is great if all the parts came with it. I have had this trampoline in my backyard HALF WAY put together because you can't return this to Walmart to get your missing parts, you have to go through the supplier. The supplier took 4 days to come to a conclusion which still hasn't been resolved. I was told that "Walmart" sent me the wrong box #2 and that the enclosure parts are different. I am missing 3 different parts and one of the most important part is a plastic tubing that goes around the top of the net enclosure. Of course, those are on BACK ORDER for who knows how long and they will send them out to me when they get them back in stock. I am so angry! My son can't even use his trampoline. I paid full and I expect to get the entire product, not HALF. If it wasn't already half way done and wouldn't cost a small fortune to return, I would've packed it up and went elsewhere. VERY UNHAPPY. Still waiting for a response as to when the missing parts will be available.
Okiegirl5
Pleased with my trampoline!
I ordered this trampoline site to store. I have no complaints! I was scared based on other reviews.This trampoline arrived in 2 boxes. One contains the trampoline, poles, pad and springs. The second box includes everything you need to set up the net and silly electronic game (not going to use, since it doesn't hang well and requires some dime size battery-No biggie). All the parts were there!!! Lucky, but I ordered from Walmart since they take returns easily. Fortunately I wont need to return anything. Set up took a good 4 hours, but my 14 year old and 12 year old son did it themselves! We've had a trampoline before though. It took the longest to set up the net top to bottom. The weight capacity is 250lbs. All similar trampolines have that weight limit but I'm oldshool and let two 160lb. teenagers jump at once. They agree the mat seems firm. The only complaint I have is how squeaky it sounds! dont know if its from the net attaching to poles or actual springs. No big deal. I am pleased with my purchase. This 14ft. trampoline is large enough for my teens and every bit worth $219 if keeps them active and off their phones!
Ryan
Great Trampoline, Great price, Game didn't work :(
Love the trampoline and the price, but the kids were so disappointed when the cheap game didn't work (even after buying expensive little watch batteries.) It was also annoying that the trampoline box arrived several days before the net, so once it was set up, the kids wanted to play on it, but couldn't until the net arrived. And the game seriously sucks. We tried putting the batteries in every which way and there was literaly no sign of life. What a waste of $7 on those little batteries. Either include the batteries (and make sure the game works) or stop advertising the game with the trampoline.
okbut
place just can't give me the right pieces
Good product But ,people who put pieces in the box need to have there heads checked ,1st I got the Trampoline,2 days later the encloser came ,but I didn't get the top mounts for the encloser so had to call and wait another Week , Which isn't bad But I got got 5 and it needs 6 I mean Comon Now so I'll have to wait another week for 1 piece ,